We asked some of the South West's most knowledgeable chefs, producers and experts how to do the festive feast like a pro
Scott Paton's gourmet guide to Xmas lunch
Scott Paton, head chef at Boringdon Hall near Plymouth, takes the 'less is more' approach when it comes to crafting Christmas lunch. He recommends concentrating on showcasing just a few things beautifully instead of loading up the plates and over-filling guests.
Scott says: 'A rib of beef on the bone makes a fantastic centrepiece if you want an alternative to turkey or goose. Source it from a local butcher and make sure it's well hung (for at least 28 days).
'For pigs in blankets, I like to use small high-quality sausages, wrapped in smoky pancetta. You want the pancetta to go crispy and the sausage to stay moist. Use the rendered fat and the trim from the pancetta to dress your brussels sprouts – it will change people's lives forever!'
'And make sure to boil the potatoes really well, before roasting them to golden-brown perfection.'
He also insists that cooks shouldn't feel pressurised into creating fussy over-the-top displays of food: 'Take your inspiration from nature and try not to play with things too much. Keep it simple: the ingredients represent what's around now: parsnips, sprouts, red cabbage and plenty of colours and textures.'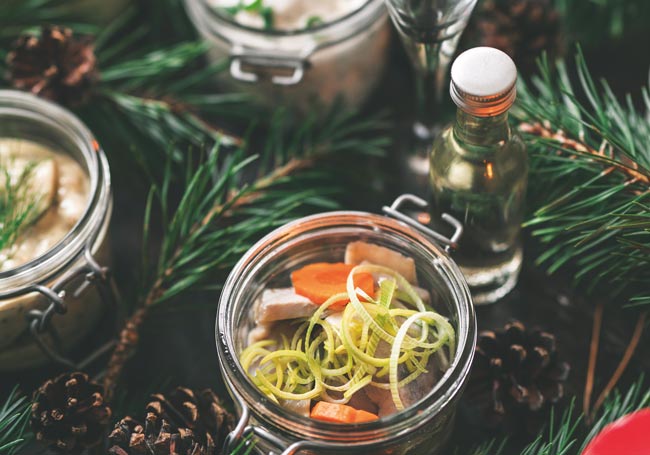 Jason Mead's smoky switch and festive fish
Jason Mead, head chef at The Galley Restaurant in Topsham, suggests swapping the ubiquitous smoked salmon for smoked haddock this festive season.
'Eating smoked fish at an ambient temperature enhances the flavours and gives a melt-in-the-mouth texture,' he says.
'Firstly, you need to let the fish breathe,' he explains. 'A proper smoking process (not the painted-on stuff) preserves the fish so you can store it quite happily in a pantry – just like those hams you see hanging in Spanish supermarkets.'
Jason recommends treating your guests to a sumptuous savoury haddock porridge during the holiday season.
'Switch sugar for salt, like a true Scot. Treat the oats like a risotto, cooking and stirring them with stock made from fish skin, before adding flakes of haddock. For a creamy finish, add a little butter.
'Kedgeree is also a fine option and you can easily bulk it out if you're feeding the masses. Few people can resist a good cullen skink (smoked haddock and potato chowder) which is even better when served with a poached runny egg to add richness.'
If you want to serve fish without the smoke flavours, Jason proposes salt-baking a fish to create a delicious and impressive centrepiece. Although you can't cook this in advance (once you've wrapped the fish put it straight in the oven or it will over-salt), it's simple to prepare.
'It's important to buy a large enough fish: gilthead sea bream or salmon works well or, if you want a real showstopper, a nice brill or turbot. A whole fish can feed a lot of people and it's easy to scoop out individual portions. 'If you're artistic, you can make the dish look like a fish by using a spoon and imprinting gills, a mouth and eyes into the salted eggwhite. Glaze it up with egg yolks, so that a sunshine yellow parcel arrives at the table – you can then smash up with a hammer which is highly entertaining.'
In the run-up to Christmas try preserving fish and serving it in cold platters or with sourdough toast during the festive season. 'Small oily fish like mackerel, sardines and red mullet work beautifully,' adds Jason. 'Pour warm pickling liquor over the fish in a Kilner jar, along with sliced carrots and spring onions for crunch. The sweetness of the vegetables will mellow out the vinegar. Give the fish a few days to mature in flavour before you tuck in.'
Joseph Fallowfield's cheesy cheat starter
Head chef Joseph Fallowfield, of signature restaurant Fallowfields at Housel Bay Hotel in Cornwall, believes Christmas starters shouldn't be too heavy, rich or time-consuming – and that preparation is the key to success.
'Your starter needs to be quick and simple to create on the day yet still have wow factor – it needs to compete with that cousin of yours who is always posting food pictures on Instagram.' Joseph's go-to dish is a twice-baked cheddar soufflé.
'They are surprisingly easy to prepare in advance,' he says. 'Then, on the big day, simply pop them into the oven with a splash of cream and a sprinkle of cheese.'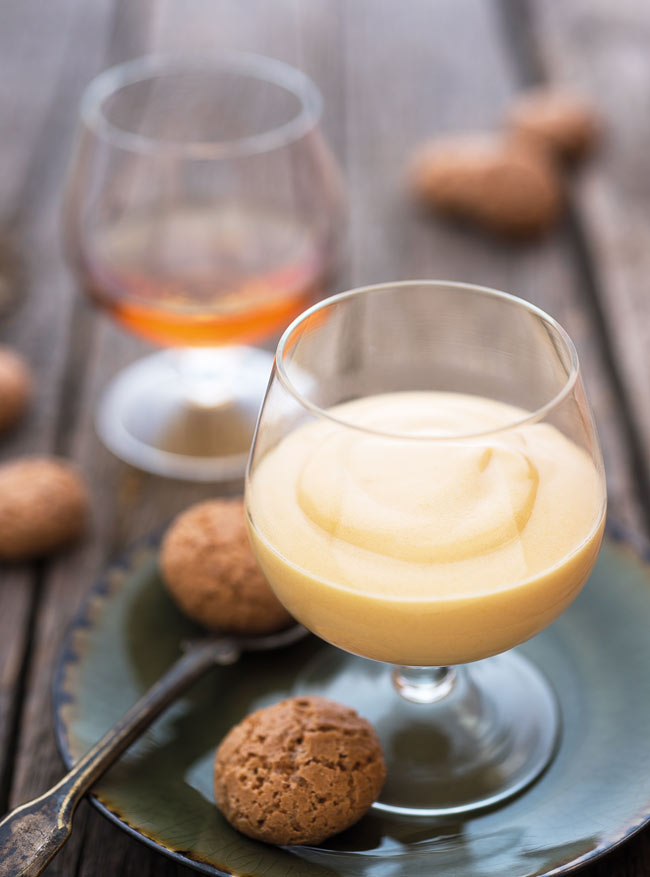 Vincenzo Gallitto's feast of Natale flair
Sicilian chef Vincenzo Gallitto (of Peter Mundy at The Ginger Peanut in Bampton) says Italian cooking at Christmas is all about making things as easy as possible for the chef so they can be freed up to have fun with the family.
'Finish the feast with a make-ahead tiramisu, zabaglione or profiteroles. To complement the Italian vibe serve digestifs like amaro averna, amaro lucano or limoncello – and copious amounts of red wine.
On Christmas Day, he suggests starting the meal with a beautiful antipasti board which is simple to prepare: 'Load it up with cured meats, grilled veg, bruschetta, boiled eggs filled with tuna and let the whole family dig in. Follow this with roast chicken (a good trick is to use pork lard to baste the bird) on a bed of vegetables with lots of fresh herbs and garlic.
'And, of course, no Italian home is complete without a golden crown of panettone for everyone to devour throughout the festive holidays.'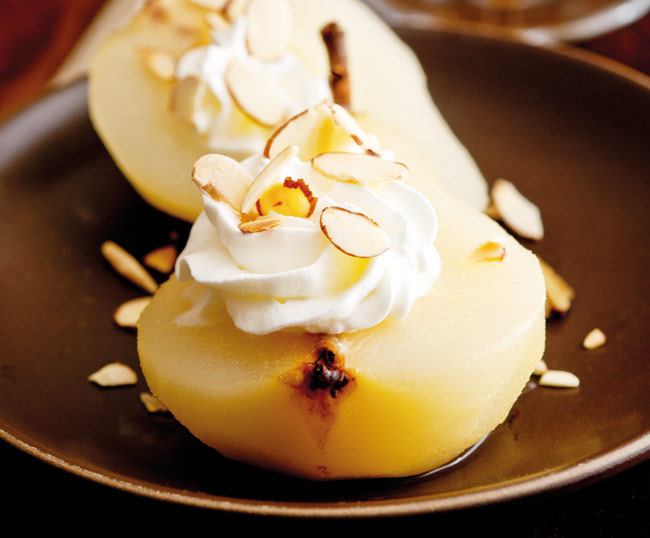 Hywel Jones' quick preserved fruit pud
Hywel Jones, executive chef at Michelin starred Lucknam Park in Wiltshire, says: 'Winter can be a bit of a challenge when preparing desserts due to the lack of beautiful soft fruits and berries we get to enjoy in the summer months. However, apples, pears and nuts are in their prime and perfect to preserve for later on. Poach apples and pears in a light syrup and seal in airtight Kilner jars. They'll keep indefinitely and can be turned into a delicious dessert with minimal effort for a festive treat – simply add honey, whipped whisky cream and candied nuts.'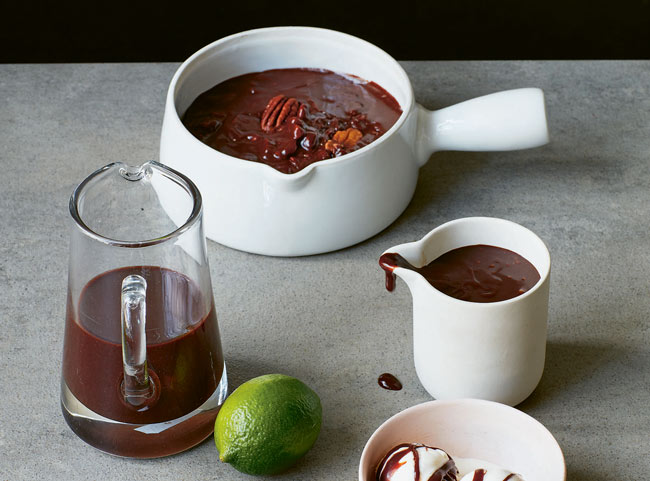 Sue Quinn's nifty chocolate tips
Christmas isn't really Christmas without a chocolate pudding but melting the chocolate for a yule log or a velvety chocolate torte can be a tricky business. Overheat it, or let it come into contact with steam or a splash of water, and it can seize into a grainy unusable mass.
'Instead of breaking your chocolate into squares or chunks for melting, blitz to a rough rubble in a food processor first,' says Somerset food writer and author of new book Cocoa, Sue Quinn. 'Chocolate doesn't conduct heat well, so making the pieces as small as possible increases the total surface area exposed to heat, so it melts more easily and evenly.
'Place the blitzed chocolate in a heatproof bowl and set over a pan of barely simmering water, making sure the bottom of the bowl doesn't touch the water. Stir frequently, making sure not a droplet of water or steam from the pan gets into the chocolate.'
Sue also suggests using a hairdryer on small chopped pieces of chocolate.
'Place the chocolate in a heatproof bowl and hold a hairdryer 20–25cm away, pointing it straight into the bowl. Alternate 20-second blasts of hot air with stirring until the chocolate is melted and smooth. A blast of hot air is also useful to remelt chocolate that's cooled and started to thicken.'
If your melted chocolate does seize and go grainy, Sue suggests beating it vigorously or blitzing it in a blender.
'There are no guarantees it will work (it depends on why the chocolate has seized) but it's worth a try.'