Despite the lazy stereotype of barbecue being all about men and meat, women are quietly revolutionising the UK 'cue scene. Kathryn Lewis met some of the female chefs and entrepreneurs leading the charge
Shauna Guinn and Samantha Evans
In 2012, social worker Shauna and graphic designer Samantha (pictured top) ditched their nine-to-fives to embark on a once-in- a-lifetime roadtrip across the southern states to learn the secrets of authentic American barbecue – and meet their idol Dolly Parton.
After six months on the road they ran out of money and returned to Cardiff, fired up and eager to share what they'd learnt. So they begged a friend to let them launch a pop-up in her pub garden, and their low-and-slow-style food quickly became a word-of-mouth success. Within three years, and with the help of a BBC Food and Farming Award, they'd published a cookbook and opened a bricks-and- mortar restaurant, Hangfire Southern Kitchen, in Barry, South Wales.
'When we started our pop-up in Cardiff there wasn't a barbecue scene in Wales, so to say it was male dominated would be untrue,' says Shauna. 'However the wider scene was, and still is, positioned as a male pursuit. Having done it for almost a decade I can see why: it's a hard, challenging and physically exhausting thing to do – it's not for the fainthearted.
'When we were travelling in America – where the scene is much more developed – we didn't meet a single female barbecue chef. One of the few plus sides of being women was that chefs were more open with us and happy to share advice; they probably didn't see us as competition.
'While we're still two of only a handful of women waving the flag for barbecue in the UK, it's been great to inspire many women to get into the food industry and set up their own businesses.'
While the UK barbecue scene has developed since Sam and Shauna started their pop-up in 2013, they still believe there's some way to go before it completely sheds its burgers and bangers reputation.
'There has definitely been a renaissance in barbecue but it remains quite niche,' says Shauna. 'There are a lot of Facebook groups and forums where enthusiasts share info and pictures of what they're cooking, but I don't think it will push through to the mainstream because of the [British] weather. We're simply not geared up for cooking outdoors all year round.'
Worry about whether you need fancy kit to up your barbecue game? Shauna is quick to reassure: 'It can be as techy as you like but, at its core, if you have a barbecue with a lid you have a grill and a smoker. Then all you need is good quality charcoal and a meat thermometer. It's definitely worth experimenting by using different woods to create different flavour profiles.
'A great place for new barbecuers to start is by cooking a bigger piece of meat at a lower temperature for longer. It's much more fun that way. Plus, while it's cooking, you can get on with prepping sides and catching up with friends.'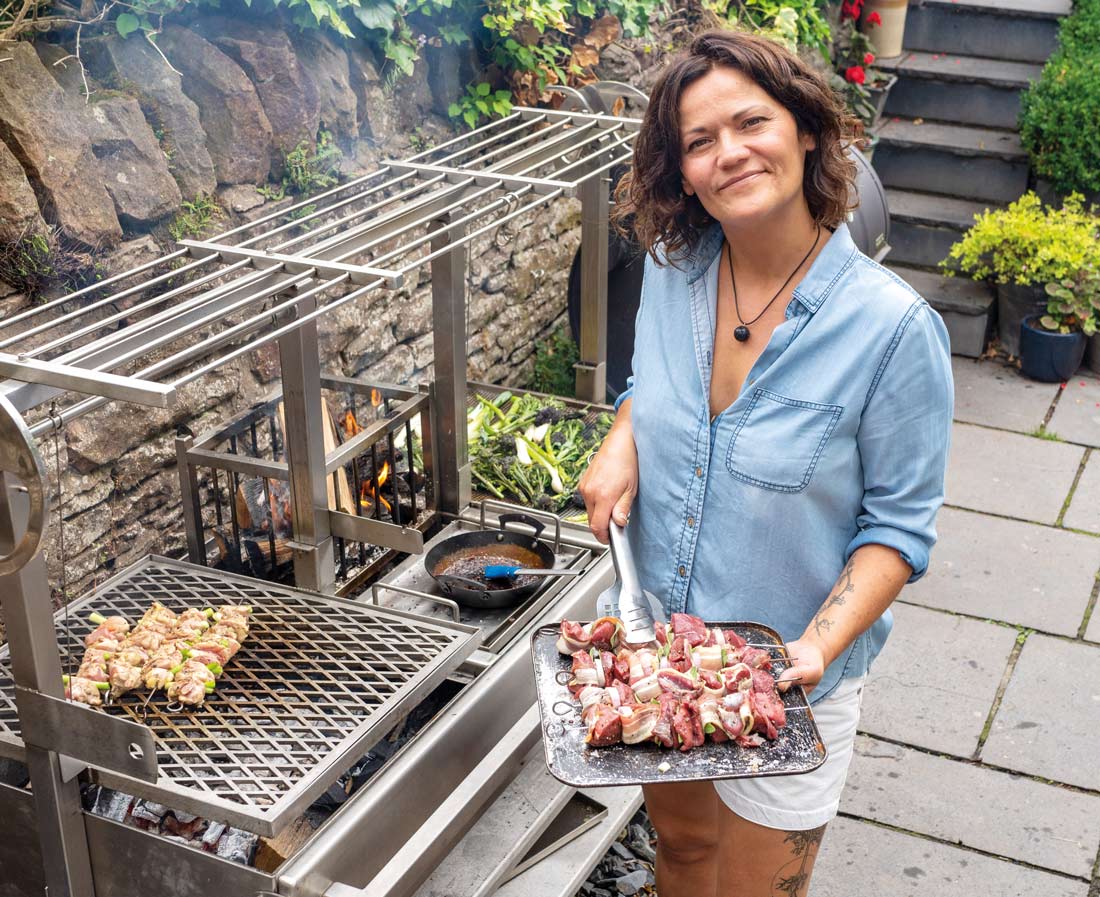 Genevieve Taylor
Author and founder of Bristol Fire School Genevieve travelled the world as a wildlife TV producer before starting a family and shifting her career focus to food. Her love of cooking, paired with domestic boredom, inspired her to start experimenting outside when her kids were young.
'I felt quite frustrated being on a domestic treadmill of cooking for my family three times a day, while also catering weddings and events for work. So I decided, quite selfishly, to shake things up and spend more time outside. I started taking the kids into the garden and cooking simple meals like sausages on the barbecue – and it just grew from there.'
Ten years later those toddlers are teens and Genevieve is one of the UK's most influential fire cooks. Her 11 cookbooks have tempted all manner of cooks outdoors and her latest, Foolproof Barbecue, aims to give everyone the confidence to make the most of their grill.
'I love the simplicity of fire cooking,' she says. 'In a world that's almost completely digital, it's an analogue way of cooking. It's just you and the flame, and that forces you to be an intuitive cook – it's an immersive experience.'
The UK barbecue scene has grown in recent years – and lockdowns fuelled the fire further. Yet, while the community is supportive and inclusive, Genevieve admits its female members are still significantly outnumbered by men.
'My main motivator has always been to dispel the myth that barbecue has to be man versus meat,' she says. 'At Bristol Fire School we probably have a 50/50 split of men and women taking part in our courses.'
On the future of barbecue, Genevieve looks to sustainability and, in particular, raising awareness of both what's cooking and the fuel used to cook it. 'Fuel is your number one ingredient and you're never going to get the best results using cheap charcoal,' she explains.
'While a lot of people are passionate about buying sustainable, locally reared meat, the vast majority of charcoal used in the UK is from West Africa or South America, so there's a disconnect between the two. I'm a real advocate for British sustainable charcoal – there's a myriad of environmental and flavour benefits.'
Her number one tip for aspiring 'cue queens? 'You can cook anything over fire; it's just about learning how to manage the heat source. Set up your barbecue with a fuel side and a non-fuel side, so you can cook food directly or indirectly. Eighty per cent of the time you're better off cooking food indirectly – cooking it gently but for longer.'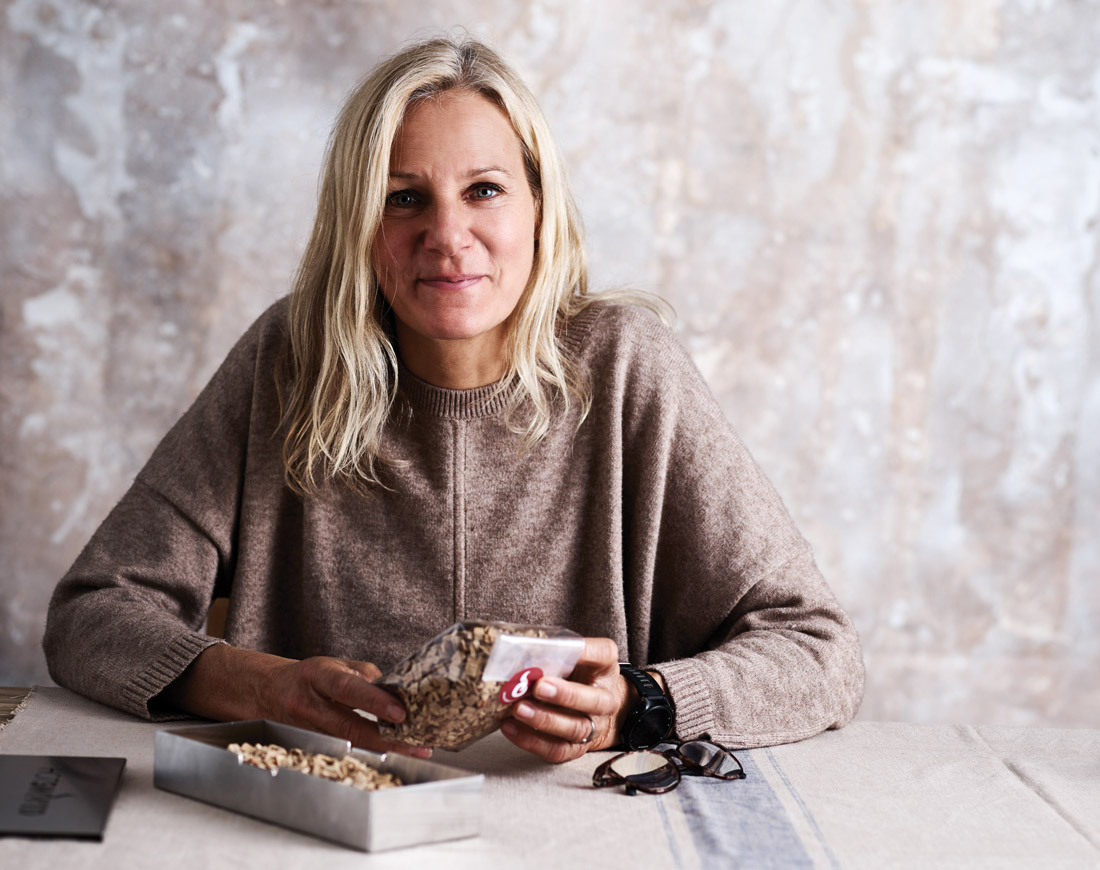 Alyson Murray
Entrepreneur Alyson was one of the early pioneers of internet shopping when she set up webshop Useful Stuff in 2000. After being introduced to smoked food at a local food fair, she bought a smoker, gave it a go at home and was so excited about the results she started selling the kit on her website. The smokers were such a hit that in 2008 she launched specialist smoking retailer Hot Smoked.
'I think our smokers and smoking kit were a success because we moved away from the US-style of supersized barbecue (which focuses on big cuts of meat) and instead focused on outdoor cooking,' says Alyson.
'We've always grown our own food, rearing everything from beef cattle to turkeys, so it fitted in with our lifestyle and philosophy.'
Over the past decade, the online shop has developed into an information hub of recipes, guides and tips for both beginners and barbecue pros.
'Smoking food on the barbecue is a bit like having an AGA: you cook slowly which adds layers of flavour and allows them to develop. You can't get that authentic smoky flavour any other way.
'Our aim has always been to show people that using woods to add smoke flavours can completely reinvent a dish. The subtleties of different woods can revolutionise everyday barbecue favourites, expanding cooks' repertoires and enabling them to experiment with smoke flavours.
'Our starter kits have been hugely popular as they're a simple way to start smoking on a standard barbecue. We're really proud to have won Gift of the Year 2019 for our BBQ Hot Smoking Kit.
'A great place for beginners to start is barbecuing a whole chicken. It's not a huge amount of prep but it's a totally transformed dish. I'd recommend using beech for a subtle flavour or oak for something more robust.'
While Alyson's seen a steady stream of barbecuers adding hot smoking to their cooking set-up, cold smoking is a craft she believes deserves more attention.
'Cold smoking has gone under the radar for a long time but people are starting to realise that smoking foods like salmon and bacon at home isn't that difficult.
'When you taste home-smoked salmon and compare it to the mass-produced stuff it's a no-brainer. You know exactly what's gone into it, where it's from and can put your own spin on it.'
Alyson attributes the move away from the blokes-and-burgers view of barbecue to the rise in popularity of cooking alfresco. She says: 'The repertoire is changing. The range of recipes for outdoor cooking has expanded and is now much more inclusive of vegetarian and vegan diets. I think that's probably also opened up this style of cooking to more women.
'Sometimes British seasonal veg can be a little dull but barbecuing and smoking allows you to do something different that's not overcomplicated. The steaming element of smoking gives the flavours a greater chance of intensifying, so you don't need to do a lot to get a fantastic result. It's very hard to burn things when you're smoking so it's difficult to go too far wrong.'
---
Keen to stay up to date on what's new and get the heads up on the best places to eat shop and stay in the South West? Want to support independent publishing and creativity in the region? You can do both at once when you take out a subscription to the printed edition of Food Magazine. Six gorgeous issues a year, delivered to your door for just £25. Subscribe here