The gift of delicious, beautifully presented local produce is a sure-fire way to earn the top spot on your nearest and dearest's thank-you-card lists this year. Tara Ellis-Heal of Freckles & Boo in Somerset shares her game plan for curating the perfect Christmas hamper
Choose your cheese
It's important to include a good selection of this seasonal staple – who doesn't love a cheeseboard at Christmas? Whether you include a gooey camembert or a bitingly mature cheddar, choose local producers over big brands.
Go crackers
Do your artisan cheeses justice by pairing them with the perfect crackers. There's an incredible choice out there, from flavoured "toasts" to gluten-free and sea salt varieties.
Pick out preserves
Festive flavours come in a jar. With the right chutney or preserve even a slice of buttered toast can be a gourmet treat. Explore Christmas marmalades made with ginger and a dram of whisky, and chutneys packed with apples, cranberries and winter spices.
Savour the flavour
Constant grazing is essential at Christmas, so mix in lots of delicious little savoury hits which can be produced at a moment's notice. Spicy peanuts, lemon and oregano olives, or even a bowl of charcuterie pokers will keep everyone busy between meals.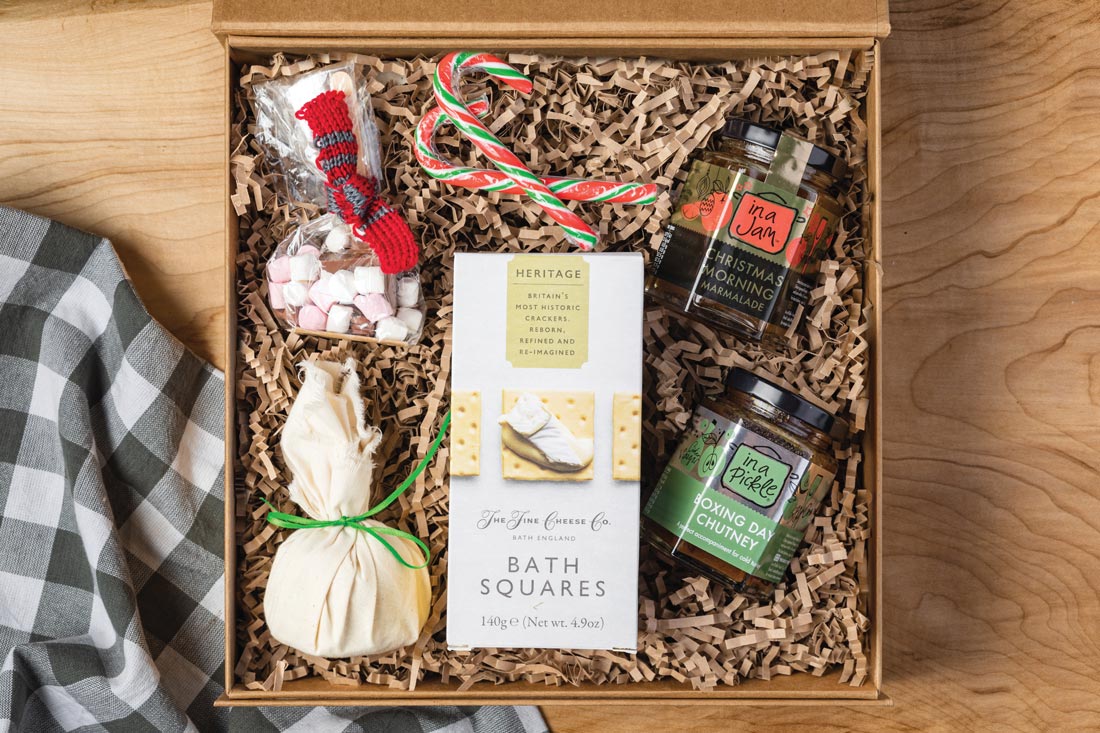 Sweeten things up
Locally made fudge and honeycomb will sit nicely alongside savoury snacks. Add a Christmas pudding or hot chocolate stirrers with marshmallows for a luxury sugar hit.
Say cheers
Make sure there is a thirst quencher in there somewhere. A bottle of local fizz or a non-alcoholic ginger beer can add effervescent sparkle to your foodie gift.
Presentation is key
Hampers have to be a feast for the eyes as well as the stomach. Choose an understated box or a more traditional wicker basket to present your seasonal selection, then finish it off with a decorative festive ribbon.
Festive shortcut
If you need help shaping your Christmas hamper, you'll find everything you need on the Freckles & Boo website. As well as specialising in hand-curated hampers, the Somerset indie offers a personalised service where you can create your own, selecting gorgeous local goodies from the vast online collection.