Restaurant kitchens are hectic workplaces but what's it like when you're the only chef behind the pass? Rosanna Rothery talks to three chefs who reveal the highs and lows of being a solo act
Elliott Lidstone, BOX-E
When your kitchen is housed in a shipping container that's 'about two and a half steps across, maximum', it seems sensible to forgo the idea of having a sous chef.
'One shipping container houses the restaurant and the other the kitchen,' says Elliott. He isn't fazed by flying solo. Years of Michelin-level cooking mean that, at BOX-E, he's happy to take sole responsibility for his daily-changing tasting menus.
'Working alone is all about being sensible with the menu and sticking to what can be achieved to the best of your ability. I've been cooking for about 20 years so I can evaluate timings and realistically know the speed I can go.'
Industry savoir faire (including being head chef at the Michelin-starred L'Ortolan in Reading) has equipped him with the kind of quick thinking and creativity that enables him to be flexible when fresh produce arrives in the kitchen.
'If there is something really great available I can swap it for something else; because I work alone I can switch and change.'
Adding to the pressure of solo cooking is the fact guests can peer into his workspace – especially those sitting just centimetres from the action at the Kitchen Table. If the odd mishap occurs, Elliott's natural sangfroid sees him through.
'It happens all the time. I'm just very good at hiding it and rectifying things,' he laughs. 'I am 100 per cent on show so if something goes wrong, it's just one of those things.'
The need for a cool head is made even more acute when there's a notoriously formidable food critic in the house. Four years ago, The Guardian food writer Jay Rayner came to critique his cooking.
'We didn't know he was coming but, as our restaurant is so small, you couldn't miss him (he's a big guy anyway). We were just gobsmacked to be on his radar so soon after opening. Obviously there were nerves but it was more excitement than anything.'
Elliott is aware the full responsibility of keeping the culinary ship afloat rests on his shoulders. 'Touch wood, I've never had to take any time off , but if I chopped off my hand we would have to shut. If you're a one-man band, that's the risk you take.'
The best thing about being a solo chef is building up a rapport with guests. 'We have so many regulars and it's a lovely feeling when they keep coming back. Occasionally I create a dish I've not done before and I'll ask guests what they think. They give me their honest feedback – I think they enjoy being guinea pigs.'
And the worst thing? 'The cleaning. Once you've finished a long day and you've got to clean everything down … that's not glamorous. Being a solo chef requires long hours and hard work but if you love what you do, you're okay with that.'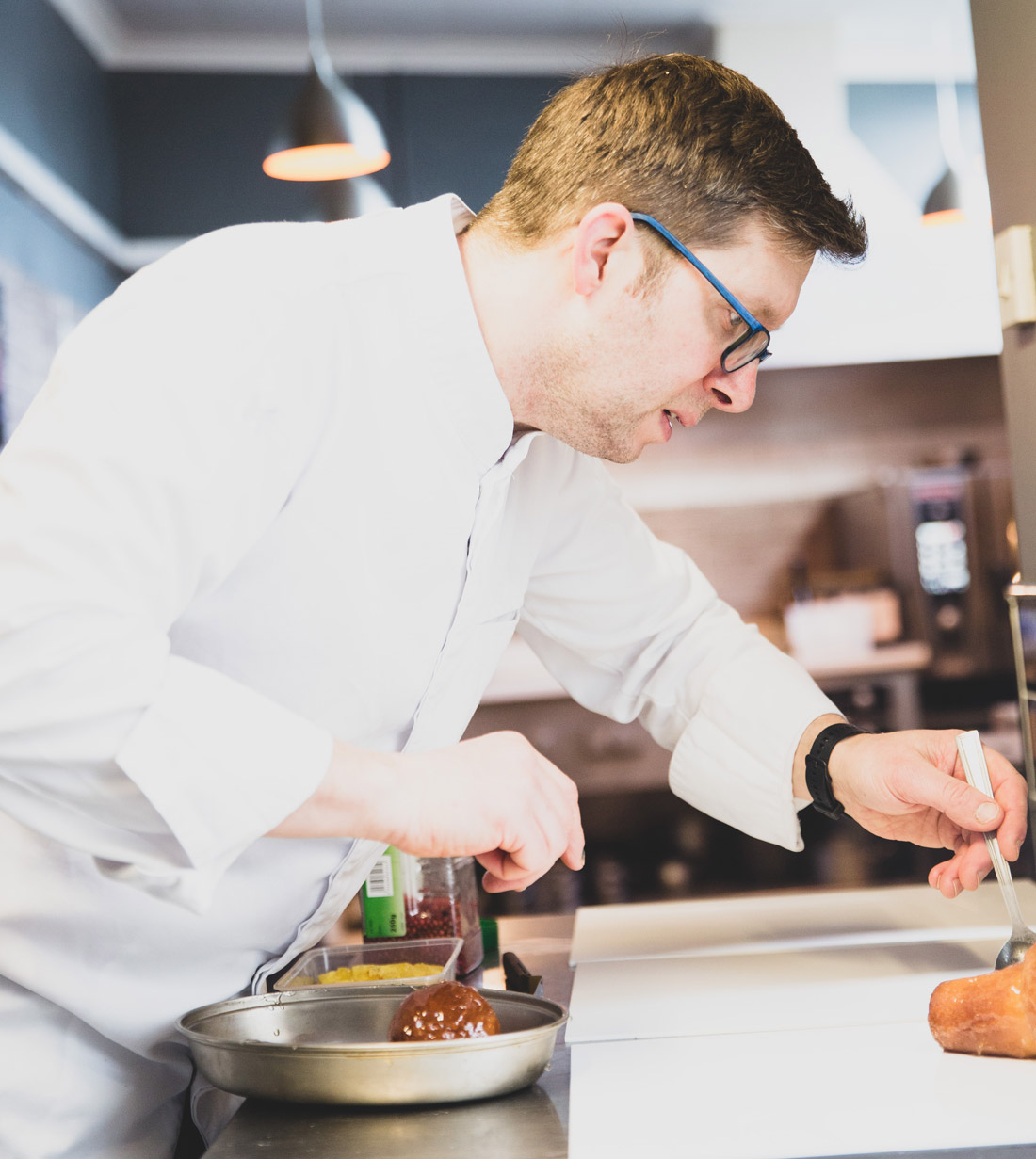 Bruce Rennie is in his element, darting around his large restaurant kitchen, all alone. He's got everything exactly how he likes it: an induction range with a double plancha (so he doesn't need loads of pans), a Rational oven and plenty of smartly organised storage.
'Small kitchens get cluttered too easily,' says the chef, who previously captained Michelin-starred kitchens in Edinburgh and Northern Ireland. 'You waste a lot of time and efficiency through clutter and I don't like things being too cramped.'
Bruce decided to go it alone for the sake of freedom. 'I may be restricted by having fewer helping hands and not being able to output more, but I have the liberty to create – I do what I want.
'I've chosen autonomy over money. My business may be worth very little at the moment (even my landlord gets more than me) but I love what I do and I've got control.'
When he first opened his Penzance fish restaurant five years ago, he decided to turn his back on the complications of co-cooking. 'Trying to teach people what your palate is – that's a tricky thing. They don't always get it and trying to get them to understand the fine detail of what you are asking, and consistently produce it that way, is difficult. Perhaps I'm overly picky, but that's my training.'
He's toyed with the idea of employing a team of chefs, but being a boss brings its own stresses. 'Apart from managing – and potentially babysitting – them it takes a lot of strength to oversee a kitchen team. There are so many skills involved and I'm done with that.'
He describes his Asian-influenced cuisine as 'not the most avant garde or modern' but 'controlled, consistent and on point', and says, 'It never gets boring because I work alone and I react to the freshest produce.'
This means creating dishes with veg harvested from two local organic farms and fresh Cornish fish that's landed daily.
'I have too many principles to make money,' he laughs. 'I don't build up produce and get prepped for a few days at a time like you would in a big kitchen. I just prep for today: it's simple and honest.'
Forging bonds with customers is important to him – something that would be much harder to achieve in a large commercial kitchen. Before the pandemic, diners would drop in to his kitchen during service to say hi.
These days, with restrictions in place, he goes out to meet them. 'It's all about pure and honest personal connections,' he says. 'I welcome guests when they arrive and have a little chat with them. During the meal I'll come out and tell them about the provenance of each dish and then talk to them again at the end of the meal.'
Looking after people with a personal touch is his raison d'être. 'If you want something cheap, with average produce, there are lots of places that will do that. For want of a better word, "artisan" food comes with a cost. We need to be aware of that with Brexit and economic issues: everything is going to be much more about the personal experience rather than just going out for amazing food.'
Loneliness, he admits, can be a problem for solo chefs. 'Like so many others, I have issues: the fact you can't talk to anyone and are stuck in a room by yourself for 12 to 15 hours a day – sometimes more – is challenging.
'When you get low or caught up in a cycle of stress, there is no way to offload that. You are completely on your own. All the strains of running a business, all the anxieties of being a creative chef, are on your own shoulders.'
Despite the drawbacks, being the only chef in the kitchen suits his temperament just fine.
'I try to imagine myself back in a traditional kitchen but I can't. Perhaps if a chef joined my kitchen it might work but it would have to be someone I had a personal connection with, rather than a professional one. I think the term "does not play well with others" refers to me.'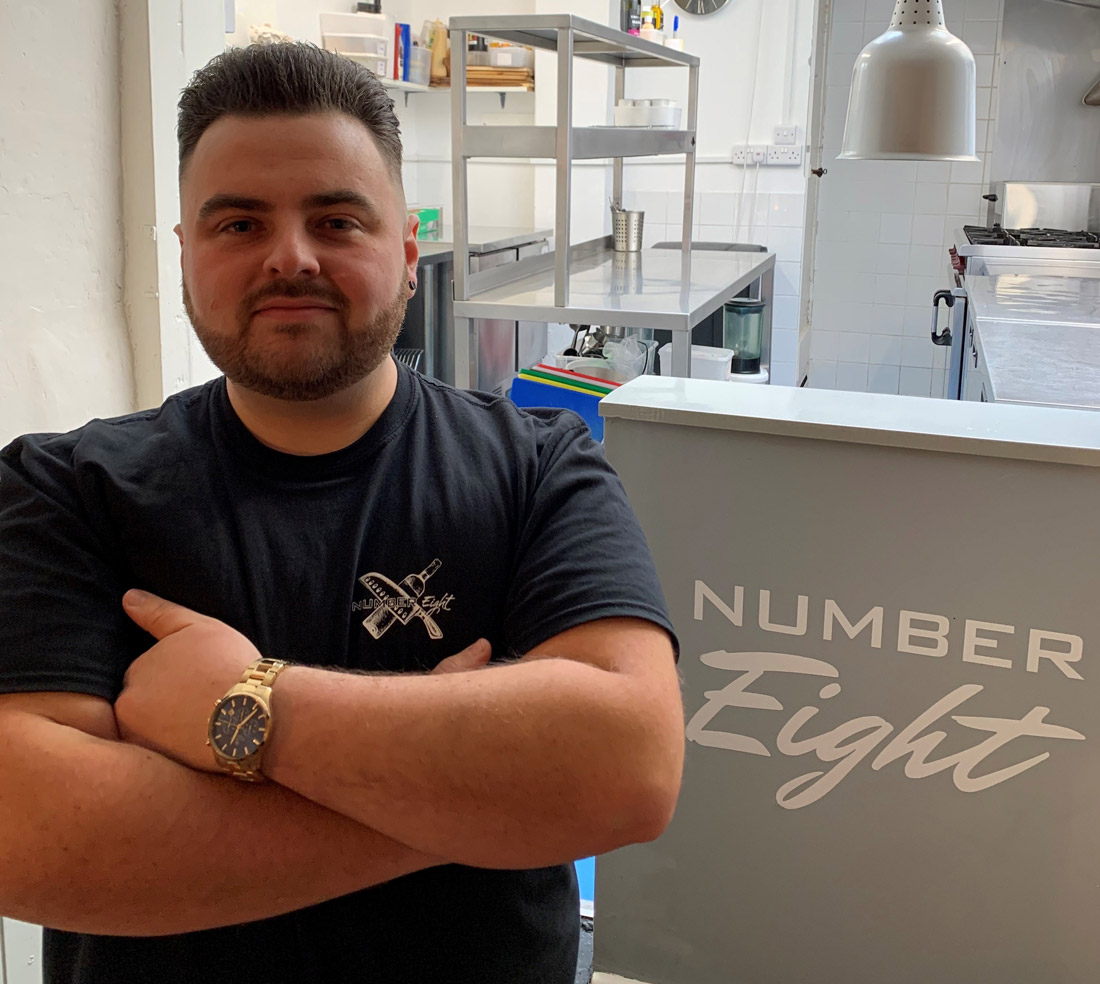 In his intimate kitchen, Joshua Jones crafts classic British dishes with creative aplomb.
'Small is better,' he declares. 'It's only me, and I like to keep everything close at hand. It's a very basic kitchen: I don't have all those fancy toys other chefs have. I literally use an old-school oven with six burners on top. I certainly don't go in for trends like water baths.'
After working in kitchens across Cornwall, Joshua and his partner Chloe Wilks decided to open their own venture in Bideford, north Devon. The idea of taking on staff wasn't an attractive proposition.
'Chloe runs front of house and I run the kitchen. It sounds awful but we like it that way because we don't have to rely on anyone else or trust staff . Everything is done how we like it.'
Loneliness is not an issue for the chef who enjoys his own company: 'I always have one headphone in during evening service and I listen to music and cook along. It's less stressful and I really like working on my own.'
If time allows, he sometimes ventures out from behind the pass to say hello to diners. 'At the start I couldn't do it as I'm quite shy, but now I say hello to the regulars and I think they enjoy that.'
He admits the workload of being a solo chef can be overwhelming. 'Some days I look at the prep list and think, oh my god. On the first day of the week I'm here from 8am until we go home at midnight. It's certainly harder, in that sense, because you're making everything on the tasting menu yourself. And if there's a job you really don't want to do, you can't just give it to someone else.'
After service, he "comes down" by taking the dog for a walk. 'I'm quite a weird chef in that I don't drink or smoke. Everywhere I've worked, I've always been the only chef who doesn't indulge in those things.'
He and Chloe have talked about expanding their business but it's their customers who plead with them not to. 'Everyone says they like the fact it's just the two of us. When they visit, it's always Chloe serving them and me cooking. It's not like they say, "We went back to Number Eight and it wasn't as good because the chef had a day off ". Everything is always the same standard.
'We often get told, "Don't change what you do and don't go bigger". In all honesty, I think we will probably stay like this forever.'
Keen to stay up to date on what's new and get the heads up on the best places to eat shop and stay in the South West? Want to support independent publishing and creativity in the region? You can do both at once when you take out a subscription to the printed edition of Food Magazine. Six gorgeous issues a year, delivered to your door for just £25. Subscribe here