Bobby Southworth, head chef at The Greenbank in Falmouth, is a Cornishman who loves doing inventive things with local ingredients. Launching a new series of tasting suppers at the harbourside hotel, he's inviting adventurous diners to come and 'taste the view'
An evening at one of Bobby's tasting sessions offers an insight into the workings of an imaginative mind which, he admits, rarely powers down. Passionate about showcasing the best of Cornish produce at The Water's Edge within the iconic Falmouth hotel, he keeps a notebook by his bed for those 3am dish ideas that can't wait until morning. We caught up with him at the first event in November 2021.
'Cornwall is my home – it's always been in my heart, and at the core of my career,' he says. 'I'm so lucky to be working here as a chef because I have amazing ingredients right on my doorstep: vegetables, fruit, meat, game, fish, you name it – it's here, it's fresh and it's world-class. It's exactly what you'd find in London's finest restaurants but in Cornwall you get to eat it virtually at its source – you can't get fresher than that.'
Aside from the thrill of being front of the queue for dawn deliveries of fresh produce from Cornish suppliers, Bobby is also driven by an appreciation of the planet and keen to minimise the mileage of his ingredients by sourcing locally and, when he gets the chance, catching fish himself. As a result, the six-course tasting menu we sampled was a 'who's who' of Cornish producers.
'Cornwall has such a well-stocked larder that there's no need to go further afield to source ingredients, unless you really have to. I'd much rather keep food miles low and focus on supporting and showcasing the amazing quality and variety of food produced here.'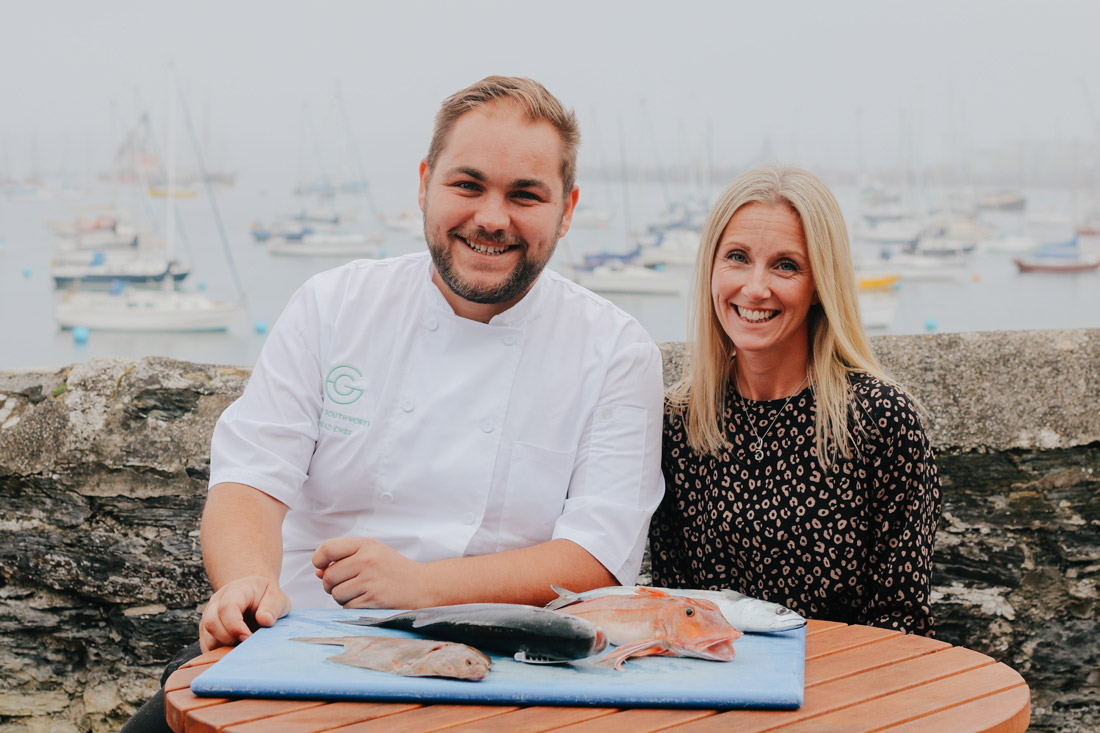 With welcome drinks in hand, anticipatory chatter carried the evening's guests from bar to banqueting table, where Bobby shared the provenance of each course as it was served. Canapes of scallops plucked from the Fowey River and skewered with pork belly made a succulent start to the feast. For vegetarians, Cornish Gouda crafted in Looe formed the base of a rich cheese and confit shallot croquette.
Bobby sources vegetables, including the star of the amuse bouche (a spectacular cauliflower and truffle velouté with parmesan crisp), from the organic market garden at Mylor's Canara Farm. He also regularly sources from Celtic Fish & Game, which supplied the fresh Cornish mackerel for the first course. Bobby cured the mackerel in spiced Tarquin's gin and served it with pickled shallots, delicate beetroot textures, horseradish cream and fresh dill sauce.
Succulent Nanteague Farm beef fillet was the main event. The blushing meat was cleverly matched with glazed short rib, panko crumbed Fal oyster, and truffle mustard mash, and finished with spiced red cabbage and a drizzle of beef jus.
The black forest and cherry brandy brownie dessert, served with cremeaux, soured cherries and a coco-nib tuille, was a symphony of flavours. The powerful, delightfully bitter cacao and brandy notes were lulled into soft sweetness by the voluptuously creamy chocolate and cherry cremeaux.
'One of the most enjoyable parts of the tasting evenings is being able to get creative with the ingredients and push the boundaries,' Bobby adds. 'The Water's Edge is a fantastic setting as I can point to the source of some of the ingredients through the window. I love bonding with guests on tasting evenings, and seeing them connect with their food – they're literally tasting the view.'
Find out more about tasting evenings at The Greenbank here. Book one of the beautiful rooms at the harbourside hotel to make the most of bar manager Holly Bennett's matched wine flight.