What's over the horizon for food and farming culture in the South West? Rosanna Rothery put the question to four industry insiders
The organic farmer
Over the past three decades, self-confessed veg nerd Guy Singh-Watson has taken Riverford from a one-man-and-his-wheelbarrow operation to a national veg box scheme delivering organic food to around 50,000 UK customers each week.
The business is built on the premise that organic farms are a sustainable option for the future of the planet and health. And, as well as buying organic food, Guy believes we should all be moving towards 'more veg, less animal protein, more nuts and pulses, and more genuine seasonality as opposed to superfoods and food trends.'
Climate challenges
Looking into the region's crystal ball, Guy predicts that South West farmers will face serious challenges over the next few years due to climate change:
'We are already a high winter-rainfall area and that looks set to increase. This will make it increasingly hard to protect the soil while growing annual crops, particularly those that are late harvested (maize) or leave the ground bare in winter (late-sown winter cereals), and we should be looking to grow more perennial crops and cultivate the soil less.'
He also believes that a fair and green global economy where the region's farmers are paid adequately for their produce is still something of a pipe dream.
'There's not much sign of it yet, especially while we expect to pay 0.7 per cent of GDP to farmers, nor while we look to world markets where the direction of agriculture is largely dictated by the increasingly centralised and global agrochemical and seed industry.'
Local vs seasonal
Guy champions less trendy British veg like cardoons and spring greens when they are in season but doesn't hold with the theory that local produce is always the most sustainable option.
'Local food is important in retaining strong and resilient communities and it may bring about indirect benefits such as people caring for the environment better because they feel more connected to it,' says Guy. 'However, the evidence of direct environmental benefits from local food is poor.'
When it comes to household favourites like tomatoes, for instance, growing them in the UK using artificial heat might use anywhere from two to ten times more carbon than sun-ripened varieties shipped from Spain.
Home delivery dilemmas
At a time when many of our high streets are no longer home to the butcher, baker and candlestick maker, we might need to rethink how we shop. Many of us have questioned whether it's environmentally better to have food delivered or go shopping ourselves. Guy ran a two-year study with the University of Exeter called the Riverford Sustainable Development Project which looked at methods of food transportation (its own delivery scheme shuns air freight but uses sea freight and back-loaded lorries). It concluded that, because home delivery consolidates many people's shopping journeys into one, it is generally more efficient than going shopping in your car.
Leading the charge
The South West, believes Guy, is one of the regions leading the way in making vital links between farming, food, nature and health.
'People are making connections between what we eat and our landscape, biodiversity and sustainability and they are aware of the intrinsic importance of how we grow, cook and share food in terms of culture and happiness,' he says.
He also believes the region has some of the most forward thinking and innovative farmers in the UK.
'Progress and radical change normally happen on the fringes which, in farming terms, normally means the west .
'It was the west that led the way in the adoption of organic farming and now it seems to be doing the same with agroecological agriculture. Our region also has a tremendous wealth of small food producers.'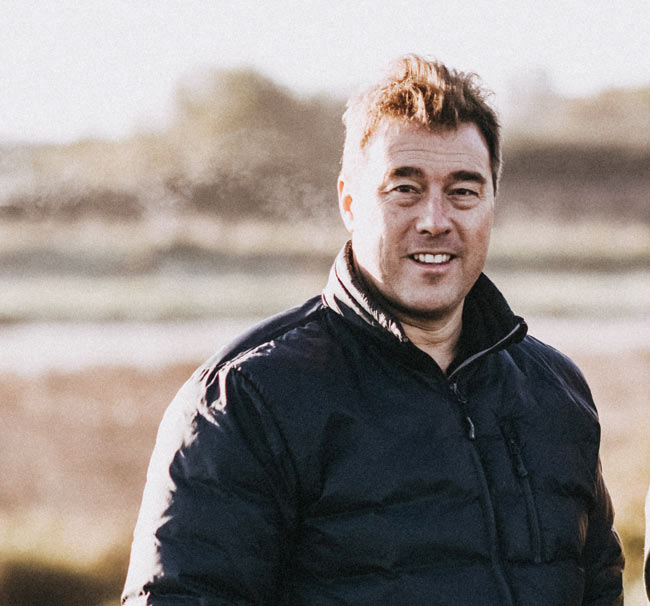 The farm shop entrepreneur
Buying local food isn't just good for us; it's also the best way to preserve the planet for generations to come, believes Michael Dart.
One of three brothers at the helm of Darts Farm, the award winning independent farm shop near Exeter, he's been tracking the shift in how we eat and shop for food for over a quarter of a century. He's concluded that, despite plenty of progress, we might actually be better going back to the traditional style of doing things.
'The more research that's done into the issues of sustainability, the more it comes back to the old-fashioned ways,' he says. 'The modern world has gone crazy: we import and export food, services and goods from all over the globe because our academic elite once deemed that globalisation was a good idea.
'Now, though, we are beginning to realise that all of the jobs have gone abroad, along with all the manufacturing and the wealth. Consequently, communities are in decline while we're transporting flowers and fresh fruit in subsidised transport.'
Grass-fed meat
Putting the focus solely on what ends up on our plates, though, is too simplistic. According to Michael, how our food is produced is a much more critical, and often overlooked, factor.
For instance, there's a global emphasis right now on cutting down meat consumption, but Michael believes that South West farmers should be stressing the health, environmental and dietary benefits that arise from the region's rich heritage of grassland pastoral livestock farming.
'At Darts Farm, the grassland is amazing: it's a fertile, river-kissed valley and it produces rich luscious grass,' he says. 'When it's raining, cattle are taken indoors and fed on silage and hay which has been produced during the growing season.'
Meat produced from grass-fed animals, he believes, is vastly superior to that produced in grain-fed systems. He argues that meat eaters worried about the sustainability of their diets would do well to swap to high-quality, high-welfare, grass- fed beef and lamb which provide bioavailable protein and micronutrients with high levels of omega-3 fatty acids.
Carbon cost
Traditional agriculture, he believes, has the ability to offset its own carbon production through vast areas of grassland. In contrast, the environmental cost of eating cheap imported meat is huge.
'There have been quite a lot of recent studies which have shown that grass-fed cattle are carbon neutral,' he says. 'Agriculture is a unique industry in that it's both a carbon source and a carbon sink: all that soil is locking up carbon and the grass is absorbing carbon.
'If you are eating locally produced meat then there is going to be less transportation from field to plate. Brazilian imported beef may be cheaper but what's the cost to the environment? It's one society has to pick up. Likewise, meat reared indoors and fed on protein and imported grains might be cheaper and more efficient to produce but it will have a cost to the environment.'
Vegan viability
Michael doesn't believe going vegan is the answer to the climate emergency. And South West livestock farmers, he argues, are also stewards of a countryside that provides many thriving natural habitats.
'The landscape needs to be looked after; it's an asset we've been given,' he says. 'We can't let the countryside become derelict and turn into a barren wasteland. We need to use it responsibly.'
Trendsetters and torchbearers
Michael looks to the younger generation, with their emphasis on preloved goods and clothing, as the trendsetters and torchbearers of sustainable living.
'The great thing about society is that it does start to reflect on what it does. The younger generation is operating differently: they're buying secondhand clothes and independent brands and resisting the throwaway culture.'
Slow food
In the future, he hopes, we will all be paying attention to the provenance and quality of what ends up in our shopping baskets.
'There's a relationship between cheap food and waste. Who wants to throw away things that are a treat? Fast food, with its disposable litter, poses the same problems and has created generations of people who don't know how to cook with healthy ingredients.'
Faster is not necessarily better and Michael believes that, to create a healthy and sustainable way of life for generations to come, everyone involved in the regional food scene – from consumer to producer – should combine the wisdom of the past with a vision of the future.
'We're slow in Devon and the South West,' he adds, 'and it's all about slow food and slow living.'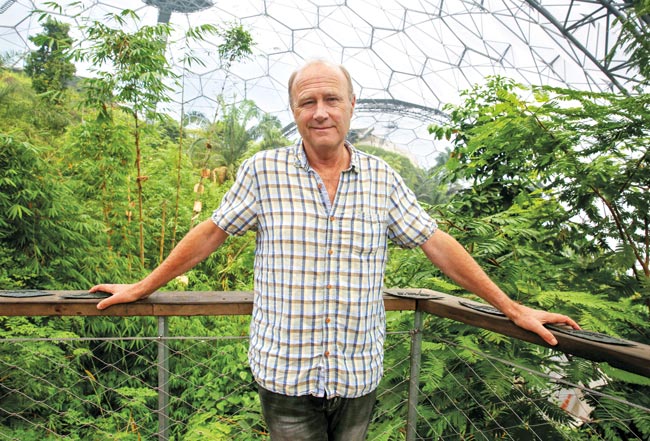 The visionary agronomist
Sir Tim Smit
Tim Smit's vision of turning a disused Cornish china clay pit into a re-creation of a rainforest has become a thriving UK tourist attraction pulling in millions of visitors from across the globe. The Eden Project is famous for putting the environment, conservation, education and sustainability at its core. The entrepreneur believes it's up to insightful leaders and a wave of new agricultural workers to help mould the future of the South West food scene.
'Governments don't give visions; they respond to local pressures that build into national ones – by ignoring these you lose power and no government wants to do that,' he says
People for the planet
When laying out creative ways forward for the region's farmers, growers and producers he tends to favour the word 'agronomy' (the lovechild of horticulture and agriculture which also includes nursery and market gardening) over more traditional words like farming or agriculture.
'The vision being held up at the moment and supported by Eden is for a more mixed agronomy and significant changes to our land management systems. This will see improvements in the fertility of the land, biodiversity on our land and a wider range of stewardship responsibilities for farmers.
'In turn, farmers will widen their growing and land management portfolio to have a greater mix, greater collaboration and a concentration on land health for the planet on behalf of all us citizens.'
Second revolution
South West growers, he believes, will need to take a flexible approach to coping with climate change, and the region is likely to see a new wave of agricultural workers who are willing to embrace fresh ways of working the land and producing our food.
'No one knows what impact climate change will have on us. The issue is adaptability and I think we can adapt to warmer climates and the potential for new crops,' he says. 'However, the truth is that agriculture is arriving at a point of a second revolution and I expect an explosion of urban growing, aquaponics, hydroponics and aeroponics bringing huge crop diversity and localism to the South West.
'This is a very exciting time to be in agronomy as we embark on a world of artificial intelligence and hi-tech growing alongside sophisticated land management systems which will enhance, not diminish, biodiversity.'
Time to legislate
Much of the responsiblity for diet-related illnesses, Tim believes, lies with the government and he would like to see 'legislation against addictive food combinations, help with exercise, and deep study of chemical pollutants which upset the endocrine system that many overweight people are quite obviously being poisoned rather than eating too much.'
Grow your own
And, when it comes to what we all could and should be eating in the future, he recommends: 'Demand fresh, demand variety and grow your own if you can. Grow heritage varieties for flavour (but not Victorian peas which are like bullets!). Learn to cook better and treat yourself, when you can afford to, at some of the finest restaurants in Europe which are here in the South West.'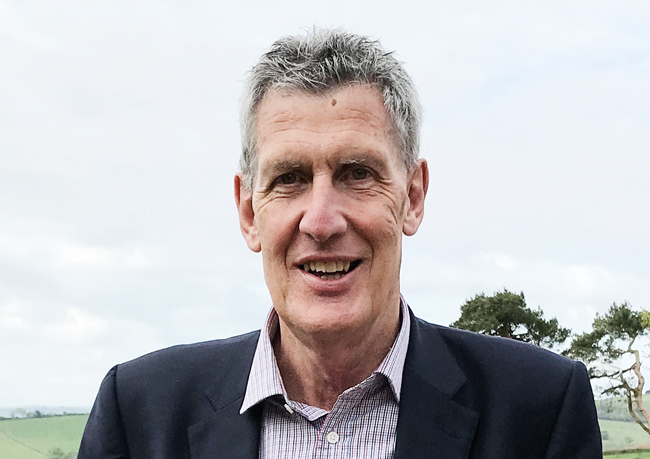 The commissioner
David Fursdon
Lord-Lieutenant of Devon David Fursdon headed up a recent inquiry into the way the South West's food, farming and countryside systems operate. The report, Grass-roots: A sustainable future for food, farming and the countryside in Devon and the South West, suggested that urgent action is needed in the way we produce food.
'There is an increasing interest in these issues spurred by concerns about the climate changing and the poor-quality diet which is a feature of many people's lives. We need to act soon,' he says.
Meat matters
The inquiry, initiated by the Royal Society of Arts' (RSA) Food, Farming and Countryside Commission, found that one of the South West's biggest assets for the future is its dairy and livestock farms.
The region's indigenous breeds of cattle and sheep have adapted over the years to convert marginal grasslands into quality meat.
'We acknowledge that future diets will include less meat,' says David, 'and at the same time we encourage consumers to purchase locally sourced, and particularly grass-reared, beef and lamb on the basis that their carbon footprints are considerably below the world average, are improving all the time with good management, and the grassland on which they are based has the potential to absorb carbon.
'Managed well, this grassland has the potential to support a wide range of biodiversity and to underpin the attractive landscape that encourages visitors.
'We also seek to encourage greater consumption of fruit, nuts and vegetables, particularly those that can be grown locally.'
Joined up thinking
The report found that the South West has the potential to be a shining example of sustainable farming working in harmony with nature.
'We want to encourage a greater connection between local consumers and producers, making it easier to know where the food they are buying comes from,' says David. 'This is a challenge for food retailers with their central distribution infrastructure.
'It would mean that consumers could hold farmers to account for wider issues such as carbon-friendly farming and the maintenance of biodiversity, but would also help them to better understand the farmer's role and support them more.'
In with the new
As farmers transition out of the EU's Common Agricultural Policy into new public goods schemes they could be rewarded for enhancing the environment and investing in sustainable food. In turn, this might open up more opportunities for young people who are attracted to pursuing careers in sustainable agriculture.
'Overall, the farmers will need to produce what the consumer wants and, with the change in the subsidy regime, they will have to do so even more in future.
'Some farmers will find it difficult to change and may retire. However, this could encourage new entrants to come into the industry with new ideas, leading to a greater diversity within farming.
'They may adopt new technologies that older farmers could find challenging but may be necessary with the changes in migration rules – and these could end up being more nature friendly.'