Got the front to pass off a shop-bought Crimbo pud as homemade? We've scoffed our way through the cream of the South West Christmas puddings and found some so astonishingly good that you'd get away with taking the glory. That's one more thing off the festive to-do list …
The modern choice
Riverford Organic Christmas Pudding, Buckfastleigh, Devon
Light and sweet flavours make this a pleasing choice for the whole family – including the young'uns. One for the modern palate, a cake-like texture is concealed inside its smooth-domed exterior. Add lashings of custard for a sumptuously sweet, carrot-y finish to Christmas feasting. Seeking a plant-based pud? Riverford crafts a vegan alternative which is also appealing to the sweet-toothed. £11.95 non vegan / £12.25 vegan (450g).
Queen of Christmas puds
Truffles Traditional Olde English Christmas 'Plum' Pudding, Salisbury, Wiltshire
This is a little slice (or large, no one's judging) of plummy joy and the sophisticated choice for pudding purists looking for a super fruity, sweet and caramel-y centrepiece. The cakiness to fruit ratio is utterly on point with a mouthful of plump fruit guaranteed in each bite. It's our pick of the bunch for sure-fire success if you plan on passing it off as your own. £7.50 (454g).
Rich and fruity
Ajar of Luxury Christmas Pudding, Sturminster Newton, Dorset
Thanks to its rustic farmhouse look and trad ceramic bowl, Ajar of's rich-coloured treat might just score you some homemade points if you keep quiet. It delivers a lively and tangy citrus bite and good texture. £8 (300g).
Spirited sweetness
Georgie Porgie's The Ultimate Gin Pudding, Budleigh Salterton, Devon
The hit of juniper will undoubtedly garner this niche pud a following from gin enthusiasts. After the spirited start, zesty lime lingers on the palate. Not just for Christmas: you could serve this whenever the temperature drops. £8.99 (454g).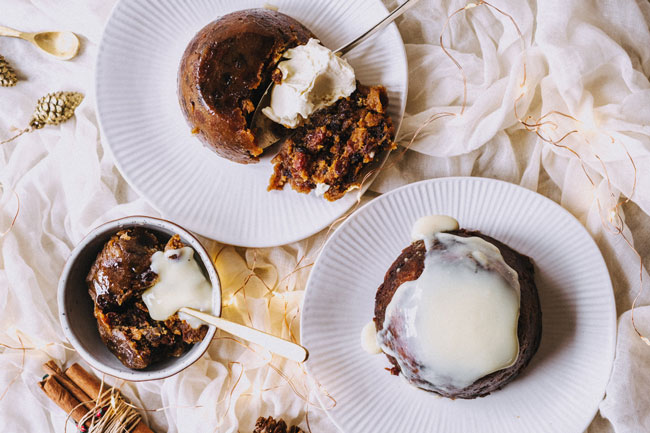 The crowd-pleaser
The Carved Angel Christmas Pudding, Plympton, Devon
You may not get away with convincing Grandma that the famed Carved Angel pud was handcrafted in your kitchen. This plum duff enjoys a cult following and will be a guaranteed hit with the whole family. A melt-in-the-mouth texture and good spicing deliver a light result which isn't exactly like most homemade puds but nonetheless thoroughly embodies the taste of the season. £10.95 (454g).
Rich and boozy
Figgy's Christmas Pudding, Woodbury Salterton, Devon
Get the choccie yule log lined up for the kids, as ten-year-old Somerset Cider Brandy and Hanlon's Port Stout give this shiny orb a boozy kick that might make it an adults-only addition to your festive table. The fruit packs a punch too, with Californian raisins sun-dried on the vine to deliver maximum flavour. £17.95 (550g).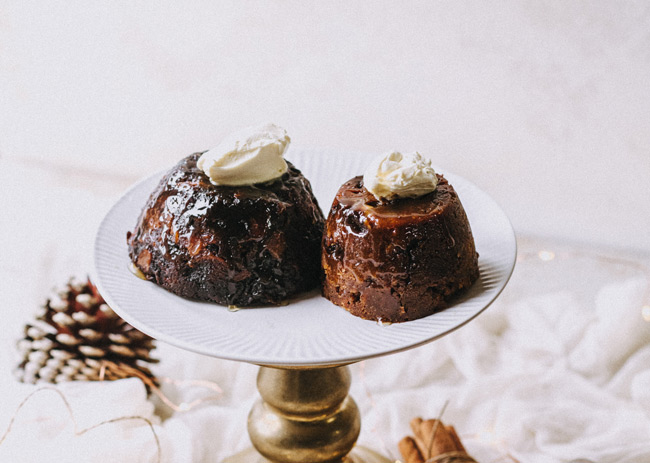 Plant-based pick
Plum Duff and Stuff Traditional (Vegan) Christmas Pudding, West Bagborough, Somerset
Slice into this sticky marvel and, even before tasting, it's clear it'll deliver a heavily fruit-packed, rich-flavoured mouthful – and it's vegan to boot. Keep spooning for lusciously dark flavours with a note of orange zest – but without a hint of sharpness. Absolutely delish. £14 (680g).
The lighter option
Christine's Puddings Luxury Christmas Pudding, Sturminster Newton, Dorset
Ginger, apricot, pineapple and Cointreau amalgamate to form light and fruity elegance in this gluten-free goodie. Almost cake-like in texture, the Dorset-made delicacy can also be bought minus dairy to please free-from friends. £11.95 (454g).