Swapping sun-kissed Mediterranean feasting for somewhere closer to home this summer? From a floating gastro shed to Henry VIII's banqueting spot, Rosanna Rothery reveals some of the South West's most memorable dining experiences
Barricane Beach Hut, Devon
For a unique mix of "theatre" and alfresco dining, head to this small bay near Woolacombe where, throughout summer, Sri Lankan curries can be ordered from a cafe under the cliff.
While beach chefs craft an uplifting, warming and vibrant meat or veggie picnic, nature will put on her own dramatic performance. Ancient slate rocks, which curve around this small beach, form a natural amphitheatre and, as the sun slips beneath the horizon, you're likely to be privy to a stunning sunset.
An evening spent on this sliver of sand is summer therapy at its best: watch surfers – silhouetted in the last rays of the sun – riding the waves, listen to the roar of the sea, and dig into a plate of fragrant curry. Children will find their own entertainment by paddling in rockpools and beachcombing for exotic shells swept in from the Caribbean.
Take a bottle of thirst-quenching ale and something to sit on. Curry evenings run throughout summer and are weather dependent, so check Facebook before heading out.
Thornbury Castle, Gloucestershire
The folks at Thornbury Castle near Bristol have nailed their niche and offer a dine and stay experience like no other. Built in 1511, during the reign of Henry VIII, it's the only Tudor castle in the UK operating as a hotel and restaurant.
If you fancy eating in the same restaurant or sleeping in the same bedchamber as Henry VIII (one of many kings and queens to have previously owned the castle) then head into the leafy landscape of south Gloucestershire.
As part of its grand reopening after a multimillion- pound refurbishment, executive chef Carl Cleghorn (previously of The Manor House and The Queensbury) has been brought in as the new man at the pass. His five-course tasting menus are notable: sup on the likes of foie gras with chicory, orange, walnut and brioche. You'll be continuing a glamorous tradition as, in the Seventies, international stars such as Sophia Loren and Laurence Olivier wined and dined in salubrious style at Thornbury.
After all that feasting you might opt to climb the stone spiral steps in the Castle Tower and sleep in Henry VIII's bedchamber – the room where he and Anne Boleyn stayed for ten nights as part of their Royal Progress tour in 1535.
And don't leave the next morning without trying your luck at a few regal pastimes. Anyone for a spot of axe throwing, archery or croquet on the lawn?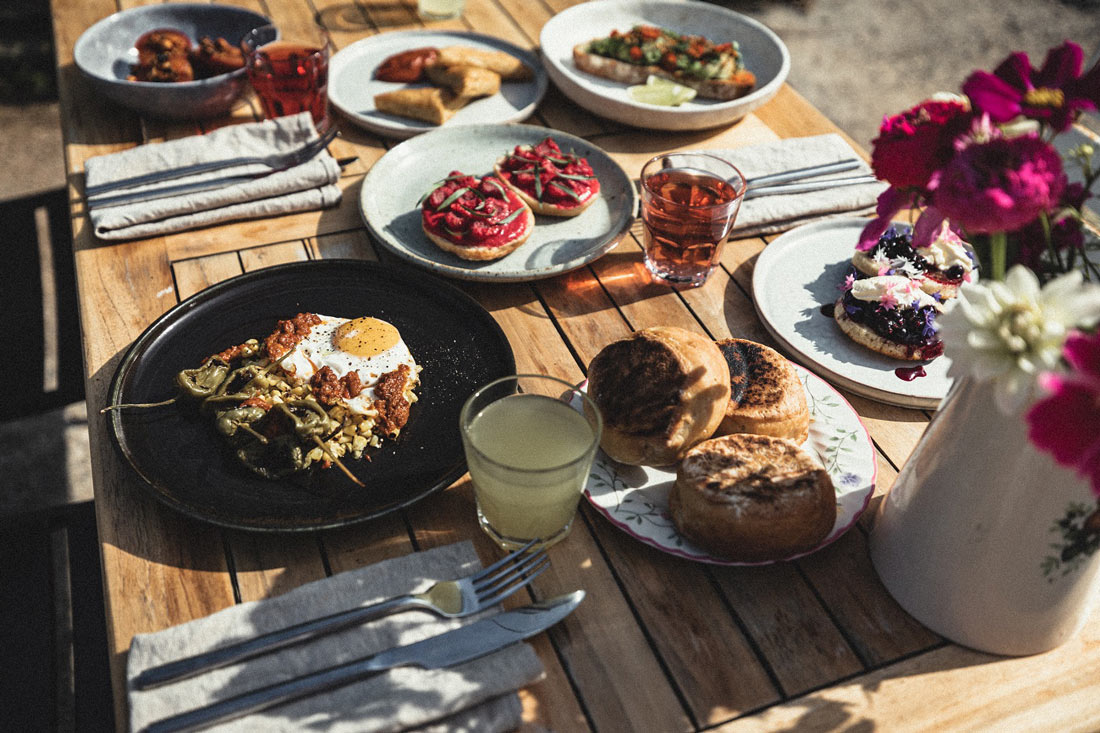 Riverford Field Kitchen, Devon
It doesn't get any more rustic than devouring crops in the fields of an organic farm, and this back-to-nature dining experience near Totnes offers clever twists on all things plucked from the soil.
Take a tour of the meadows and fields, crush sweet-smelling herbs between your fingers in the polytunnel, then savour a menu dictated by the day's harvest. Organic veggies, grown just metres away, are wood fired, baked, grilled and served family-style in the garden restaurant or on the adjoining terrace.
It's good to approach dinner with an adventurous spirit: a daily-changing set menu means you never know which veg will be the star of your plate. Grass-reared meat and sustainable fish play supporting roles, but Riverford chefs pride themselves on converting avid beetroot haters and fennel avoiders into veritable veggie fans.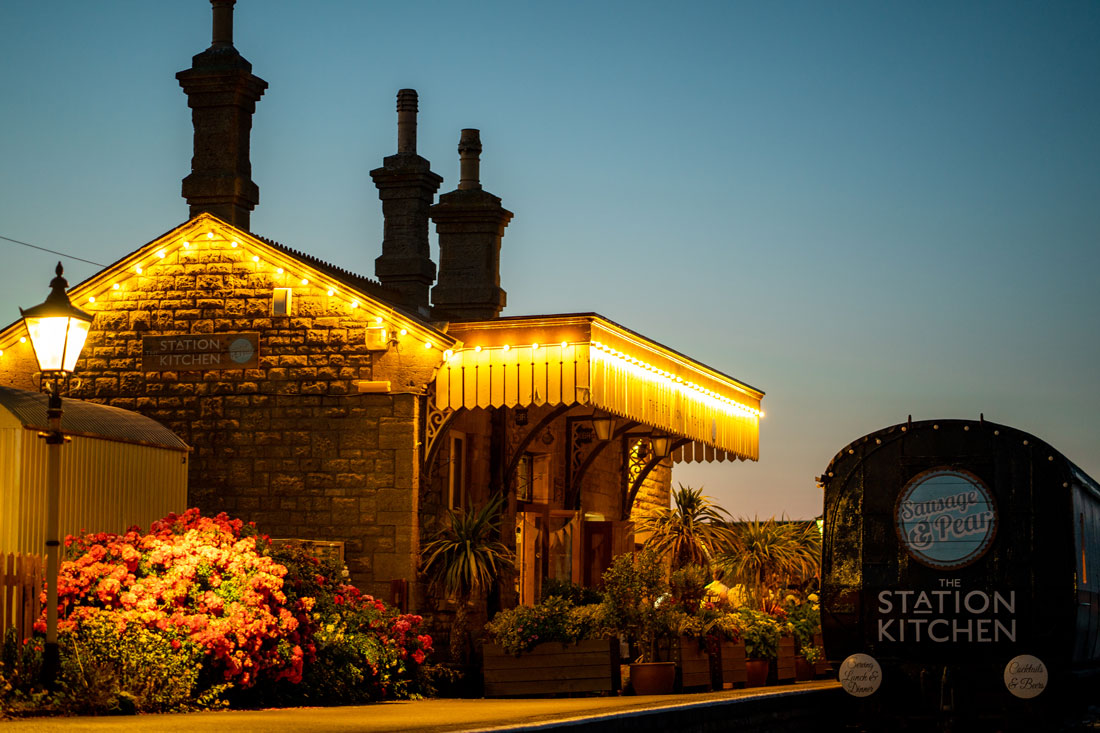 The Station Kitchen, Dorset
Unusual times call for unusual experiences so, if holidaying abroad this summer is off the agenda, hop on a dining train at West Bay in Dorset and be prepared to use your imagination.
The Station Kitchen is a quirky vintage restaurant in a converted first world war railway carriage which specialises in local and sustainable seafood. You won't actually leave the station, but the eclectic mix of clocks, trinkets and ephemera will certainly transport you to an unspecified but utterly enchanting time gone by.
Head to the cocktail bar in the old waiting room for a pre-dinner pep-up before boarding the train for first-class feasting. Chef Claire Moore crafts lunches and dinners, Wednesdays to Saturdays, making great use of county produce and the local catch (you're only a pebble's skim from the Jurassic Coast).
The surreal experience of dining in a static railway carriage is undoubtedly a tad novel but the ultimate destination is fresh-fish nirvana. All aboard for delicious plates of seafood such as tipsy prawn cocktail, pan-fried Lyme Bay scallops and grilled lobster.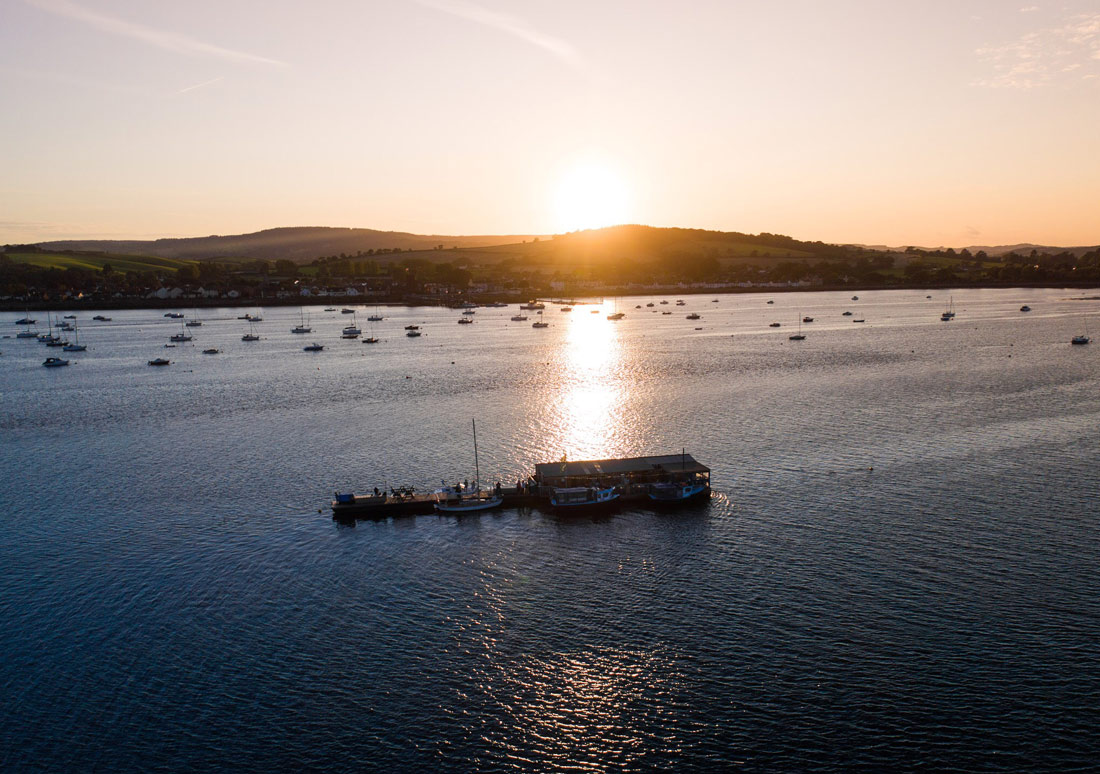 River Exe Cafe, Devon
Devouring a sharing platter of seafood while floating on a sun-drenched Devon estuary provides a symphony for the senses. Listen to the gentle lap of the water, sip crisp local ciders, ogle amazing views and polish off mountains of mussels grown in the river below.
Passing boats supply some of the fresh fish for the River Exe Cafe menu, so the sea-to-plate journey at this custom-built barge moored in the Exe Estuary can only be a matter of metres. Plant-based dishes and Greendale Farm beef complement award-winning Dorset oysters, Brixham crab and picked cockles.
Getting there is an adventure in itself. Take the Puffin Water Taxi from Exmouth Marina or use your own boat. If you're especially intrepid you could even kayak and really earn your supper.
Like finding unique places to eat out? Check out our must-visit alfresco dining destinations collection.