Pancakes in bed? Sumptuous three-course suppers every night? We've all indulged in the fantasy, but what's it really like living with a top chef? Rosanna Rothery got the low-down from four partners who know
Amelia Williams-Hawkes
Amelia Williams-Hawkes was working in Baraza, a cafe in Sidmouth, when she met Tom. He was a chef at the Royal Clarence in Exeter at the time and the couple formed an instant connection over a love of the good things in life.
'Getting together with a chef is a bonus if you have similar interests like eating out, cooking, exploring local produce and, of course, enjoying and appreciating a lovely glass of wine,' says Amelia.
The couple's mutual interest in food has been a strong bond – they even requested restaurant vouchers in lieu of wedding gifts when they tied the knot.
'Although we've always loved to eat out and try new places, this made us travel far and wide – it made a very memorable start to our marriage,' says Amelia.
'We still try to get to London every year with an itinerary I put together – usually it's a schedule with far too many bars and restaurants to visit in a month, let alone a few days.'
The couple run the charming 18th century Salutation Inn in Topsham, where Tom delights diners with modern British cooking laced with French flair, and Amelia sees to it that guests are well looked after.
She admits that, due to the long working hours, the realities of living with a chef are sometimes a challenge: 'One of the worst things is that sometimes I have to attend important family functions without Tom,' she says.
She also debunks the myth that, as a chef's spouse, you constantly get spoilt with homecooked food and reveals the couple share the home cooking.
'We love to cook together when we have friends over, although Tom normally needs to take over – timing is not my strong point.'
Lockdown provided Tom with an opportunity to cook more at home: 'We were lucky because our parents are keen growers so we had a box of veggies from them most weeks and we really enjoyed making Ottolenghi recipes – simple but with a real flavour punch. We usually eat a lot of fish and veggies at home and are suckers for a one-pot wonder.'
At the Salutation's GlassHouse restaurant, Tom's weekly changing menus celebrate fish from the River Exe, as well as tasty crops and cuts from the Devon countryside. His job as a pro chef is to deliver multiple meals to a high standard at a set time, but at home he takes a more relaxed approach:
'Professionally, Tom's cooking is all about team effort and it involves hours of prep time,' says Amelia. 'At home, cooking is all about family time, eating well and enjoying the process with music and a beer.'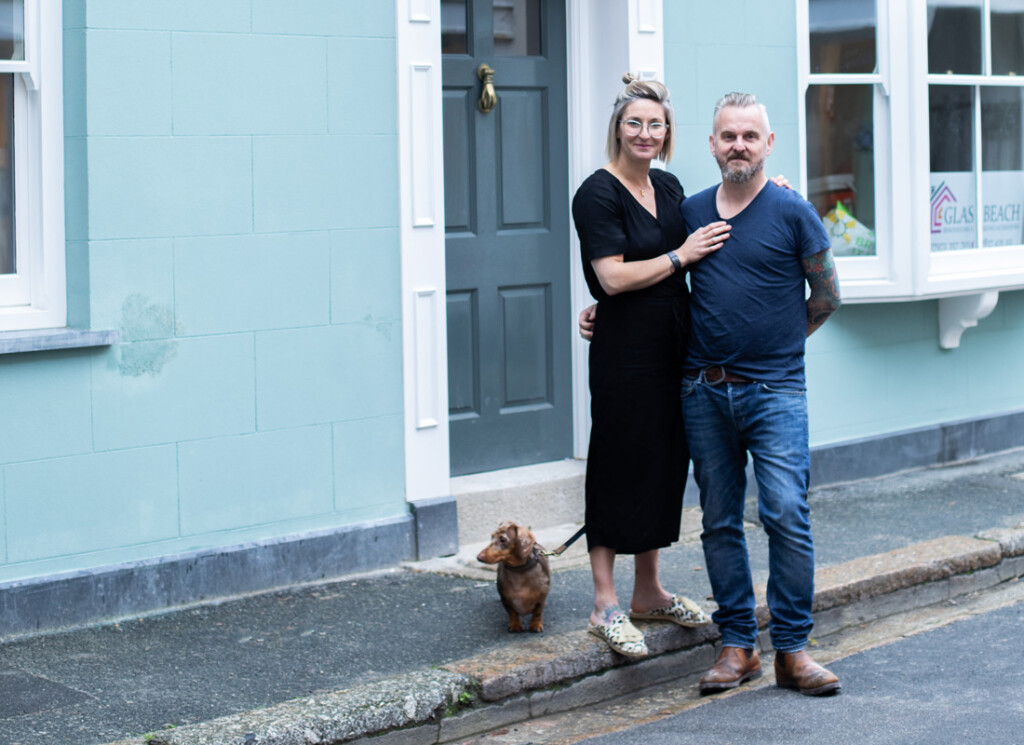 Lyndsey Appleton
Lyndsey Appleton met her husband Andy at Fifteen Cornwall when he was head chef and she was working front of house (she went on to run the charity). Now the couple own and run Appleton's Bar & Restaurant in Fowey, where Andy creates delicious rustic Italian dishes and Lyndsey manages the restaurant.
'The main misconception people have about being married to a chef is that we eat really well,' says Lyndsey.
'The most commonly asked question is "do you eat like this at home?" – the reality is sorely disappointing.
'The best thing about being married to a chef is that when Andy does cook for us it is always absolutely delicious. Also, we both just get each other: we work the same hours so are tired at the same time and have the same downtime as each other. We know what stresses each other out and what's been going on at work.'
When friends come around, it's usually Andy who does the cooking.
'I'm usually responsible for the "prettying up" – the candles, table laying and drinks. I help out occasionally on the cooking side but I take more of a commis chef role – AKA potwash.'
When asked who does the weeknight cooking at home, her 14-year-old son Mawgan chips in: 'It's more like the definition of quality and quantity: you do the vast majority of the cooking and Andy cooks less often – but it's always better.'
She doesn't disagree with this and admits being a guinea pig for Andy's innovative fusion of Italian and Cornish ingredients is a perk of the partnership.
'It's a tough job but someone has to do it,' she laughs. 'I love watching Andy come up with exciting new combos: he draws it, works out the elements, and asks me what would go well with it and what's missing.
'Even after the dish first makes its way onto the menu it will keep getting tweaked: it will be plated differently and ingredients switched or added. Then, when he's finally happy with it … it comes off the menu.'
The couple enjoy working together and Lyndsey feels it doesn't put stress on their relationship.
'You'd think it would, but we do – and always have – worked really well together. We never argue, although we do have different opinions and priorities when it comes to the business, which is good. The restaurant is a huge part of our lives, so we do talk and think about it a lot.
'We don't have a "time out" or "talking shop" rule as such – unless we are away on holiday or trying to totally switch off. Andy is much better than me though: I'm always secretly clocking in, checking emails or the take for the day, which he tells me off for.'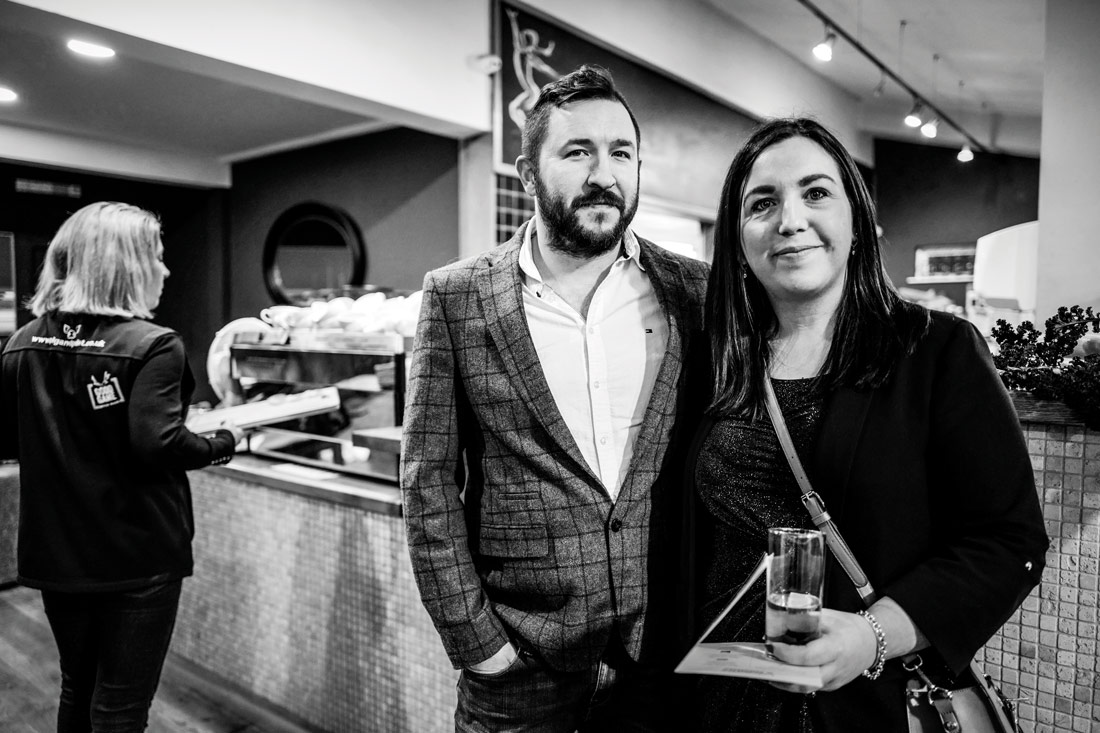 Sarah Moon
Hotel marketing manager Sarah Moon admits when she met her husband Dan she was a tad naive about what being married to a chef might mean for her social life.
'We met when we were working at Homewood Park: he was a sous chef and I was a receptionist,' says Sarah. 'I was only 19 and didn't realise how many hours chefs work.'
Today Dan is executive chef at his eponymous three-AA rosette restaurant within Gainsborough Bath Spa hotel. The myth that, when married to a chef, you're constantly pampered with delicious food makes Sarah laugh.
'Chefs are never home to cook and, when they are, they usually don't want to,' she says. 'Dan will sometimes cook, but every pot and pan gets used because he's used to having a kitchen porter follow him around.'
The downside to being married to a chef, she says, is having to attend social events on your own because your partner works weekends.
'I had friends who, for quite a long time, thought Dan didn't exist because I was always attending parties on my own,' she says.
The upside is that, on occasion, Sarah treats herself and a friend to a sumptuous supper at the restaurant which carries her husband's name.
'It's nice to be able to show them what he does, as they don't get to see him often. I think once they've experienced his cooking and see he is passionate about what he does, they become more understanding.'
Sarah reveals one of the best things about being married to a chef is that they're often super creative.
'When we got married, Dan was keen to have an enormous input into the creative side of the wedding: he chose the flowers and cake. It's the same with the house – he's always keen to give his input.'
She admits some friends can be a little intimidated to invite her and Dan over for dinner.
'They tend to invite us when they're having a takeaway,' she says. 'When we visited my mum for lunch, she'd always serve dauphinoise potatoes for Dan. She'd buy them from M&S, take them out of the container and put them in an oven dish. I don't think she's ever admitted the truth to him.'
When the couple are entertaining, the question of who does the cooking depends on the guests in question: understandably there are some friends who are ultra keen to sample Dan's sought-after creations.
'If that's the case, I totally leave it to him and I'll be the kitchen porter,' says Sarah. 'When he cooks for friends he tends to go all out.'
The Moons' kitchen is also Sarah's domain and she says: 'My grandmother was Italian, so it's in my blood to cook. Though I have to admit, I can't be told what to do – which is ridiculous when you've got a threerosette chef in the house.'
And her advice to anyone thinking of getting hitched to a chef?
'You have to be independent and comfortable with your own company, and understand that cooking is their passion: it's their life, not a job.
'On the plus side, I've never been as proud of anyone as I am of Dan. When he wins awards like the Food Reader Award, it's such a lovely feeling because you know the blood, sweat and tears that go into it.'