The forced closure of restaurants across the UK has led to a huge slump in demand for venison, resulting in a wild deer population explosion which could be disastrous for our wildlife. Happily, fans of this lean free-range meat can play their part in solving the problem
When Boris announced the first lockdown and closed the hospitality industry, the size of the UK's wild deer population probably wasn't on the risk assessment. Yet, ten months – and almost six months of restaurant closure – later it's become a real problem. That's because some woodland areas are being overrun with deer which, by eating young plants, affect the habitat for other species.
Wild deer numbers have been steadily growing in the UK over the past century, however, 'The drop in demand from pubs and restaurants has affected the price, and the first lockdown's restriction on deer stalking has reduced the numbers being culled,' says Andy Gray of M C Kelly, catering butchers and largest venison processor in the South West.
'Wild deer populations need monitoring and culling to maintain ecological balance in our countryside and allow for environmental projects such as tree planting to succeed.'
'The demand for venison was constantly growing and the underlying trend is still upwards, however, the hospitality trade is the main route to market so losing that produces a temporary drop.'
M C Kelly and its new direct-to-consumer sister business The Meat Box Company are working closely with The Country Food Trust to help establish an on-going demand for venison.  
'We are driving demand by discounting the most valuable cut, the loin steaks, and giving a £1 donation to The Country Food Trust each time it's purchased online,' says Andy. 
'The charity uses this money to buy the rest of the meat from the carcass as mince, cook it as a bolognese sauce and supply food banks with prepared venison meals. Since November we have supplied enough venison to distribute 80,000 meals specifically for children in food poverty in the UK. This relationship has allowed us to continue buying venison when most of the national firms have stopped or severely cut back.' 
For consumers, the price of venison has dramatically decreased. Andy says, 'Right now, venison is the best value red meat on the market,' so buying and cooking this lean and healthy free-range meat at home could help get the population back under control.
Where to buy venison
You can usually source venison at your local butchers, but if you'd prefer to get it delivered there are lots of South West companies offering doorstep options.
Devon's The Meat Box Company include venison in many of its variety boxes. It also offers a build-your-own-box function so you can pick and choose between diced venison, steaks and sausages.
If you're up for getting creative, The Dorset Meat Company has a Wild Venison Meat Box featuring a host of cuts including mince, haunch steaks and a roasting joint. Everything in the box freezes well so there's no time pressure to use it up.
And for newbies who want to roadtest venison before committing to a whole box, Darts Farm in Devon's website allows online shoppers to order single items such as a boneless venison saddle joint for delivery or click-and-collect.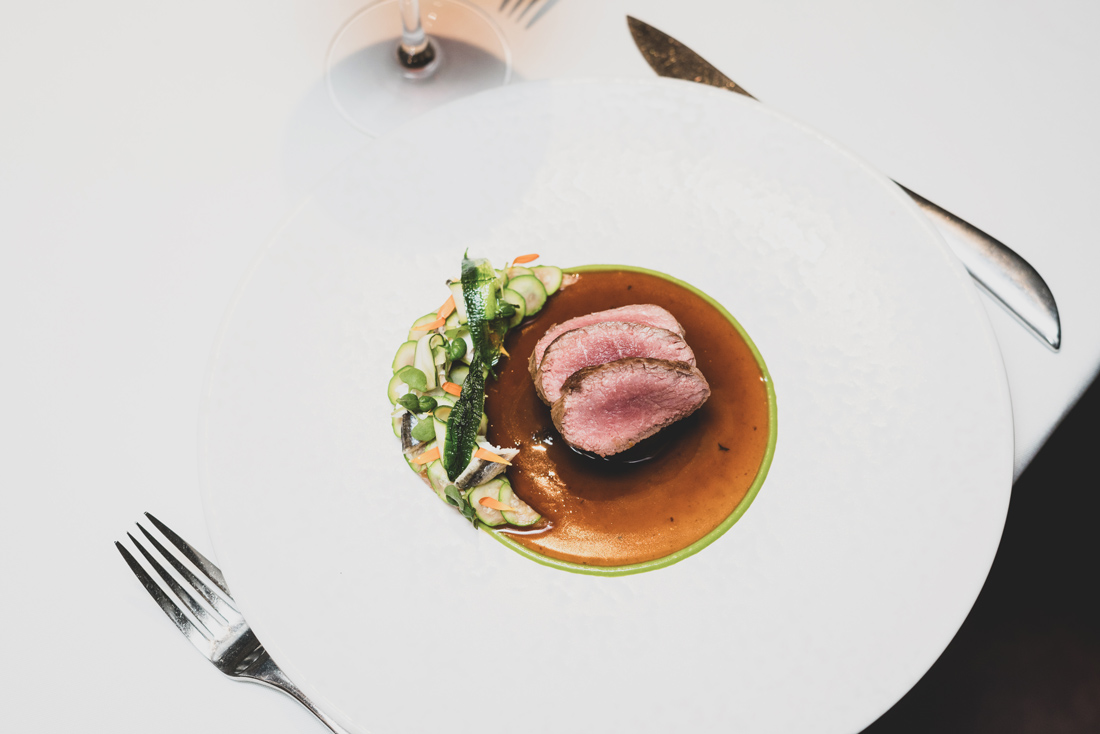 Cooking venison at home
Venison can be daunting for cooks who aren't used to cooking game, however, it's something home cooks shouldn't be afraid of experimenting with, according to Scott Paton, head chef of Àclèaf in Plymouth.
'If you're new to cooking venison, I'd recommend starting with a small loin – the most tender cut – which hasn't been aged for too long,' says Scott.
'When prepping, the key is to remove any sinew on the loin as, when you cook it, the sinew will shrink and tighten up all the meat around it. Use a really sharp knife to trim off any silverskin or sinew and you'll end up with a beautifully tender piece of meat.'
'I'd serve roasted loin with a simple gratin dauphinoise, braised red cabbage and tenderstem broccoli. It also makes a great alternative to roast beef; for Sunday lunch serve it with roast potatoes and redcurrant and rosemary gravy,' says Scott.