Winter alfresco feasting can be atmospheric, cosy and even downright glamorous. Zowie Rees of Heart, Smoke & Soal shares her tips for creating a stunning space for outdoor entertaining
Even during winter, time spent alfresco benefits our physical and mental wellbeing. The Norwegians have a word for it: friluftsliv, which translates as 'open-air living'. It means embracing the outdoors, taking time to connect with nature, breathing in fresh air and appreciating the simple pleasures in life – even when it's chilly.
Zowie advises people on how to transform their outdoor spaces into cosy havens for eating, drinking and socialising, and she's shared her top tips for creating a warm winter sanctuary:
Get fired up
If there's one thing that will encourage your friends and family outdoors in winter, it's the promise of a flame-cooked feast. Traditional Kadai fire bowls are superb for this. Not only do they provide a toasty focal point but, with the right accessories, they're also pretty versatile for cooking. Suspend a tripod over the flames for a slow-cooked casserole or pop on a grill to sizzle a succulent seafood feast.
Amaze with art
A stunning piece of artwork as a centrepiece elevates every kind of outdoor gathering. We're big fans of the handmade Glowbus fire pit (pictured bottom left) which is both beautiful and functional. The classic Dewdrop design takes an evening spent round a crackling fire to another dimension and adds a dash of glamour to any alfresco soirée.
Cosy up
When it comes to alfresco feasting, our Scandinavian neighbours know a thing or two. Create a Scandi vibe with snug rugs and blankets – our favourites are Atlantic Blankets crafted in Cornwall entirely from wool.
Serve pizzas with pizzazz
You can't beat the unique flavour of wood-fired pizza, and nobody does pizza better than the Italians. It's why the Italian-crafted Alfa outdoor wood-fired oven is our go-to. It's not just for pizzas either: everything you can cook in your kitchen can be done on the Alfa, even slow roasts and bakes such as lasagne.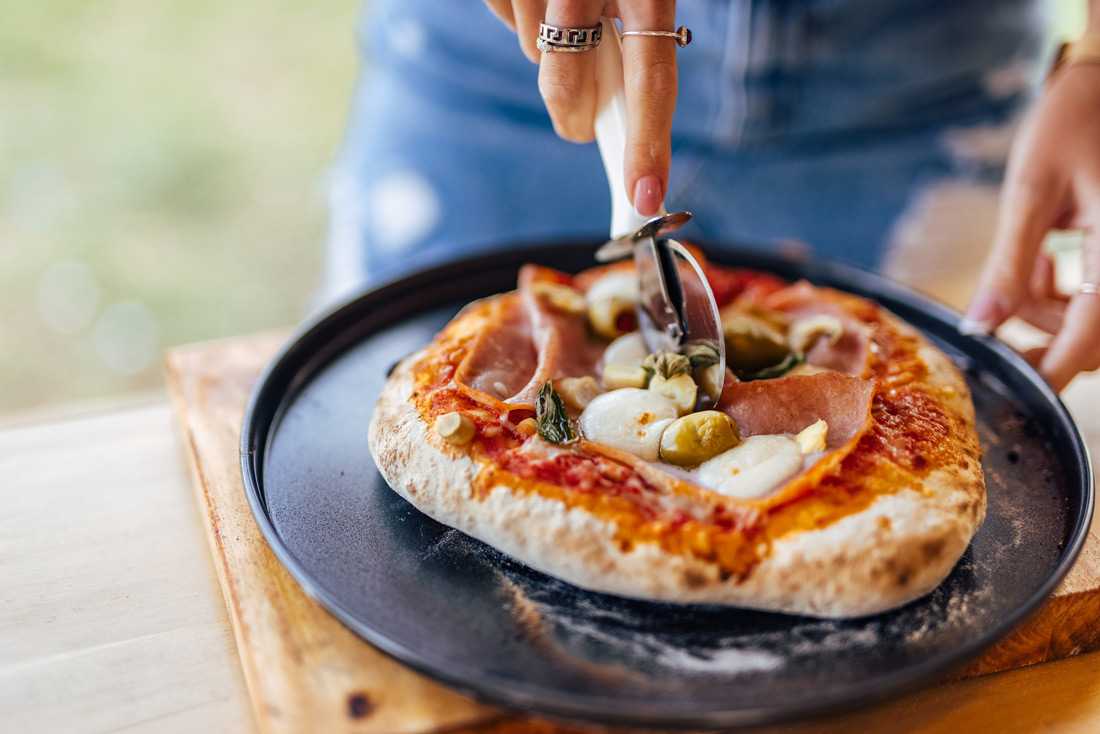 Add ambience
Whether it's giving your guests gourmet marshmallows to toast on the fire, serving meats on a designer board or cooking fresh fish over whiskey-barrel wood chips, it's the little touches that elevate your barbecue into a memorable feast. Check out the inspiring curation in our online shop for ideas.
Be adventurous
An outdoor kitchen is an exciting addition. From a snug gazebo to a canopied room with fridge, flooring and sink, there are some very stylish options. As lovers of outdoor living, we enjoy helping our clients find the right one for them by using a design-led process tailored to their unique outdoor spaces.