Scott Paton, head chef at Àclèaf in Plymouth, reveals why he loves cooking with morels in spring – and shares a few tips on how to prepare and cook them at home
I love cooking with morels. Light and earthy with a hint of woodland, they're one of my favourite springtime ingredients. Their unique flavour and texture make them stand out when other mushrooms can fade into the background of a dish.
Source
Morels have a relatively short season (March – May) but when they do pop up they grow really fast. At Àclèaf we source them from Forest Produce which works with local foragers. On occasion we've had foragers rock up at the kitchen door with a just-picked haul from the woods. If you want to cook with morels at home you should be able to find them in good farm shops.
Prep
Morels will soak up any liquid they come into contact with so avoid cleaning them with water. As they are a wild ingredient, the first thing I do is cut them in half to check there are no nasties living inside. I then get a toothbrush (new and clean) and brush the outside to remove any dirt. When prepping the mushrooms, keep any trim to make a delightfully light and woody stock.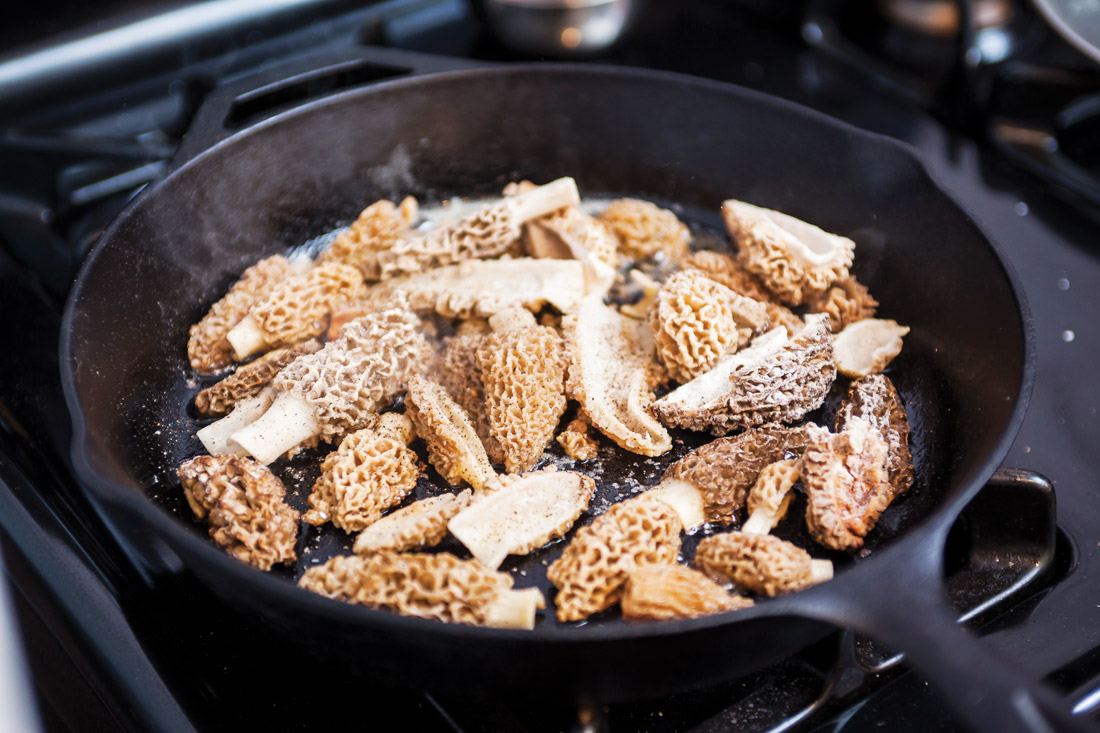 Cook
These curious little fungi only need a short and sharp blast so be careful not to overcook them. Aim for a light toasting in a hot pan of foaming butter to bring out their distinct nutty flavour.
Serve
From adding depth to a bolognese sauce to being the star of a simple yet satisfying risotto, morels are super versatile. They pair well with other spring ingredients such as lamb, wild garlic and asparagus, and my favourite way to cook with them at home is to add them to a vibrant pea and broad bean fricassee. I often experiment with morels at Àclèaf: one of the most memorable dishes was a lamb loin wrapped in a chicken and morel mousse, served with a lamb ragu and morel ketchup.