Kathryn Lewis polishes her chopsticks for a one-of-a-kind afternoon tea experience at Robun in Bath
What is it?
Afternoon tea – Robun style. The team at Bath's favourite Japanese restaurant have turned the traditional set-up on its head, replacing sandwiches with sushi and scones with mochi balls.
Why?
The unofficial capital of afternoon tea, Bath attracts flocks of tourists who, between floating in the Thermae Spa and gawping at gorgeous architecture, schedule afternoon visits to its grand hotels and refi ned restaurants to indulge in the toothsome tradition.
So, when Robun opened in July 2021, it was only natural it would offer an afternoon tea experience. However, like all things at the George Street venue, it wasn't going to follow the crowd.
By blending the ancient Japanese art of the tea ceremony with the quintessentially British pastime of stopping for scones and a refi ned brew, head chef Jon Claro has created a unique culinary experience you won't find anywhere else in the city (read our review of Jon's cooking here).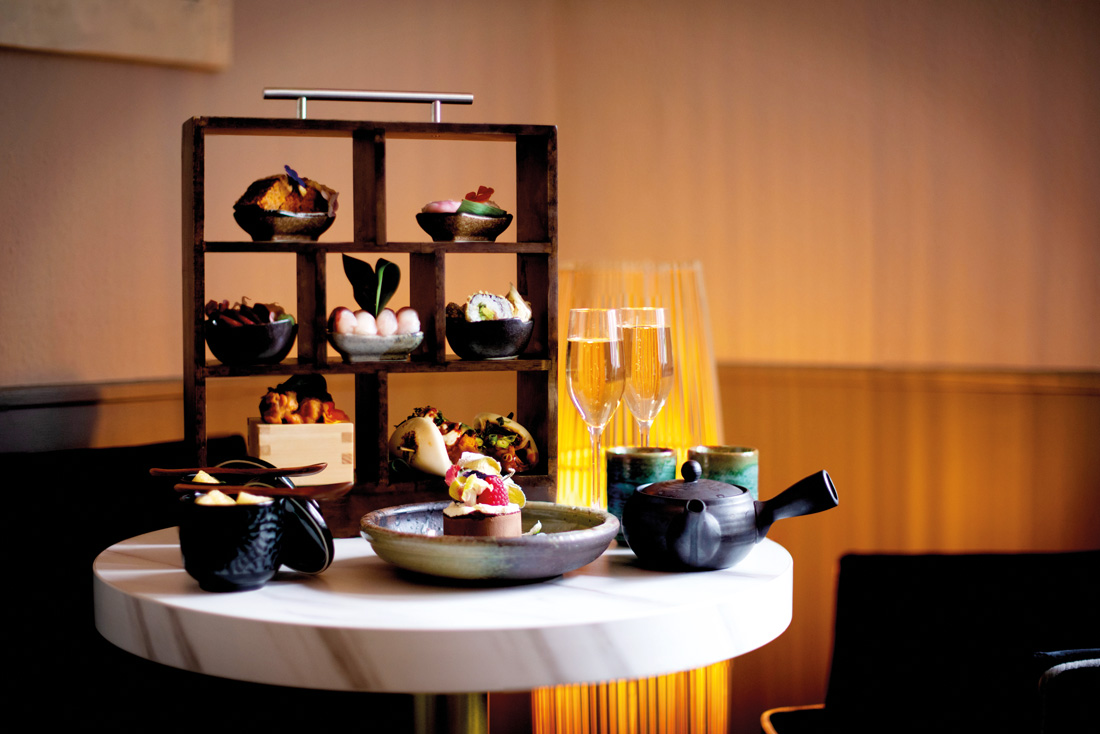 The low-down
First impressions confirm this is to be no ordinary afternoon tea. Bold murals, dark wooden tables and giant Japanese symbols lined with candles create a sleek backdrop that's more cocktail bar than hotel dining room.
We started with mini bowls of miso soup, rich and pleasingly salty thanks to the homemade miso and four different types of seaweed used to muster its deep umami flavour.
The main event arrived at the table in a contemporary wooden box with compartments for each of the dishes. First up were bao buns (one chicken, the other pork), each pillowy cloud stuffed with crisp deep-fried meat, crunchy onions and fiery chilli slices. They were followed by Jon's karaage chicken: deliciously moist (yep, we said it) pieces of chicken breast in a crunchy Japanese batter.
The three dishes in the next storey of the box introduced sushi to the mix. Akami sashimi, aburi nigiri and panko smoked salmon maki, served with ribbons of pickled ginger, punchy wasabi and syrupy soy sauce, were delicious examples of the craft.
A sweet selection ended the experience on a high: mochi ice cream (gobstopper-sized orbs of fruit-flavoured ice cream in a gel case), miso cake (the classic umami notes of miso in a light and fluff y sweet sponge) and chocolate truffle torte (deliciously dark and indulgent but sparingly sweet).
Guests are invited to add a glass of Prosecco to their order but, for an authentic pairing, the selection of Japanese teas are hard to beat. We chose the genmaicha, a brown-rice green tea featuring toasty notes of popcorn and hazelnuts.
Cost
£32 per person.
Recommend to a friend?
Absolutely. If you're over trad afternoon teas, this will reignite your love of the between-lunch- and-dinner meal.