The Manor House showcases an imaginatively fresh makeover of both its dining room and tasting menu, discovers Jo Rees
What's the draw?
Fourteenth-century The Manor House in Wiltshire has been a stalwart of South West country-house-hotel hospitality for years, delivering ancient-panelling-meets-swags-and-tails- grandeur to complement the Austen-esque charms of Castle Combe, in which it resides. Indeed, such is the historic vibe of the village that it's usually teeming with tourists taking selfies in front of its golden-stone cottages.
Mostly, The Manor House has remained faithful to this old-school ambience, eschewing the likes of an infinity pool and hot tubs in favour of the traditional rural pastimes of golf and a hearty walk (posh wellies are provided). Yet shoots of modernity have burst through in the hotel's fine-dining restaurant, Bybrook, via a luscious botanical makeover and some exceptional contemporary cooking.
Who's cooking?
Exec chef Rob Potter heads up the pass. He earnt the restaurant a Michelin star in 2017 and has retained it ever since. Rob's CV covers a number of high-calibre venues across the UK and, prior to his move to The Manor House, he worked under Hywel Jones at Lucknam Park in Wiltshire. In this current role he gets to enjoy a similar bounty of homegrown produce from which to craft fine-dining dishes.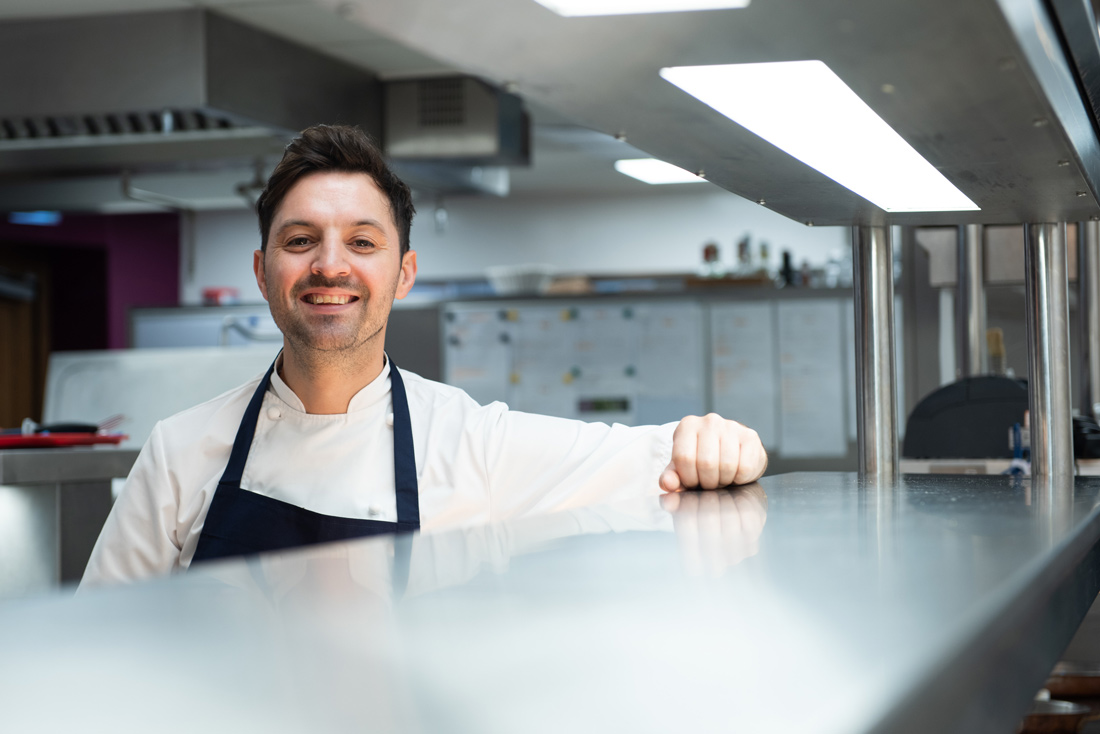 What to order?
It's a tasting menu set-up at Bybrook, although guests staying a few nights can find a change of dining pace in the casual menu served in the lounge areas of the hotel.
Tasting menus can be laborious in the wrong hands so it's refreshing to discover that Rob has reworked the genre as a light and thoroughly modern experience.
Highlights of the seven courses we ate included a canapé-sized morsel of ChalkStream trout with oyster, wasabi and roe, wrapped in crisp nori and intended to be devoured in a single mouthful. The joy-sparking sequence of notes and textures it delivered were sensational in the true meaning of the word and heightened further by a pairing of Litmus' Orange Bacchus from Surrey.
Another knockout moment of our visit was the umami richness of slow-cooked featherblade beef which accompanied a slice of olive-fed wagyu fillet with Yukon Gold potato and celeriac, while a dessert of Yorkshire rhubarb in its various incarnations was fizzing, sharp, crisp, creamy and aesthetically gorgeous in equal measure.
However, the most glorious juncture of the experience was a pre-dessert that arrived on chilled and velvety porcelain, shaped like a curvy flying saucer. Within it was a confection that comprised textures from the smoothest sorbet to cloud-like fluff to posset cream, with flavours of coconut, mango, passionfruit and kaffir lime – the latter lingering on the palate like sweet jasmine in the evening air. 'Everyone likes that one best,' confirmed our waiter.
At Bybrook guests don't have to exercise the usual bread-basket restraint as crisp carbs are included as one of the courses. An exquisite laminated brioche, served with cultured butter, demands diners dive in unselfconsciously. We suggest ignoring the golden shards that fly everywhere as you tear into its supple innards – it's worth every moment spent picking them off your shirt later.
Food's tip
Order the wine flight – it's beautifully crafted, the glassware gorgeous and the sommelier so cheerfully engaging it'll take the evening next-level.