Jo Rees eases back into dining out via Asian-inspired seafood thrills in a relaxed pub setting at The Three Horseshoes
What's the draw?
Restaurant-quality cooking served in a comfy, casual environment where you don't need to be dressed to the nines if you can't be bothered. Ditching the lockdown leggings and slippers has been a bit challenging for many of us, and "heels and a handbag" feels horribly 2019.
That's not to say that The Three Horseshoes, with its rustic and quirky interior, isn't charmingly attractive – it's just lacking pretension. Chow down on superbly crafted dishes and imbibe wines from a seriously comprehensive list while absorbing the casual buzz of the bar as it bubbles through the connecting doorway.
Who's cooking?
Talented Dutch chef patron Jaap Schep owns the dining pub with his wife Hannah, who artfully runs the front of house side of things.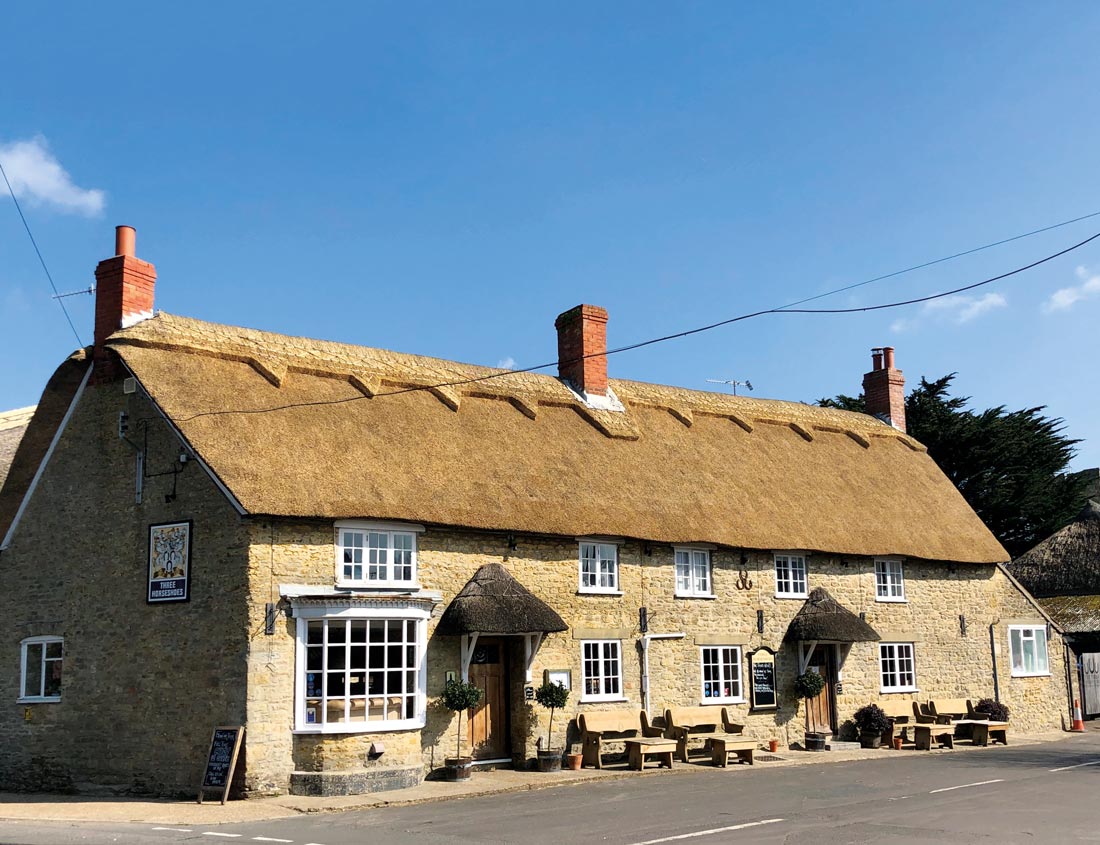 What to order?
The Dorset village of Burton Bradstock is just a few miles from Hive Beach so Jaap does an appropriately splendid job of showcasing locally landed seafood. Half the dishes are fish focused, but, while the produce is sourced nearby, culinary influences come from all corners of the globe. Expect to find seafood bouillabaisse and dressed Portland crab sharing menu space with Indonesian seafood curry.
Pan-Asian flavour profiles are clearly Jaap's go-to and diners chasing chilli thrills will find them in dishes as diverse as crispy smoked Chesil-mackerel bao bun with mango, peanut and Thai basil salad, and a storming bang bang cauliflower doused in firecracker sauce.
The latter is from a list of deliciously creative bar snacks that, in number, could happily kick plans for a conventional starter, main and pud into touch. Who wouldn't enjoy working their way through small plates of Dutch bitterballen (beef croquettes), Poole Bay oysters with shallot vinegar, Tabasco and lemon, and kibbeling (lightly spiced and battered fish bites with remoulade) paired with matched wines by the glass?
Food's tip
The puds are seriously good, especially the Marathon-bar- inspired chocolate fondant with its peanut-butter ice cream and caramel popcorn sidekicks. It calls to everyone old enough to get the reference – and anyone too young to care.