Laid back and unshowy, this relaxed restaurant in West Bay is a cool spot for all‑day eating
What's the draw?
An informal riverside cafe bar, perched on its own mini island, where families can rock up for breakfast, brunch, lunch, supper or coffee in complete confidence that everyone will find something to satiate their appetite.
As casual eateries go, Rise has to be one of the most appealing in Dorset. In summer, you can sit outside and enjoy the riverside location protected from the sea breeze by a high glass balustrade. On a cosy winter evening, when rain lashes on the panes and the little footbridge that delivers you to the restaurant swings in a squall, it's a sheltered sanctuary in which to hunker down.
Its mix of wooden furniture, colourful throws and cushions, verdant plants and flickering candlelight creates a laid‑back hygge vibe, which encourages guests to relax and natter. The easy‑going feel is enhanced further by an open kitchen that brings the chefs' cooking right into the hubbub of the restaurant.
Who's cooking?
Richard Cooper and Nikki Craven have a stellar history in hospitality (former successes include The Bull Hotel in Bridport and The Stable family of pizza and cider restaurants). The couple, along with fellow The Stable colleagues Andy Briggs and Kyle Clark, opened Swim (a restaurant on the beachfront in Lyme Regis) in March 2018.
When they heard The Riverside in West Bay was up for grabs, they couldn't resist adding it to the portfolio and relaunched it as a special destination for all‑day dining, with head chef Nick Larcombe in charge of the cooking.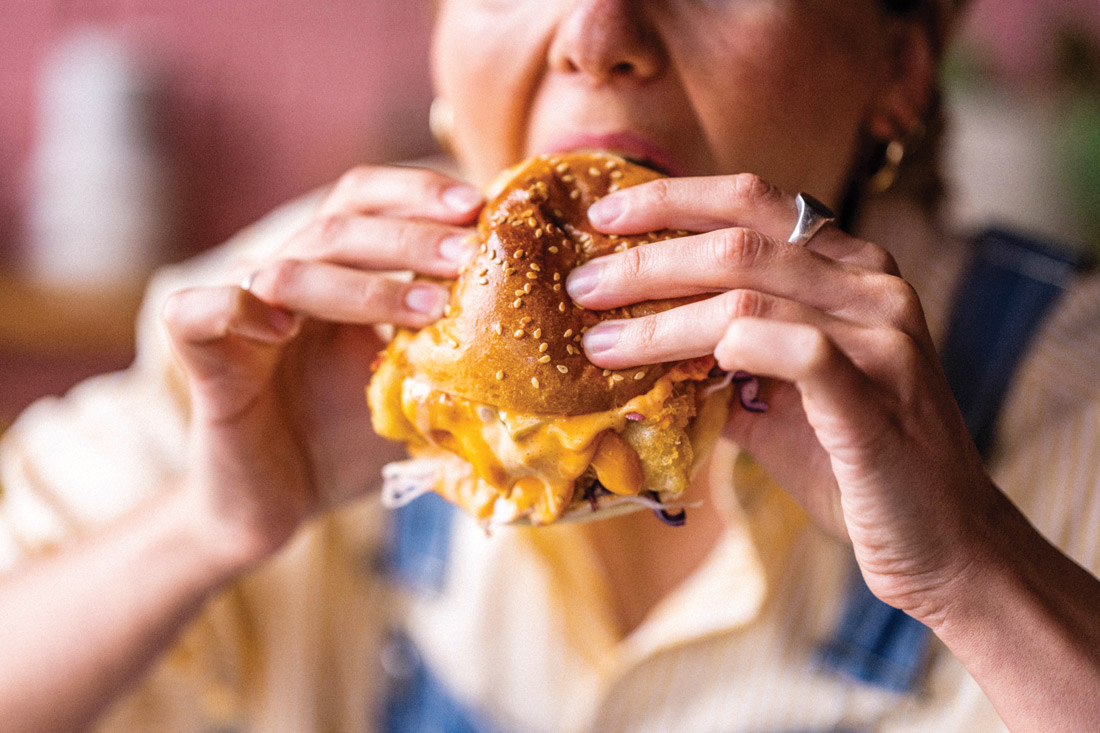 What to order?
The kitchen team craft a mean burger and lavish each bun with extreme generosity. Served on Rise Bakery sesame-seed brioche, each one is stuffed with delights such as buttermilk fried chicken, tempura local fish, and sweet potato and quinoa patty.
While it's hard to make a choice between these tempting fillings, the epic Dorset Longhorn is arguably the most succulent, juicy and flavoursome pick of the burger menu. Ours arrived heaped with grass‑fed chuck‑steak patty, smoked bacon, roasted onions, burnt‑butter mayo and lettuce, and drizzled with Dorset Blue Vinny.
There's an Asian vibe to many of the house dishes, plus a choice of fresh seafood specials, classic family favourites and a line‑up of salads. All the bread, burger buns, pastries and cakes are fresh from the ovens of its sister bakery in Bridport.
Food's tip
The adjoining snug, with its comfy sofas, picture windows, cosy throws and log burner, is a rustic hipster haven for catch ups over small plates. Arrive with plenty of time to kill before dinner so you can sample the likes of a Passionfruit Zombie cocktail. Or order one of the South West craft beers from the wrap‑around bar and soak up the lovely harbour views.