Quality neighbourhood restaurants are becoming increasingly rare, but this relaxed fine-dining venue confirms they're a phenomenon worth fighting for, says Kathryn Lewis
What's the draw?
In 2007, chef Ronnie Faulkner was searching for a space in the South West to establish his first restaurant. After looking in Bristol, Bath and Cheltenham, he was surprised to discover his perfect venue – a Grade II-listed former schoolhouse – in the market town of Thornbury.
If, as planned, Ronnie had settled in one of the South West's major cities, it's impossible to predict if the restaurant would have survived the past 16 years of hospitality highs and lows. However, in this town ten miles from Bristol where a sense of community prevails, Ronnie's has stood the test of time and is a blueprint for the kind of neighbourhood restaurant foodies dream of having minutes from their door.
When we visited on a Friday night in early April, the beautifully rustic dining room was full of local families marking special occasions. Ronnie's refined menus cross borders and time zones, which gives them broad appeal, while the service is so friendly that even out-of-towners feel welcomed into the fold.
Who's cooking?
South African-born chef-patron Ronnie worked with some of the greats (including Anton Mosimann and Bruno Loubet) in the early days of his career and their influence is still apparent in his immaculately presented dishes. Inspiration may be gathered globally, but much of the produce used is sourced locally and the seasonal menus tweaked daily, according to the ingredients Ronnie and team can get their hands on.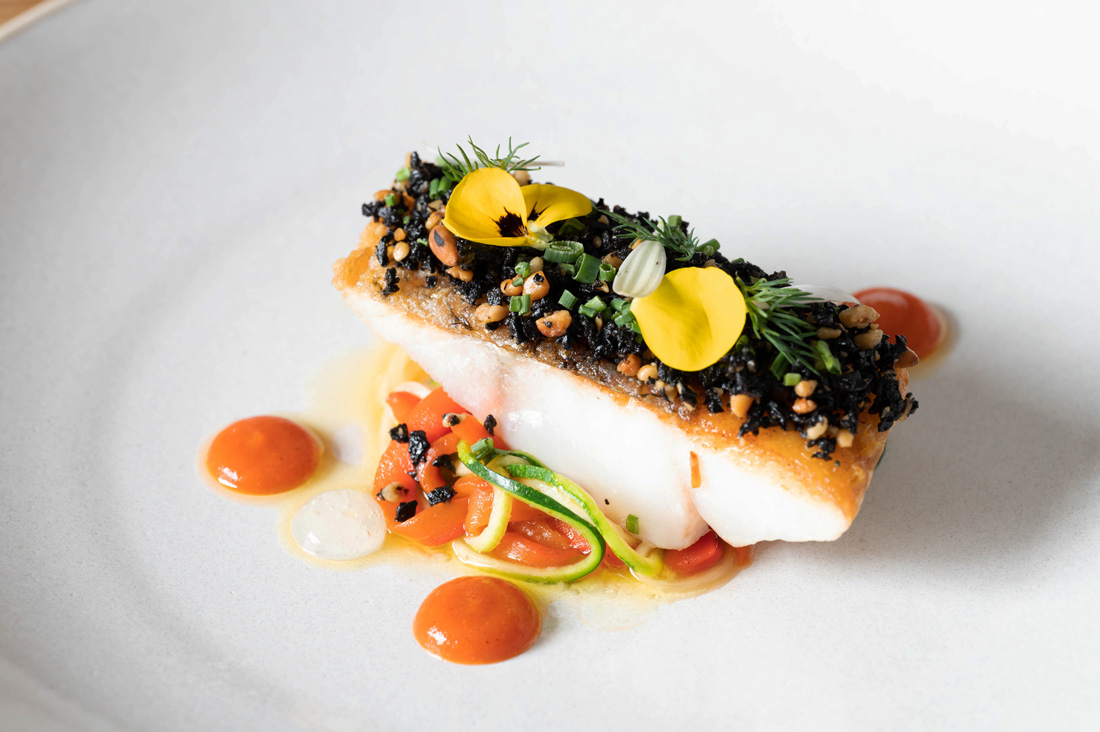 What to order?
There are two- (£45) and three-course (£55) à la carte options at Ronnie's of Thornbury, but both the indecisive and the frugal will be drawn to the six-course tasting menu (£65) which showcases the kitchen's work at an incredibly reasonable price.
On our spring visit, the tasting bill had a fishy leaning and highlights included delicate slices of pastrami-cured salmon served with pickled and torched cucumber, pickled shimeji mushrooms, firecracker harissa and a nose-tickling wasabi cream. A pan-fried fillet of striped bass embellished with a black olive and pine nut crust, presented on a bed of shredded roasted Mediterranean vegetables and finished with a punchy lemon gel instantly transported us to the sun-drenched south.
The single meat course was a blushed cut of West Country lamb layered in pâté and served in a delicate pastry casing, presented with baby leeks and a fermented and burnt shallot puree. Expertly executed, it was bang-on for seasonality.
Dessert courses continued to delight, with a light and citrusy blood-orange crème brûlée followed by a boozy chocolate and cherry combo comprising a rich cocoa parfait, zingy cherry sorbet, chocolate crumb and crème chantilly.
Food's tip
Ronnie's of Thornbury keeps a very good wine cellar so diners indulging in the tasting menu should take advantage of its thoughtful pairings. A glass of the Woodchester Valley Cuvée, produced just 20 miles away, is a delicious way to kick off proceedings.