Selena Young digs into wood‑fired field‑to‑fork dishes at Darts Farm's new restaurant, The Farm Table
What's the draw?
Thanks to a wealth of awards, Darts Farm enjoys a reputation that most food retailers and lifestyle stores can only dream of.
Starting out more than 50 years ago as a humble farm shop selling own‑grown produce, it has flourished into a fully‑fledged foodie destination that people voyage miles to visit.
Now, as well as stopping by to pick up own‑grown veg and own‑reared rare‑breed meats, plus artisan goodies and wines and spirits from across the South West, people drop in to browse the beautiful homewares, buy walking boots and even get a haircut.
All of the delicious ingredients stacking the farm shop shelves will excite any foodie, but happily there are a few tempting eating opportunities on site too. The fish and chip shack gives customers the chance to choose locally landed fish to be cooked to their specification, while the stacked deli counters offer gourmet goodies to‑go. Then there are the icy delights of the gelateria and the hearty breakfasts and lunches to be found in the main cafe restaurant. The only thing missing was an evening dining option, which has now been filled by The Farm Table.
Who's cooking?
Chef Tom Chivers heads up the new eating experience. With previous posts at THE PIG hotels and Riverford Field Kitchen, his plot‑to‑plate experience is perfectly suited to The Farm Table's ethos. Menus are built around ingredients freshly plucked from or reared on Darts soil and everything is cooked over fire to amplify the produce's natural flavours.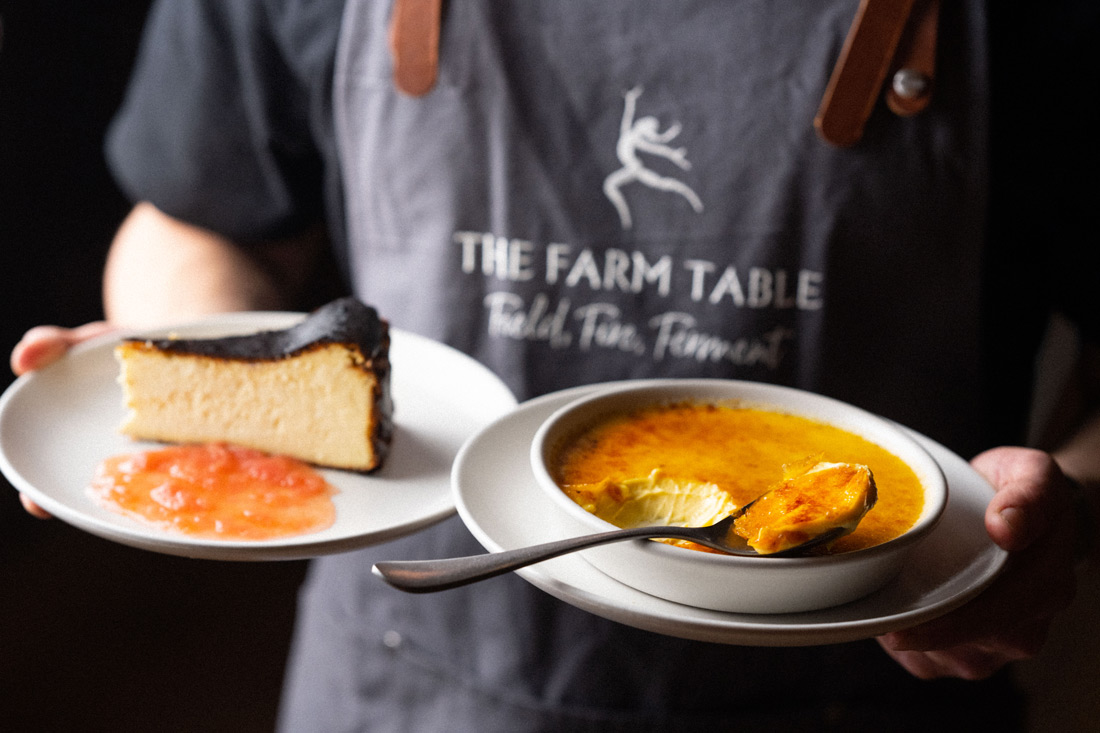 What to order?
Narrowing down what to eat from the lengthy line‑up is made easier by the menu's split into categories: from the soil, from the sea and from the fields. To get a broad taste of the terroir, we shared a selection of dishes from each of the sections.
We kicked off our feast with burnt broad bean pods in Cornish chilli salt – eaten edamame style but made infinitely better by the pleasantly bitter bite of the salty charred skins – and chunks of crisp pork belly coated in chilli sauce and toasted sesame seeds.
Carnivorous thrills continued with a ham hock terrine starter, which was served with pickles and a punchy homemade piccalilli. However, a tagliata main course pipped it to the post for the title of star dish. Strips of sirloin steak (from Darts' grass‑fed Red Ruby Devon cattle) were torched on the outside and devilishly tender within, and served with rocket, Isle of Wight tomatoes, balsamic glaze and Cravero parmigiano.
Picks from the Devon coast included chargrilled monkfish, which we sampled with bronzed slices of chorizo, braised fennel and aubergine crème fraîche.
Be sure to leave room for pud, especially if it features Darts' homemade Cow & Cacao chocolate. Every spoonful of the single‑origin Venezuelan chocolate mousse was pure bliss.
Food's tip
Enjoy a pre‑dinner glass of local Pebblebed wine (the vineyard is another new member of the Darts family) on the sun‑trap terrace. Chilled beats and picturesque estuary views make it a lovely spot for a sundowner before supper.