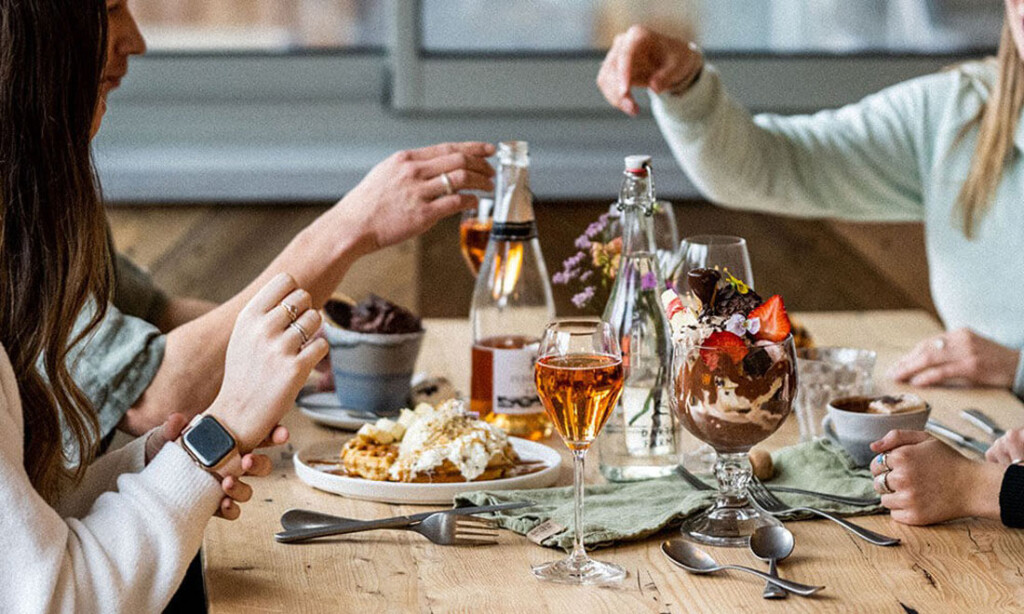 Darts Farm near Topsham unveils new cafe, gelato and chocolate workshop, Cow & Cacao Cafe
Darts Farm in Devon has long been a destination for foodies, but the award-winning farm shop has added another reason to visit thanks to the opening of Cow & Cacao Cafe. The deli bar area has been transformed into a light and airy cafe space that features an artisan gelato bar and bean-to-bar chocolate workshop, where customers can relax and indulge.
From morning until late afternoon, visitors can feast on a range of fabulous dishes at Cow & Cacao. Vibrant smoothie bowls and homemade waffles make hero appearances at breakfast, while wood-fire sourdough pizzas, Ruby Red steaks and freshly caught fish feature on the menu from lunch until close.
The creative kitchen team are picky about what goes into their dishes so only sustainably sourced ingredients make the cut. Milk is sourced from Sutton Lucy Dairy in Devon and used to create the luscious gelato, hot chocs and milkshakes. The chocolatiers carefully select cacao from small-scale growers around the world.
Work on the Cow & Cacao Cafe was halted in lockdown, so the Darts team are delighted to be able to share their creation with the local community.
Darts Farm co-founder Michael Dart said: 'It's a massive 'proud father' moment. My son George has been heading up the project and my twin girls, Maddy and Josie, have been heavily involved in the menu development, working alongside our Cow & Cacao manager Emma. Not forgetting our in-house expert chocolatier, Louise, who has been making our incredible bean-to-bar chocolate and fresh gelato. They have been all working around the clock and given everything to this project. Finally, they can see their hard work paying off.'
Cow & Cacao Café is open from Monday to Saturday (9am-5.30pm) and Sunday (9.30am-4pm).