Jo Rees trotted off to Dartmoor looking for a casual supper and found a thoroughbred experience
What's the draw?
A laidback pub serving pizza and steak that's so good it's featured in the exacting Trencherman's Guide.
It's an unusual inclusion as Trencherman's restaurants tend to be at the smart end of the dining scale, often boasting sought-after accolades, big-name chefs and chic interiors. Yet The Horse is most definitely a pub-pub, with locals propping up the bar, live music, beer on tap and a menu that majors on pizza.
These are no ordinary pizzas, however. They're crafted from twice-risen focaccia dough and smothered in a slow-cooked tomato sauce and fior di latte cheese. And they're stablemates with homemade pissaladière and 'nduja sausage, owncured bresaola and freshly churned ice cream.
Maybe serving such good grub in such unpretentious surroundings is a clever ploy by The Horse team. After all, if you manage customers' expectations they can't fail to be wowed when you spectacularly over-deliver.
Who's cooking?
The Horse is a family-run operation: the kitchen is the domain of Nigel Hoyle, while wife Malene Graulund manages front of house. Both were actors until 15 years ago, when they took on a biker bar and turned it into this dining destination. Nigel was even a bit famous and appeared in Band of Brothers with Damian Lewis. The small screen's loss is the gourmets' gain.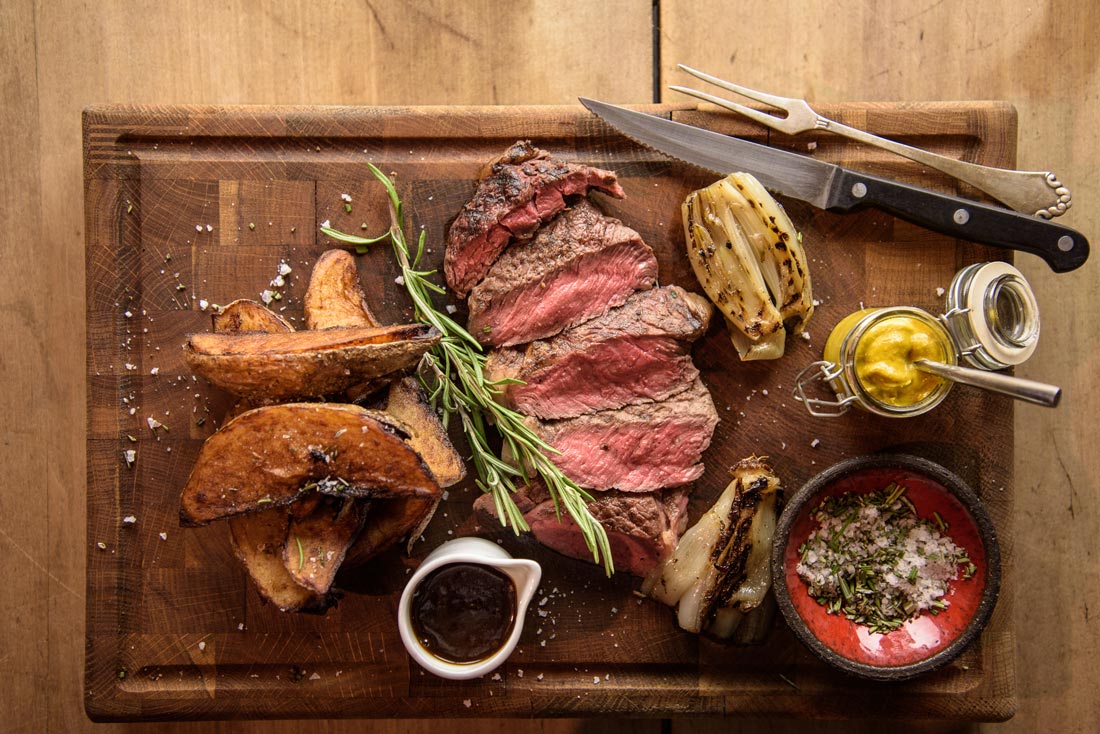 What to order?
Everything at this category-defying spot – from the lengthy list of Papillon gins (distilled next door) to the quirky take on tiramisu that rounded off dinner – turned out to be of thoroughbred quality. Visit with a group so you can order right across the menu.
Make sure you include the fine bresaola with pickled carrot, rocket and croutons (guaranteed to result in a tussle for the last slice). Ditto the crisp stone-baked flatbread with roasted garlic and parmesan. Pizza is a must of course and we plumped for a topping of fennel sausage with pepperoni, onion, fresh chilli and rocket. Nigel got his pizza creds working at a famed pizzeria in Rome – he pinched its dough recipe and has used it ever since.
Beyond the own-cured meats, carnivores will appreciate the well-seasoned 28-day-hung sirloin steak accompanied by classy chips, confit shallot, smoked mushroom, grilled tomato and tarragon butter. Plant-based diners are equally well served by an exceptionally delicious vegan salad with kickass dressing and toasted nuts and seeds.
We finished with an on-point crème brûlée with a side of fresh strawberry compote and a homemade shortbread biscuit, plus the Mini-Misu of amaretti biscuits soaked in espresso and Kahlua with mascarpone and homemade chocolate ice cream. Yum.
Food's tip
Don't worry about being too gung-ho with your order as the team are used to doling out doggie bags for leftovers. Pizza for breakfast: happy days.