Gloucestershire's roaming supper club is hunkering down in Cheltenham this winter for an eight-week residency at Ritual Coffee Roasters. Kathryn Lewis tried its Winter Nights offering
What's the draw?
The chance to feast on wholesome food in a casual but fun setting which breeds good times.
In Christmas party season, it can be tricky to find a venue where you can enjoy a relaxed meal with friends but won't be seated next to a boozy table of 20, where the menu isn't a predictable line-up of festive faves and Michael Bublé's smooth tones won't be serenading your starter. Happily, The Scenic Supper's residency at this sleek industrial unit (home to Ritual Coffee Roasters by day) provides a solution for anyone who wants to eat out in November or December but doesn't fancy in-your-face festive.
In fact, The Scenic Supper was established to be a bit different. Launched in 2020 by friends Toby Baggot, Sam Lawson-King and Scott Sullivan in response to Covid restrictions, it started as a socially distanced supper club set in a series of greenhouses on Todenham Manor Farm near Moreton-in-Marsh. It's since popped up at several other venues during the colder months and Winter Nights at Ritual Coffee Roasters in Cheltenham is its latest incarnation.
Who's cooking?
Classically trained head chef Sam Idoine works wonders from a makeshift kitchen, which consists of four plug-in induction hobs. We visited on the supper club's second night at this new venue and although service was a little slow as the team found their feet, what Sam crafted from such a simple set-up was seriously impressive.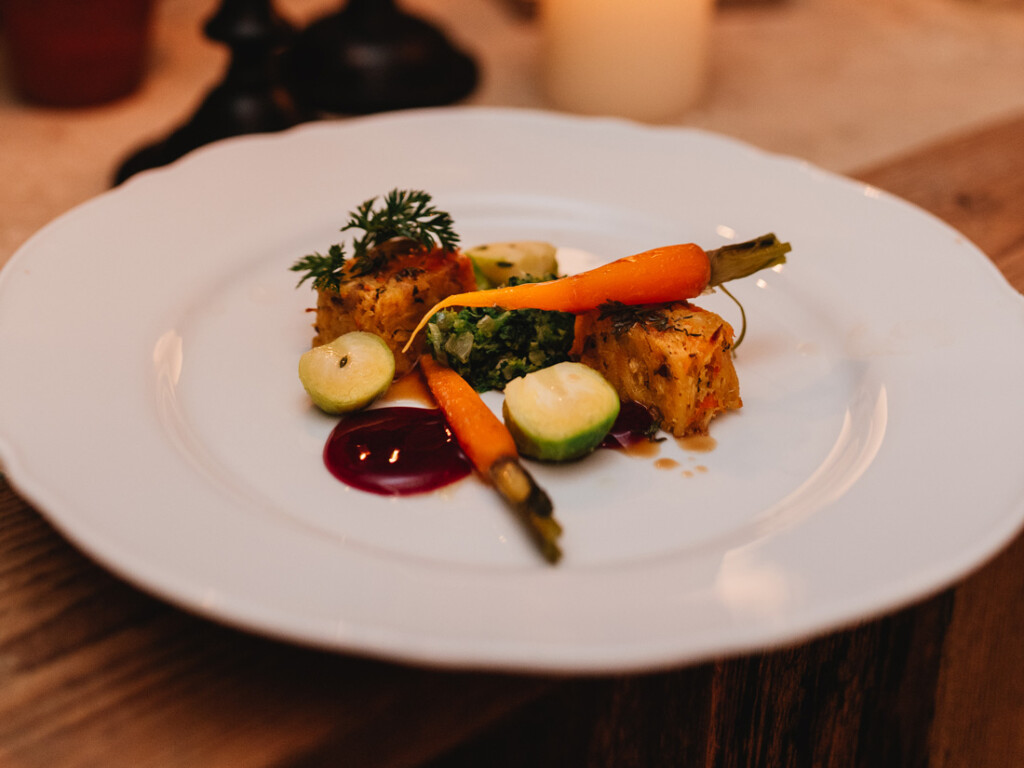 What to order?
Catch the train (it's less than five minutes' walk from Cheltenham Spa station) to kick off with a cocktail from a refreshingly creative line-up which includes seasonal concoctions such as a Pumpkin Spiced 75 and Spicy Grapefruit Margarita. The mocktails aren't to be sniffed at either – the Pineapple and Grapefruit Shrub delivering a dose of 90s nostalgia (there's a definite Lilt vibe) with a grown-up twist thanks to its kombucha base.
Foodies who suffer from FOMO will be relieved to find just three options for each course. The menu will shift throughout the residency, but expect to select from one meat, one fish and one veggie option – all crafted from uber-seasonal produce sourced, wherever possible, within 25 miles of Cheltenham.
We started with wedges of bouncy focaccia served with chicken butter and homemade pesto. The chicken butter hadn't had enough time out of the fridge to reveal its meaty flavours or spread well, but the pesto more than made up for it with its verdant-green herby punch.
A first course of pork rillettes was beautifully seasoned and its rich, oleaginous mouthfeel balanced by the sharp tang of a burnt apple sauce. A main course of meaty hake fillet, which flaked at the lightest touch of a fork, was escorted by a silky sweet langoustine sauce and braised leeks. The leeks could have done with a little longer in the pan, but there was no denying that the dish didn't skimp on flavour.
It's hard to pass on the offer of a proper chocolate brownie and The Scenic Supper's ultra-indulgent version didn't disappoint. Generous cubes of deliciously dense-yet-gooey brownie were perked up with a tangy raspberry coulis and silken vanilla ice cream.
Food's tip
Word on the street is that The Scenic Supper will be settling down at a permanent venue in 2023. Give the roaming restaurant a follow on social to be the first to know about its new site.