Staying in? Do better than spending the evening endlessly scrolling Netflix in a search for something decent. Instead, create an entertainment event with a movie and dinner pairing.
We've auditioned five of the best flicks and feasts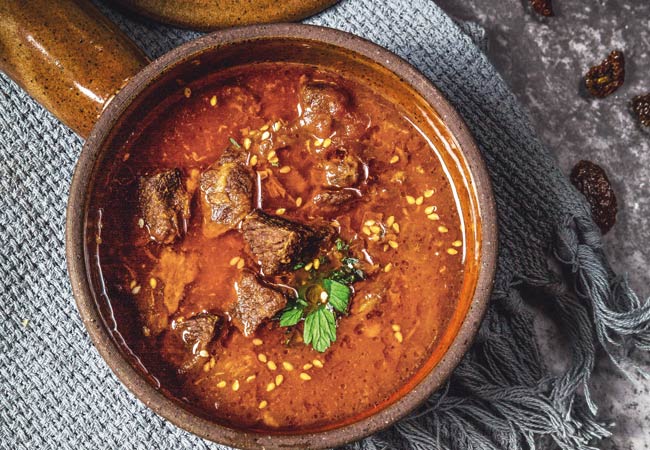 The White Tiger x Indian goat curry
Flick
The White Tiger, the movie adapted from Aravind Adiga's brilliant and bestselling novel of the same name, is available on Netflix.
Adarsh Gourav stars in his first lead role and is supported by Rajkummar Rao and Priyanka Chopra Jonas in a powerful drama about subjugation, the caste system and the fight for freedom. Astonishing cinematography reveals Delhi and Bangalore in all their gritty beauty.
Feast
The beautifully rich Indian goat curry created by the team at Claytons & The Glasshouse in Barnstaple references the flavours of India and, dare we say it, would probably be a tiger's choice of dinner protein.
If that's a bit too carnivorous, Hugh Fearnley Whittingstall's fish and tomato curry could be more to your taste.
B-reel
For lighter viewing, make a date with Netflix's addictive Indian Matchmaking which offers a fascinating insight into upmarket matchmaking services.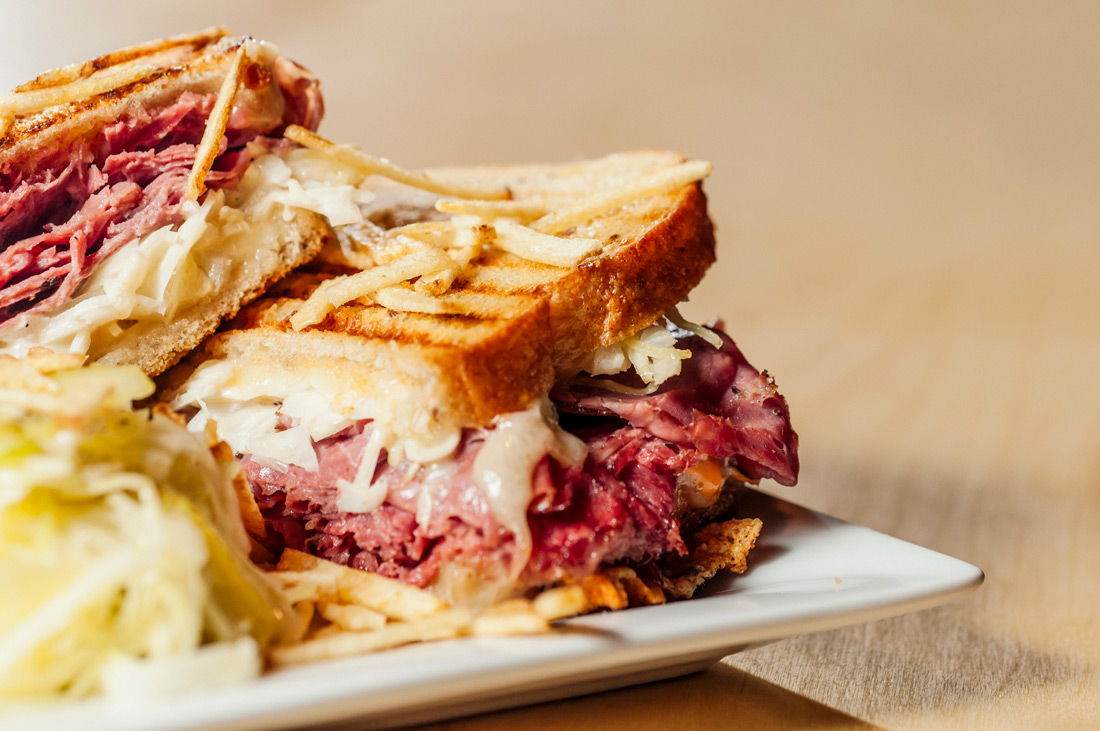 Modern Love x reuben sandwich
Flick
The first series of this Emmy-nominated collection of New York tales is pure class. An all-star cast including Anne Hathaway, Tina Fey and Dev Patel star in an eight individual short films based on stories originally published in The New York Times' long-running column of the same name.  
Love in all its glorious, messy and confusing guises is celebrated in standalone films which feature slick production and assured acting. Ultimately, however, this is a love poem to New York, which plays its role majestically as the backdrop to each of the dramas. Find it on Amazon Prime.
Feast
Nothing says New York like a reuben sandwich. It's been around since the early 1900s and is the archetypal diner dish – it's particularly associated with NY's Katz's Delicatessen which is reputed to make the best reuben in the world. The key ingredients are toasted rye bread, sliced hot salt-beef or pastrami, swiss cheese and marie rose sauce (or dijon mustard) and the sarnie is typically served with a dill pickle on the side.
Happily, this is pretty easy to rustle up, as long as you've got the ingredients. Here's how: butter two slices of bread on both sides; spread a thin layer of sauce or mustard on top of one; place a slice of swiss cheese on top and dollop a spoonful of sauerkraut on top of that. Follow with a couple of slices of thinly cut salt beef and top with another slice of cheese. Close the sandwich with the unused slice of bread (spread with sauce on the inside) and cook in a hot frying pan until golden brown and the cheese has melted. When it's done flip it over and do the other side.
B-reel
For New York with nostalgia watch When Harry Met Sally for its famed Katz's Deli scene. We'll have what she's having. On Amazon Prime. 
Ronin x bouillabaisse
Flick
John David Zeik and David Mamet's late 90s thriller features Robert De Niro in some of the best car chases ever filmed. And set amid the glamorous background of Nice and Villefranche-Sur-Mer, what's not to love?
De Niro plays a version of his stock-in-trade bad-guy-you-can't-help-rooting-for character in this pacey tale of international terrorism. It's essentially one long chase broken up by various double crossings and is perfect for bringing a bit of va-va-vroom to Saturday night on the couch. Find it on Netflix.
Feast
Transport yourself to the South of France by feasting on bouillabaise care of Adam Cain, chef patron of The Kingsdon Inn in Somerset. Hunt down the freshest fish and seafood for the soupy saffron-laced Provençal classic and serve with homemade rouille and griddled bread.
Note: you'll need to rule out any back-of-the-cinema-style snogging after this garlic load.
B-reel
Villefranche-Sur-Mer, just around the headland from Nice and where a lot of the car chases were filmed, offers such an archetypal South of France setting it's the backdrop for loads of films. Favourites include Hitchcock's gloriously glamorous To Catch A Thief (Cary Grant and Grace Kelly) and the classic Dirty Rotten Scoundrels (Michael Caine and Steve Martin), which was the inspiration for Anne Hathaway and Rebel Wilson's The Hustle. Both are available to rent on Amazon, while The Hustle is on Netflix.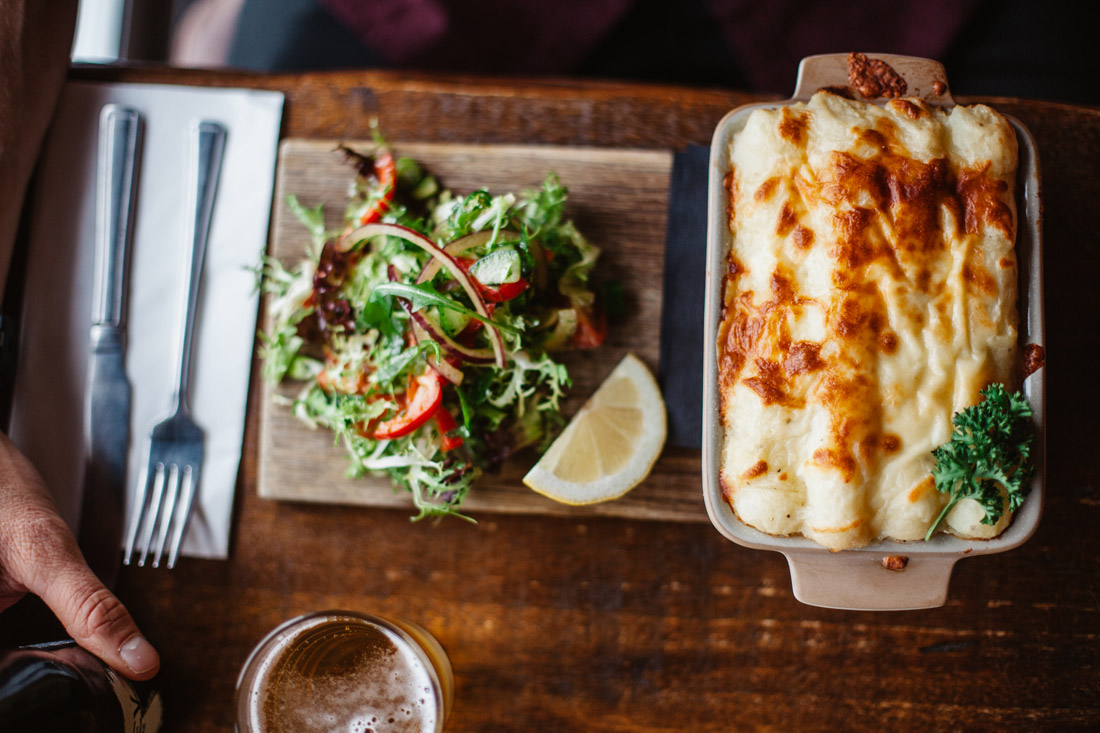 Fisherman's Friends x Falmouth fish pie
Flick
Take a trip to Port Isaac in Cornwall via this Brit-flick feast of fun and fishing which includes a shoal of sea shanties and escapist views. Fisherman's Friends is based on the true story of the singing group of the same name and how they found fame beyond Cornish shores. It's feelgood fun and Food readers will recognise Nathan Outlaw's Fish Kitchen in the background of some scenes. On Amazon Prime.
Feast
Fish pie recipes are passed down the generations in Cornish seafaring families to help make the most of the fishermen's haul. At The Greenbank Hotel in Falmouth, executive chef Nick Hodges serves his own granny's fish pie to the lucky guests. This is easy to eat on your lap as you take your virtual trip to the Cornish coast.
B-reel
If it's action and adventure you're after, join George Clooney and crew as they battle through The Perfect Storm. It's a magnificent tale of a fishing trip gone awry, but landlubbers may want to wait until after they've eaten before setting sail on the virtual high seas.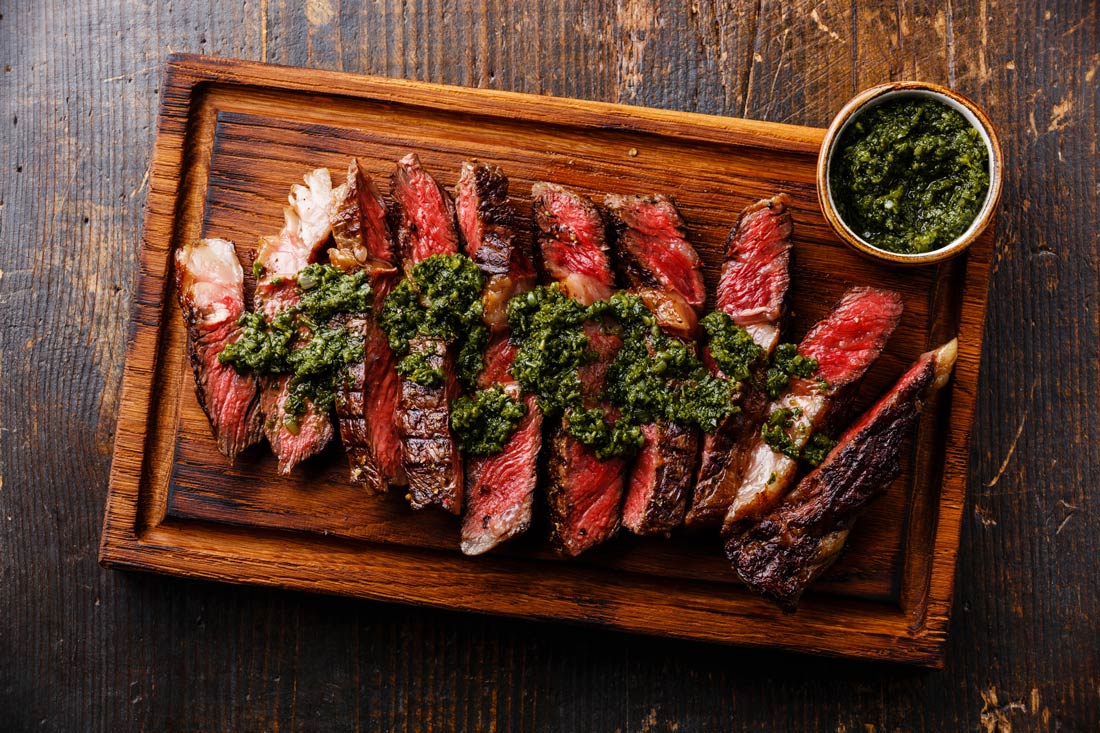 Raging Bull x steak night
Flick
A De Niro/Scorsese classic biopic of Italian-American middleweight boxer Jake La Motta, based on his memoir Raging Bull: My Story.
Bob does a knockout job as the self-destructive, insecure and obsessive fighter while Joe Pesci has his breakthrough role as his brother and manager. Atmospheric, violent and full of pathos, Raging Bull is compelling – albeit very difficult to watch in places. Look out for the famous steak scene. Watch it on Amazon Prime.
Feast
It's got to be steak for this pairing – just don't do a La Motta and tip the table if your steak is more done than you'd like. And remember it's obligatory to use the line: "You overcook it, it's no good. It defeats its own purpose," at least once during the evening.
Take a sirloin from middleweight to heavyweight by serving it with a dollop of the North African marinade/sauce chermoula. Chris Staines of The Ollerod in Beaminster has shared his recipe which is so good you'll want to make a batch and keep it in the fridge.