Drinks cupboard looking a bit barren ahead of the party season? Mark and Andrew Rowe, founders of Constantine Stores in Cornwall, share their essential picks for a stellar Christmas drinks collection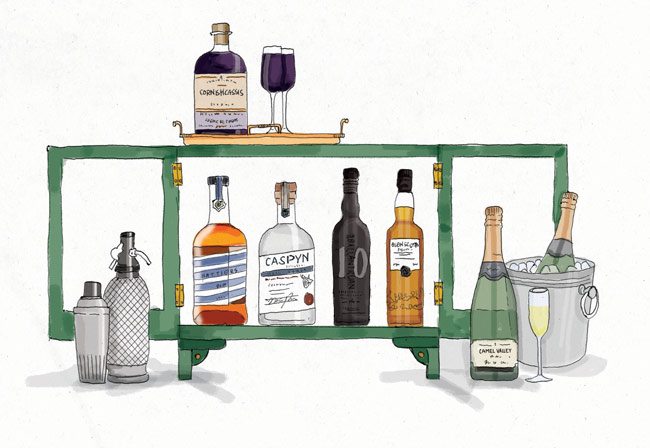 'We've over 7,000 wines, beers and spirits at Constantine Stores, but Andrew and I know that you needn't splash out on a bottle-shop's worth of drinks when hosting a festive party,' says Mark. 'Choosing just five or six quality bottles will form a solid base for your drinks offering and ensure there's something for every party-goer.'
A crisp G&T is still the South West's favourite drink order and no party would be complete without a seriously good bottle of local gin. Caspyn's small batch Cornish Dry is made at Long Rock in Penzance and is a delightfully light and floral gin which is both juniper and citrus led. Serve with your favourite tonic, lots of ice and a twist of orange.
Whether it's New Year's Eve, Christmas Day or a spontaneous festive get-together, a chilled bottle of English fizz is the perfect party starter. This fresh and fruity sparkler from Camel Valley is beautifully balanced with a touch of honey on the palate. And it's not just our team at Constantine who love it – it's also a favourite of the royal family who recently granted the Cornish vineyard a royal warrant.
Ending the evening with a scotch by the fire is a long-held tradition we can all get on board with when it's wintry outside. Fans of peat will love this smoky single malt from Speyside Glenlivet. Prefer something spicy? Glen Scotia Double Cask yields notes of rich spiced fruit, sea spray and vanilla oak.
This is your secret weapon for the easiest cocktail going: simply add a splash to a flute of chilled Camel Valley Brut and you've got a thoroughly Cornish Kir Royale. Hosting a dinner party? Serve it on the rocks paired with a decadent dark chocolate brownie.
Spring water from Dartmoor is blended with oak-aged rums from the Caribbean and Central America in the creation of this Devon spirit. The golden pour works brilliantly in a Dark and Stormy but is equally moreish over ice as a sipping rum.