The conventional restaurant approach to plot-to-plate cooking is being blown up by a visionary collective at Woolsery who are combining old-school traditions with futuristic farming. Jo Rees chewed the fat (actually, own-reared hogget) with the team
Bebo founders purchase old Devon pub and make it fabulous – there can't be a food lover left in the UK, let alone the South West, who hasn't read about Michael and Xochi Birch buying The Farmers Arms in Woolsery, north Devon, and bringing it roaring back to life. Yet, two years after a flurry of national news coverage, the most exciting elements of the project are unfolding in relative obscurity.
The pub, which has built a solid following of in-the-know diners, was just the starting point. It was quickly followed by the re-envisioning of the village fish and chip shop (next door) into the kind of chippie Rick Stein would put his name to.
Next came the start of work on the Georgian manor house across the road, which is being transformed into an upscale and unconventional 18-bedroom hotel and restaurant, best described as 'Kate Bush goes wild in the country'. The house has been renamed Wulfheard Manor (the other name for Woolsery is Woolfardisworthy, thought to be a mutation of 'Wulfheard's homestead'). Plans for a rock'n'roll spa beneath the building are on ice for the time being, lockdown having pushed the project behind schedule.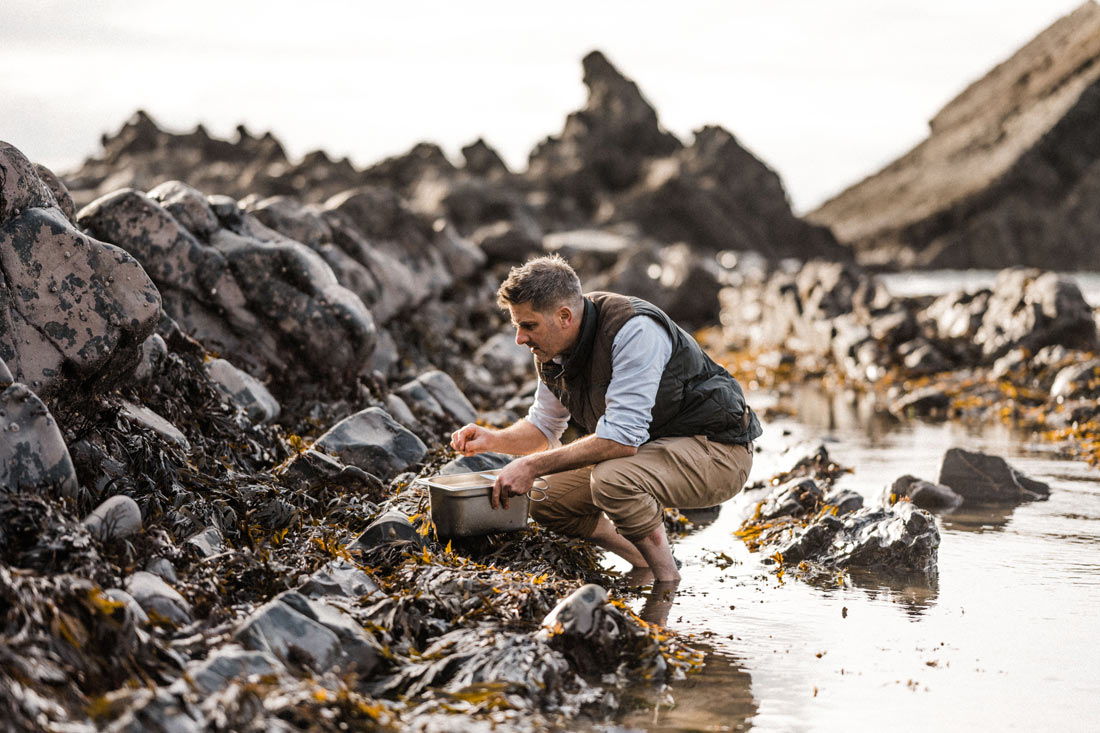 As if that wasn't enough to send a quiver of anticipation through the nation's foodies, the transfiguration of the village shop into a quirky, vintage-style store is currently underway. It'll stock own-made, -grown and -reared foods, plus local artisans' work, and will sit next to Fire & Fern, the soon-to-be-established house bakery. There, next-gen bakers will employ ancient techniques to create authentic woodfired sourdough, flatbread snacks and pastries which customers can wolf down in a covered courtyard. It'll also provide all the carbs required for the shop, pub and manor house.
The engine driving all this activity is Birch Farm, the project's 150-acre site where the team rear heritage animals and grow fruit, vegetables and flowers. Farming's arguably the most traditional industry in the UK, yet this part of the project is the most pioneering of all.
Head gardener Josh Sparkes is taking a postmodern approach and using a carefully considered mix of Japanese-composting, permaculture and biodynamic techniques alongside traditional ways of growing crops. Orchards, veg gardens, large greenhouses for tender plants and even a syrup grove – to produce fruit for cocktails and cordials – are in his domain.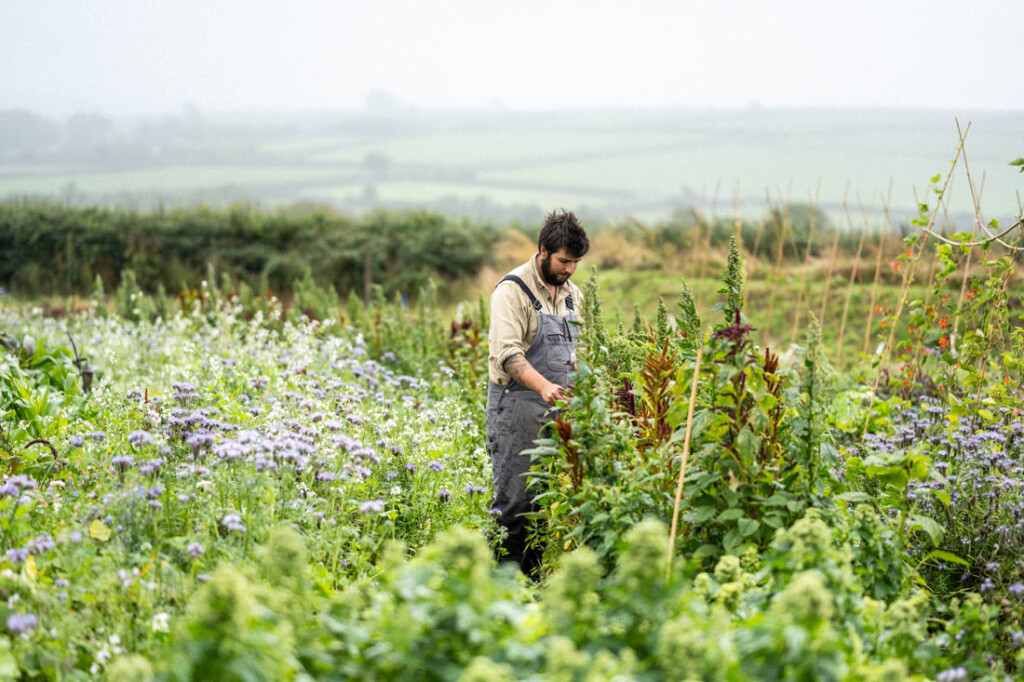 Emily Harmon, the Californian who's been given the gift of creating and delivering this vision says: 'There are other hotel projects of a similar scale, with a manor house and kitchen garden, that are making the connection between dining and growing. However, we're different because, instead of doing the farm-to-table thing, we're taking the guest experience to the farm itself.'
She's referring to the multi-course Wulfheard Manor experience, where guests will dine in various locations, including the farm where the beautiful Potting Shed (sitting amid fields of edible produce) will be the setting for feasting. The informal space will open into large kitchens and a butchery where worker bees will be pickling and preserving, and creating charcuterie from own-reared meats.
'In glorious weather, we'll set tables out in the wildflower meadow, but there'll always be something different going on, dependent on the time of year. We want people to experience storms in the middle of winter too. The farm is so close that guests can bundle up, be taken on a one-minute drive and then get to have a course or two, with drinks pairings, and see everything as it actually is on the farm. Even the butchery will have a glass wall so guests will be able to look in and see the meats ageing.'
The team are not shying away from the reality of farming. Emily says: 'We'll have cantilevered walkways that go out over the animals in the barn. The first thing the architects asked me was, "What about the smell?" and I was like, "Yeah, that's all part of it." I think the green fresh animal smell is amazing. And it's just the truth about raising animals, so you'll be able to go and hear, see and smell them.
'Our ethos is to use as much food that's grown here as we can, while everything else is sourced locally. I know a lot of people have that goal, but we use more ingredients from outside of the UK than British ingredients that we haven't produced on our farm.'
Head chef Ian Webber (a former head chef at Gidleigh Park during Michael Caines' tenure) is turning this produce into uber-British, preciseyet- casual and thoroughly rooted-in-the-soil cooking. He cites a Forager's Berry Tart he's created as an example of the vision: 'I've taken the idea of the classic British bakewell tart and made it with ingredients grown and foraged locally.
'There are loads of sunflower seeds on the flower heads at the farm right now and we've got wild oats growing among the cover crop, so I used them instead of almonds to make a frangipane – you don't get many almonds growing round here. Then I foraged for blackberries and elderberries to make a fruit jelly, flavoured it with last year's sloe gin and added damsons I'd picked from a local tree. It takes a few days of work as we have to do the picking and preserving, but it's worth it. Then we finish it with a little thyme which goes well with the flavours, and serve it with hyssop ice cream.'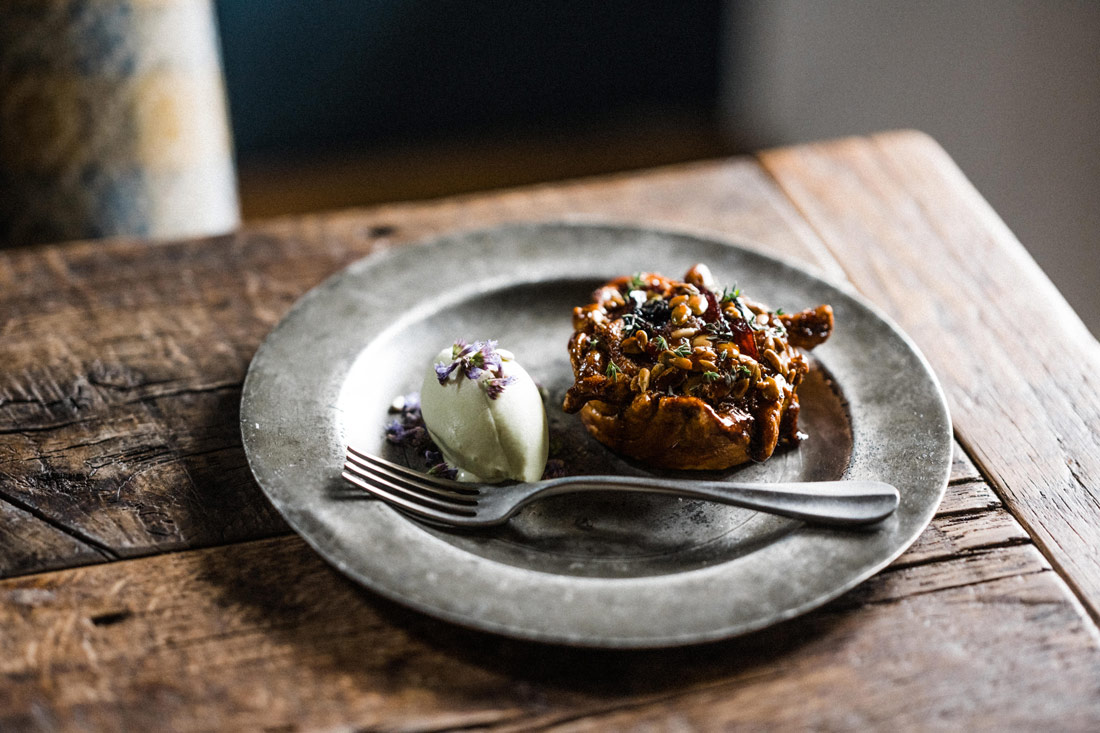 While dishes like the Forager's Berry Tart are currently served in The Farmers Arms, it's the opening of the manor in 2023 that'll enable Ian to fully unleash his wildest creative impulses. He says: 'We're already working seasonally, but when we open the manor the menus will be micro seasonal. What you'll eat will depend on the day, the weather and what's growing here and now. You can go to restaurants in London and be served a mossy log with mushrooms on it as a canapé – here you can sit on the mossy log and eat a mushroom dish.'
The various elements of the project have been named The Collective at Woolsery and are driven by another collective: a small band of individuals who've brought their expertise to the party. Ian's restaurant counterpart is front of house manager Harry Brooks (formerly of The Five Bells Inn at Clyst Hydon) whose team create unusual drinks from own-grown and foraged produce and deliver warmly casual but on-point service. Emily provides creative direction and oversees the project, and the fourth key member is head gardener Josh Sparkes.
If the farm is the engine of the project then Josh is the mechanic keeping it running smoothly, and his passion for soil regeneration and sustainability is the oil lubricating the machinery. He says: 'Food sovereignty is really important, and something I think a lot of people have forgotten, so to have a project like this that links everything from sowing the first seed to producing food that ends up on the plate is a very special thing.
'We're actually taking it a step further, because we're hoping to then recycle any food left uneaten. There's nowhere in this country – that I can think of – that's doing that and, if we can make it work, we'll have an entire closed system: from growing to eating to then recycling the food waste back into the ground.'
Rich soil is the bedrock of a productive farm and the key to producing flavourful and nutrient-rich food. Josh says: 'Within food, horticulture and gardening, it's the most important thing. I've done a lot of work studying bokashi, a fermentation form of composting. In essence, it pickles the organic matter which makes it more readily available to the soil. More importantly, regular aerobic composting loses 59 per cent of the source materials back into the atmosphere as greenhouse gases. With bokashi you only lose one per cent.'
Not everyone will get super excited about the prospect of food waste being composted sustainably, but the opportunity to wander round creatively designed gardens of edibles, executed to the highest ornamental and horticultural standards, and watch bees from the apiary pollinating the flowers will appeal to a wide audience – and that's before even embarking on the entrancing dining experience.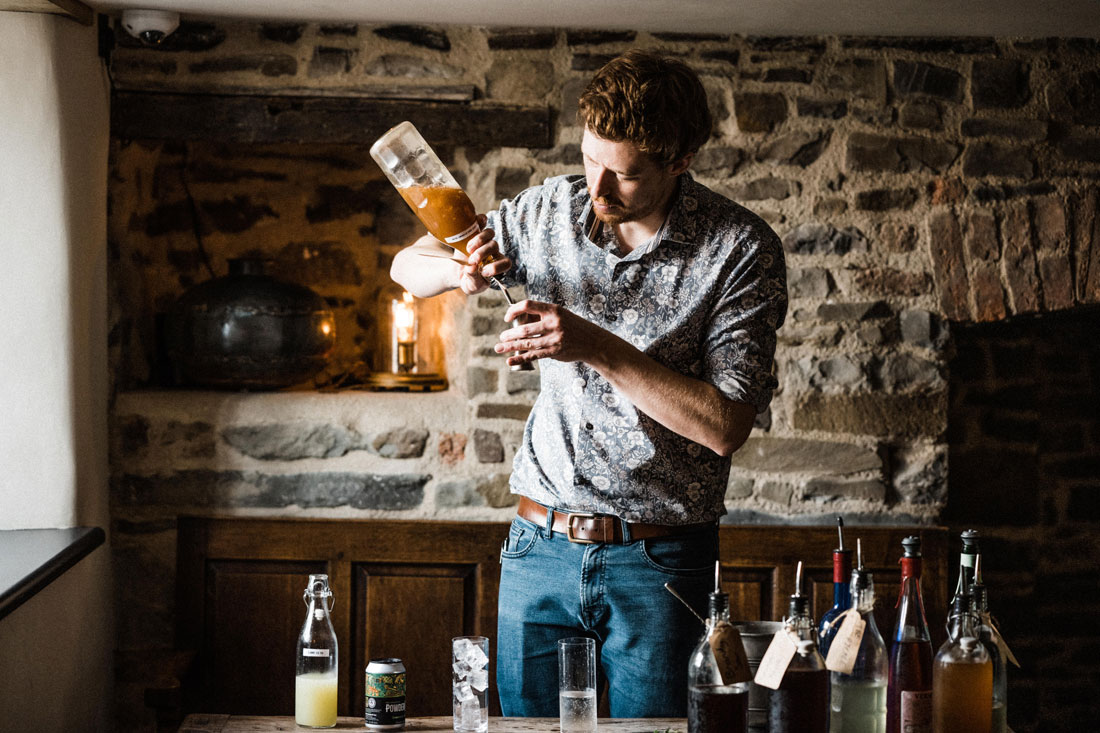 Right now, everything – other than the pub and the fish and chip shop – are in development. The farm is in its second year of production, the shop and bakery are about to be regenerated and the manor house is a full-on building site.
'Once the manor is finished we'll have even more creative opportunities,' says Harry. 'We'll be aiming to use ingredients at the bar that we've grown ourselves, so we'll look to eliminate citrus and instead use own-grown plants and fruits with citrus flavours. We've already started the process in the pub: we're using sea buckthorn for citrus.'
Choosing to go off the beaten track hasn't been without its scary moments. Emily says: 'Before the pub opened there was a lot of discussion about where the line of acceptability was and how far we could push it; everyone was a little fearful of taking away brand-name drinks like J2O from the bar, but we all finally agreed that we don't have to carry things like that when we make our own cordials. Ian pushes the boundaries with his food, Harry does it with the drinks and we also do it with the decor. We want to challenge people to think differently. I don't want guests to look at the menu and immediately order a Martini just because they always have one.
'We've all been surprised by the reviews we've received. Yesterday, five came in that were like reading a love letter to everything we've accomplished. I have no idea who these people are but they mentioned the food, the service and how amazingly welcoming it felt, the drinks and the decor, produce from the farm and how it all felt so connected. So I think, as a result of Covid, people want to be taken out of their everyday and go places where they can get things not everybody else offers. The people who come here are excited that it's different.'
Photography by Matt Austin for Woolsery
Try Ian's unusual pastry recipe here.