The Cornwall-based chef joins that other exclusive club as a result of a bold new collab
Michelin-star status may be the official sign of having made it as a chef, but after ticking that off the list there's an even more exclusive clique ambitious chefs vie to join: the Salcombe Gin Voyager Series.
This month, current members Michael Caines, Monica Galetti, Niall Keating and Mark Hix are joined by Paul Ainsworth who becomes the fifth chef to collaborate with Salcombe Distilling Co. in the creation of a limited-edition signature gin. It's called 'Daring'.
Paul, who's given Rick Stein a run for his money through his ever-expanding empire of dining experiences in Padstow and Rock, was never going to release something 'meh' … and 'Daring' lives up to its name.
Oyster leaves, fennel, green apple, blood orange and – wait for it – whey, a sustainable by-product from dairy farming, take a starring role in the intrepid chef's signature sip.
'Inspiration for the gin is an oyster dish called A Tale of Porthilly which we serve guests at Paul Ainsworth at No6,' says Paul. Everyone who dines at the restaurant is given the complimentary amuse bouche which comprises a fennel and apple salad macerated in fresh lime juice and zest, and a panko and nori-fried oyster topped with a meltingly thin slice of fennel-seed salami. It's tiny but packs a punch and conjures the fresh notes of the sea which Paul wanted to capture in his gin.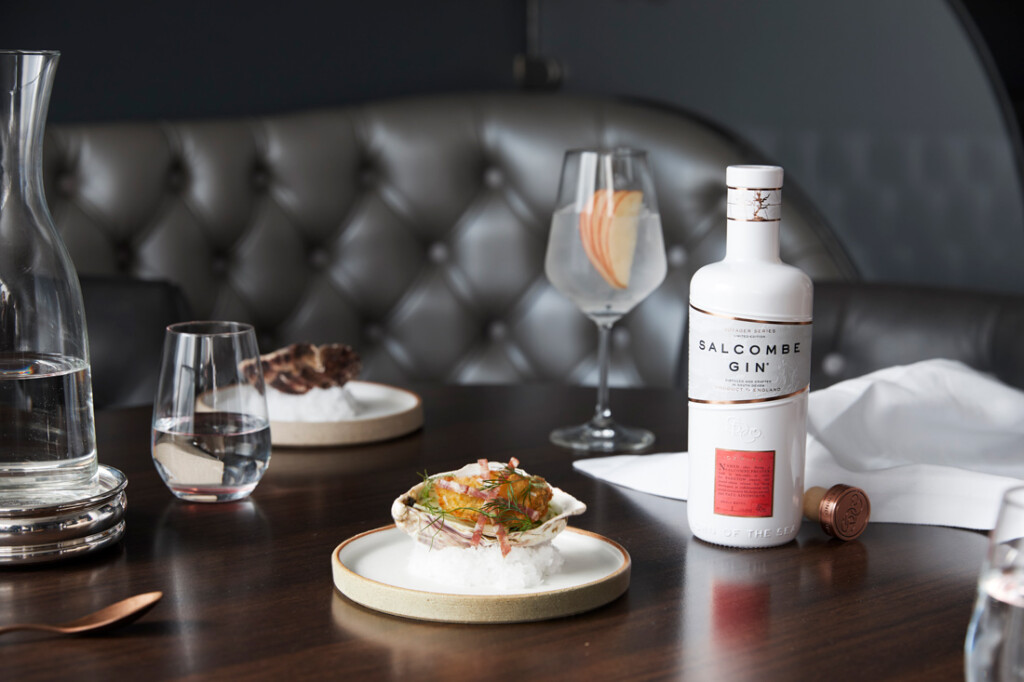 ''Daring' has the saltiness of the sea from the oyster leaves, the freshness of green apples, the soft aniseed of fennel, and blood orange and lime,' he explains.
So far, so good, but the unconventional ingredient which really earns the gin its moniker is whey. Paul says, 'We make butter in the restaurant and turn the whey that's left into a very light ice cream.'
It sparked an idea for the gin: 'I asked Angus [Lugsdin, co-founder of Salcombe Distilling Co. and Paul's co-conspirator in the creation of 'Daring'] if he'd ever used an ingredient like that and, while he'd heard of milk-washed gins and milk vodka, he'd never experimented with them, so we were like, okay, this could be something.'
'The whey brings a buttery smoothness to the palate, perfectly complementing the soft citrus and warming spices.' If you've ever had milk vodka, you'll get the vibe – opaque and milky it's not.
The chef says, 'One of the reasons I wanted to collaborate was Salcombe's approach to crafting their gins. No stone is left unturned, they are meticulous in their approach and have amazing attention to detail in both the liquids they create, but also the branding and packaging. They don't cut corners, and that's my philosophy too.'
Salcombe Gin Voyager Series 'Daring' is released on April 16 and, with a limited run of 10,000 bottles, only the most audacious will get their hands on it. Order it in a G&T at Paul's establishments The Mariners in Rock and Caffé Rojano in Padstow when they open (May 17), or in the cocktail Who Dares Wins (a take on a Ramos Gin Fizz) at Paul Ainsworth at No6. It'll also be available boxed (and unboxed, in the interests of sustainability) at Paul Ainsworth at No6 and from the Salcombe Gin website. Daring gin loves will also get to pick it up at great independent retailers across the UK.
Find the recipe for Who Dares Wins, the signature cocktail designed to show off 'Daring' to its best effect, in the May/June issue of Food.