Eighty-hour weeks, toxic work cultures, poor pay and constant pressure: with such a damning reputation, is it any wonder there's a staffing crisis in British kitchens? To bust a few myths and reveal what it's really like to work in a top-rated kitchen, we spoke to Fistral Beach Hotel's head chef Daniel Kerr
What was your journey to becoming a head chef?
I never planned to be a chef. Growing up in Warwickshire, I was on the path to a professional football career until I broke my ankle – twice. I continued doing a sports science course at college, but also worked at a local pub which was one of the first wave of great dining pubs. As I took on more shifts I got addicted to it and decided to pursue a career in the kitchen.
I'm naturally competitive and knew I wanted to work in a Michelin-starred kitchen, so I applied to about ten across the country. I got lots of nos, but one of the people to say yes was Tom Aikens so I moved to London to work at his Chelsea restaurant as a commis chef. I worked there for two years, then went to Maze to work under Jason Atherton where I did another year and a half as chef de partie.
The Michelin experience was great – it suited my competitive personality and brought out the best in me – but working 80-hour weeks took its toll on my relationship so I joined a company called Peach Pubs which managed about ten produce-focused venues. After five years of working at several of its properties and gaining senior sous positions, I discovered the level I wanted to work at to provide the best work-life balance. I didn't want to do the Michelin level of crazy attention to detail all day every day, but I didn't want to do gastropub food either. My comfort zone was somewhere in the middle.
Since moving to Cornwall and working in high-end hotels [previous employers include Rastella at Merchants Manor and St Michaels Resort in Falmouth] I've been able to create the kind of food I love: refined, with a focus on where the ingredients are sourced.
Is the high-pressured reputation of top-rated restaurants a realistic one?
Things have changed a great deal over the last ten years. Back in the day there was a lot of shouting for no reason. I'm not going to say there's been no shouting in the kitchens I've worked in over the last five years but it's down to an absolute minimum.
At Dune Restaurant in Fistral Beach Hotel, the quality of food comes first but second is how to best stabilise our team's work-life balance. We're working towards a schedule of four days on, three days off, and exercise is a really important part of our working day. We have a tennis subscription, so as a kitchen team we often play a match before service and on other days we'll go paddleboarding.
Pay is also important. It's super busy at the moment, but if someone does a 60-hour week they'll be paid for every hour. Why should someone work 20 hours for free?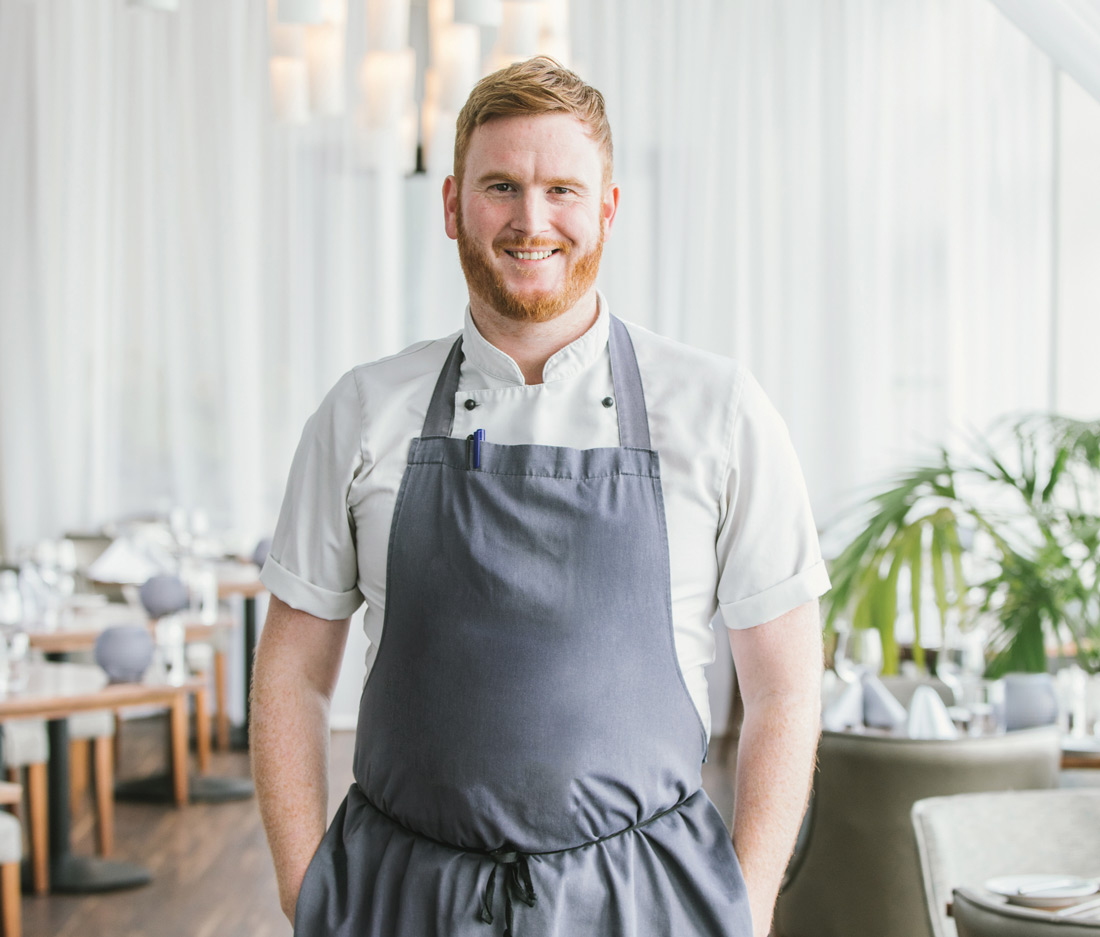 What skills are needed to be a head chef?
Obviously having the skills to produce delicious food is vital, but people management is just as important. Each member of the kitchen team will be different, so you need to learn how each responds best to constructive criticism and how the team work well together.
I never realised until I became a head chef that you're also a day-to-day accountant. Portioning and costing dishes is hugely important. If you look after the numbers, the management team you work under is more likely to increase your staff and equipment budget.
Organisation is another important skill, and you soon realise you need to be able to delegate. Being organised – ensuring everything is ordered in and the rotas are correct – makes the kitchen a much calmer place to work.
Do you get inspiration from visiting other restaurants?
Eating out and seeing what other chefs are doing is a vital part of the job. The pork belly dish on our current menu was inspired by a dish I ate in Crete a few years ago. What we serve now is actually nothing like what I tasted on holiday, but the initial idea sprang from that meal. Eating out helps build your palate.
How do you approach creating a new dish?
I get all of the kitchen team involved in the creative stuff. I'll come up with a template for the dish and then open it up to the floor. We'll talk about what's in season, come up with ideas and then test it out together.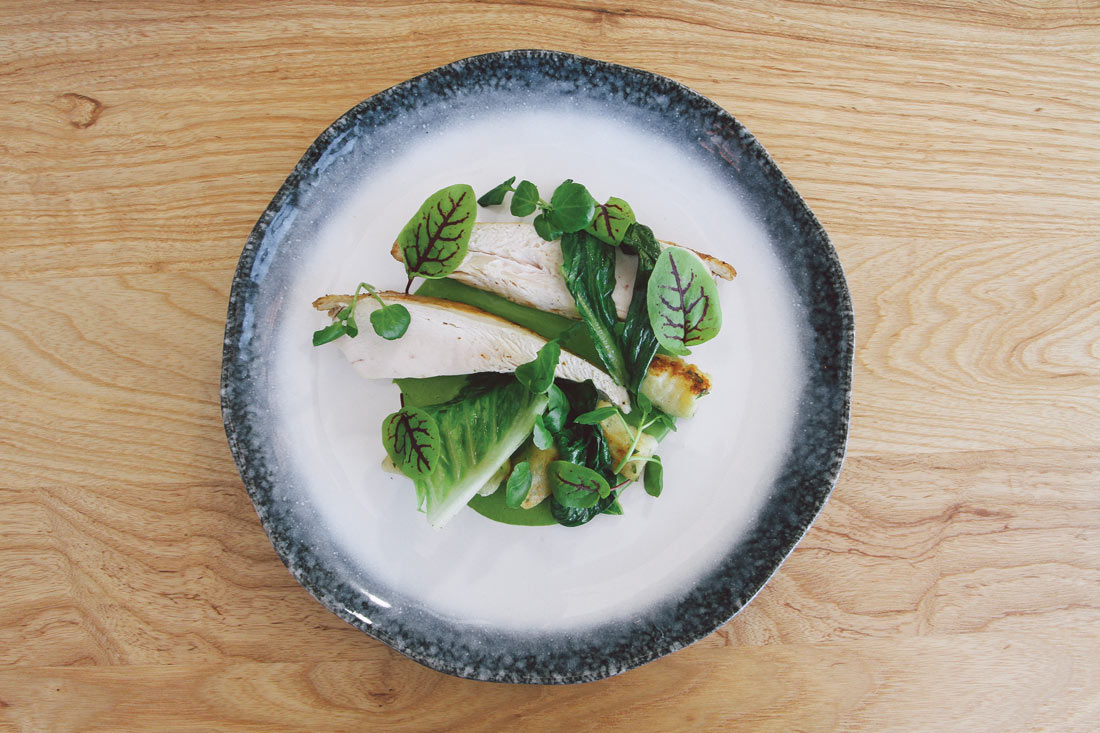 What do you enjoy most about being a head chef?
I really enjoy constantly striving to get it right. Every now and then you'll have a run of services where everything goes smoothly and it's a beautiful feeling. It makes everyone really happy and you leave work on a high. Getting positive feedback from customers also makes all the hard work worthwhile.
What are the most challenging parts of the job?
Managing the team well and keeping everyone happy. As a head chef, you want a really good number two who is just as good as you, but you don't want them to leave and find a head chef job so you need to keep challenging them. You want to keep the team engaged and interested in what they're doing. If you have a great team, the job will be easier for you as a head chef.
Any advice for aspiring chefs?
Take your time and don't rush your career. I believe I climbed the ranks too quickly so, if I could turn back time, I would have spent longer as junior chef de partie and junior sous to develop my skills. Once you become a head chef your learning slows dramatically as there's no one directly teaching you.
The money is important but making sure you're working for a company you like, in an environment you enjoy, should be top priority.