Kathryn Lewis roadtests Half-Speed, the new low-caffeine espresso from Extract Coffee Roasters in Bristol
What is it?
Extract Coffee Roasters' new coffee beans which pack just half the caffeine punch of a regular brew.
Why?
Healthluencers preach about the benefits of banning coffee after 12pm, yet most people living in the real world enjoy a caffeine jumpstart after lunch – especially when working from home presents the lure of an afternoon nap on the sofa. So, if sinking a 3pm espresso feels like flirting dangerously close to reorganising-the-Tupperware-cupboard-at-11pm territory, Extract's new low-caffeine espresso may be the answer.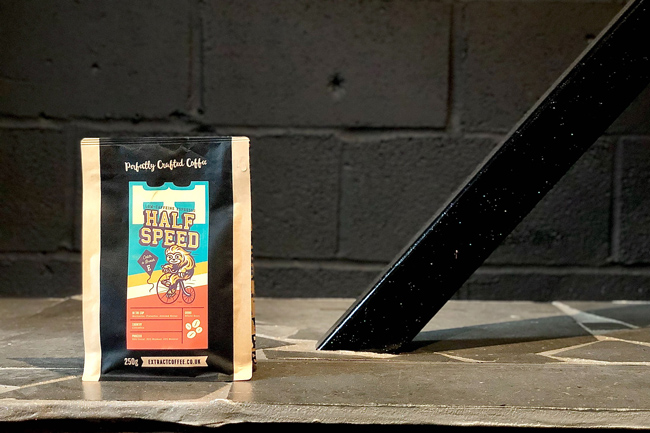 The low-down
The beansmiths at the Bristol roastery spotted a gap in the market to create a coffee for people who want a quality cup without the full caffeine blast, but without giving up the buzz all together. With 50 per cent decaf, 30 per cent washed and 20 per cent natural coffee beans from Colombia, the Half-Speed espresso blend offers the best of both worlds.
As with all Extract coffees, the beans are roasted within days of posting for optimum freshness – and you can choose whether you want them whole (so you can grind the beans for each cup as you go to maximise flavour) or pre-ground for your desired brewing method.
While the beans have been roasted specifically for espresso, we brewed it in a cafetiere and it worked a treat, producing a deliciously smooth coffee with notes of nectarine, pistachio and demerara sugar. Adding whole milk upped the luxe and revealed additional almond butter flavours.
Cost
£7.99 for a 250g bag, plus free postage.
Value for money
£8 a bag may be more pricey than you'd pay for supermarket beans but it's worth picking this apart: splashing a little extra cash on quality beans results in the coffee farmers being paid a fairer wage for their crop. Many high street brands spend less on coffee at source, often over-roasting the beans to an almost-burnt flavour to mask the low-quality product.
Extract ethically source coffee and then lightly roast it to reveal a kaleidoscope of flavours which, for those who delight in good food and drink, warrants the additional spend.
Packaging
Letterbox-friendly packaging makes it super easy if you're not always home in time for the postie. The bicycle-riding sloth on the front of the bag is a cute extra.
Recommend to a friend?
For sure – especially if it results in an invitation for an afternoon cuppa.