Melissa Morris roadtests a Christmas cocktail box that's fit for a king, care of Royal Warrant holder Luscombe Drinks
What is it?
The Christmas Cocktail Box encapsulates the intoxicating alchemy that occurs when Luscombe's organic soft drinks fall into the hands of master mixologist Louis Xavier Lewis-Smith.
The white gift box contains a curated collection of all the essentials you'll need to craft two festive cocktails (for two) and recreate Louis' magic at home this Christmas.
Why?
The opportunity to sample the feverish result of Luscombe's tryst with Louis Xavier Lewis-Smith.
Since 1975, Luscombe has produced the finest soft drinks and juices from organic fruits and Dartmoor spring water (drawn at the farm at which its drinks are made). The family-run business has received numerous accolades and has recently been appointed an official soft drinks supplier to the Household of HRH Prince of Wales.
Louis has 20 years' experience of blending the best of beverages, including time as global brand ambassador for Hendricks and Sailor Jerry. More recently, he's established award-winning cocktails bars Crying Wolf in Bristol and The Dark Horse in Bath (the latter scooped a Top 10 Cocktail Bars in World title).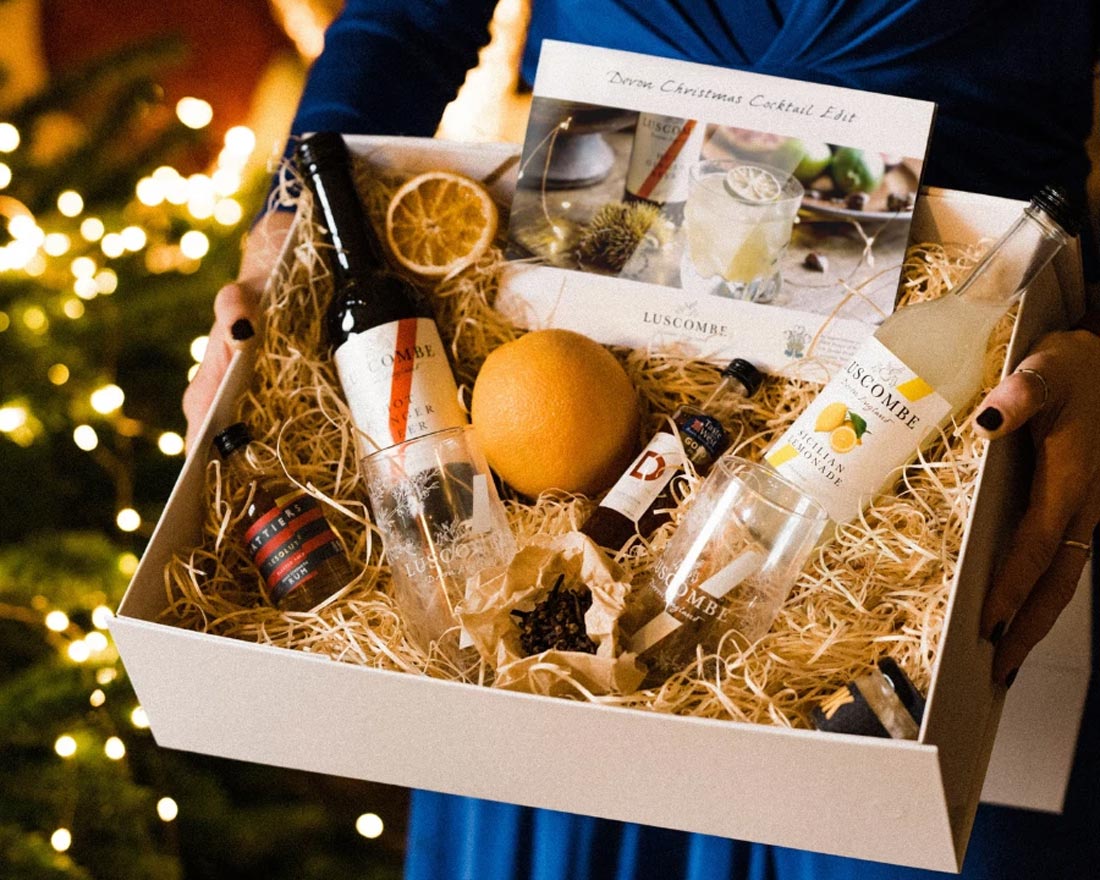 The low-down
Tucked inside the gift box are perfectly measured alcoholic miniatures, spices and soft drinks to craft two festive cocktails: Open Fire and The Sicilian. You need only raid your fruit bowl for a couple of limes and an orange for the finishing touches.
Open Fire, featuring Luscombe Hot Ginger Beer, is a warming elixir with sweet floral notes courtesy of Stone's Honey and chestnut liqueur. Its spicy sweetness lingers, warmed by Hattiers Egremont Rum, until the final glow of spiced ginger subsides.
The Sicilian is a lively, invigorating cocktail which, like Open Fire, allows Luscombe's flavours to shine. Bittersweet notes of fresh lemon and spicy sweet vermouth give way to the bitter delights of Campari and smooth sweetness of Devon Distillery SloeD gin.
Lebkuchen (iced ginger biscuits) are the perfect pairing to Open Fire, while the buttery, mixed spice and citrus notes of mince pies make the ideal edible encore to The Sicilian.
Cost
£38 for the Christmas Cocktail Box, which includes the key ingredients for two Open Fire cocktails and two The Sicilian cocktails.
Packaging
Superbly sustainable: glass bottles are nestled in woodwool in a white recyclable cardboard gift box, protected by honeycombed paper packaging.
Recommend to a friend?
Absolutely. It's the perfect way to shake up Christmas and swerve mulled mundanity over the festive season.