From the food and customer service to the furnishings and quirky art the quality of everything at this village pub is knockout, yet delivered in a wonderfully unstuffy way, discovers Rosanna Rothery
What's the draw?
Imagine your dream dining pub: a dynamic and creative chef crafting sublime dishes, its own farm supplying homegrown and reared (plus foraged) produce, interiors that ooze humour and style, and luxurious accommodation that mashes nostalgia and vintage glam with modern‑day luxe.
A stay at The Farmers Arms (part of The Collective at Woolsery, a curation of village enterprises created by tech entrepreneurs Michael and Xochi Birch) is a heady mixture of all of the above, and run by a team passionate about delivering it in style.
The full experience – which includes making the most of the botanical cocktails and unusual wines – should involve incorporating a stay in one of The Collective's newly renovated cottages, rooms or suites. The accommodation is mostly retro in vibe but ranges from modern country and 1940s chic to the open‑plan luxe of a former smithy.
We spent a night at Hillside Cottage, a four‑bedroom property which delivers a deluxe take on traditional country living. A large garden (still being landscaped when we visited in January) will offer alfresco eating and lounging opportunities, while two log burners allow guests to snuggle up by the fire with a glass of wine. An ancient well in the dining area makes for a fascinating feature, but don't worry, it's covered with glass so there's no risk of falling in after sampling the pub's collection of local ales.
Who's cooking?
Executive chef Ian Webber, formerly head chef of Michelin‑starred Gidleigh Park, is a visionary with an endless stream of ideas about how to fashion forgotten or neglected native plants and herbs into flavourful fare. His delicious dishes are also centred around the rare heritage breeds reared on the pub's own Birch Farm, where pigs and sheep are butchered on‑site into traditional cuts of meat, sausages and air‑dried charcuterie.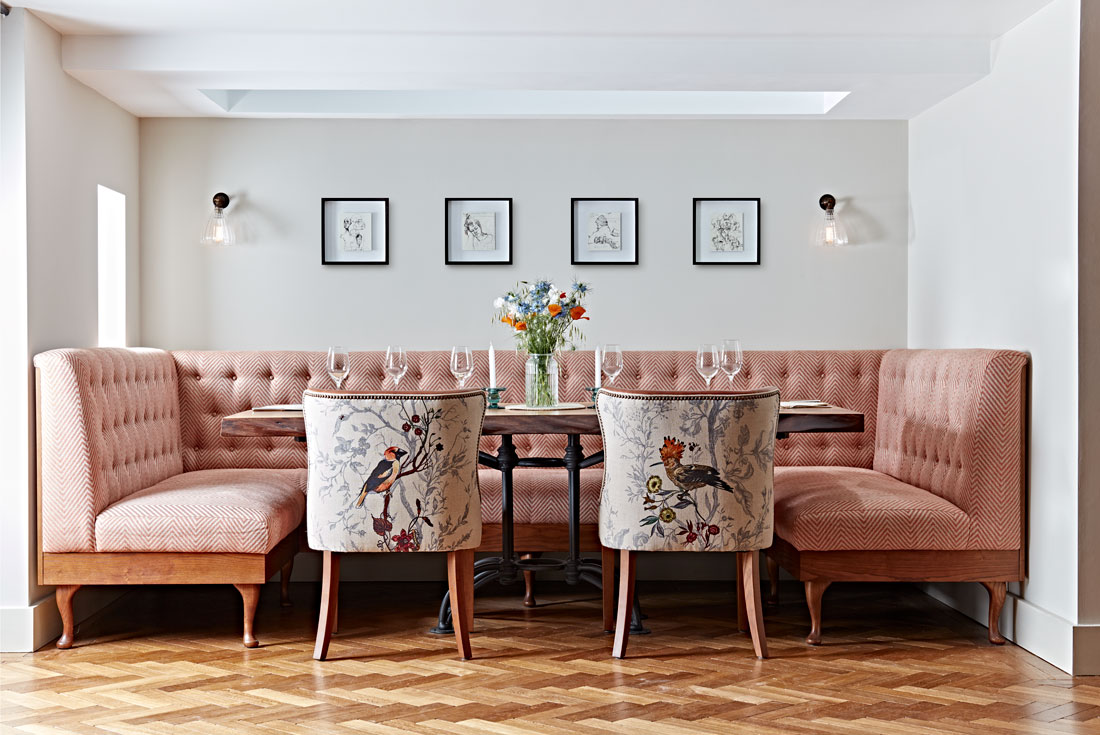 What to order?
Dining highlights included prime cut and braised shoulder of Birch Farm hogget (Ian utilises the whole carcass so you'll get different cuts each time you visit) offset with a vinaigrette made with fermented and pickled local ransom, blanched nettles and a lemon geranium vinegar.
Accompanying confit parsnips (baked on salt then cooked in lamb fat) had been slow cooked to perfection and were complemented with creamed spinach and kale. Boulangère potatoes with shallots and rosemary, house‑made spiced lamb sausage and crisped parsnip skins added superb layers of flavour and texture.
Our vegetarian dish showcased equal artistry: a medley of squash was given gusto by the freshest garden and hedgerow herbs and served with farm tomatoes and White Lake Fetish cheese. Sourdough croutons, a winter savory and squash ketchup, and a crunchy pumpkin and sunflower‑seed cracker transformed it into the most scrumptious of dishes.
A dreamy finale came courtesy of mugwort jelly layered between white‑chocolate cream, lemon geranium custard and Tahitian vanilla sorbet. It's a daring chef who uses such an unusual herb in a trifle, but it resulted in creamy contentment in a glass.
Food's tip
Those with a spirit of adventure should keep an eye out for the unique dining experiences and rural workshops coming soon to Birch Farm.