As part of a new lifestyle destination for Exeter and the South West, Winslade Manor offers winning menus for all kinds of occasions, writes Rosanna Rothery
What's the draw?
Step inside Winslade Manor's impressively grand entrance hall and your route to supper is an ultra-glam sweep of polished marble floors, white pillars, extravagant chandeliers and a stunning high-domed atrium.
Since Burrington Estates bought the Winslade Park site in 2019, the 18th century manor house has undergone a dramatic transformation and is now a dazzling and unique Devon dining destination.
Somewhere between a country retreat (it's surrounded by 86 acres of parkland) and a stylish city restaurant (it's 20 minutes from Exeter city centre by car), the Grade II-listed manor makes for a fun night centred around cocktails in the bar, delicious food served in the arty dining room and digestifs quaffed in one of the luxe lounges.
Who's cooking?
For 28 years, award-winning chef Matt Mason headed up the kitchen at Devon's acclaimed dining pub The Jack in the Green. Now his hearty dishes are served amid the bold artworks, black marble fireplace and ornate plasterwork of Winslade's swish dining room.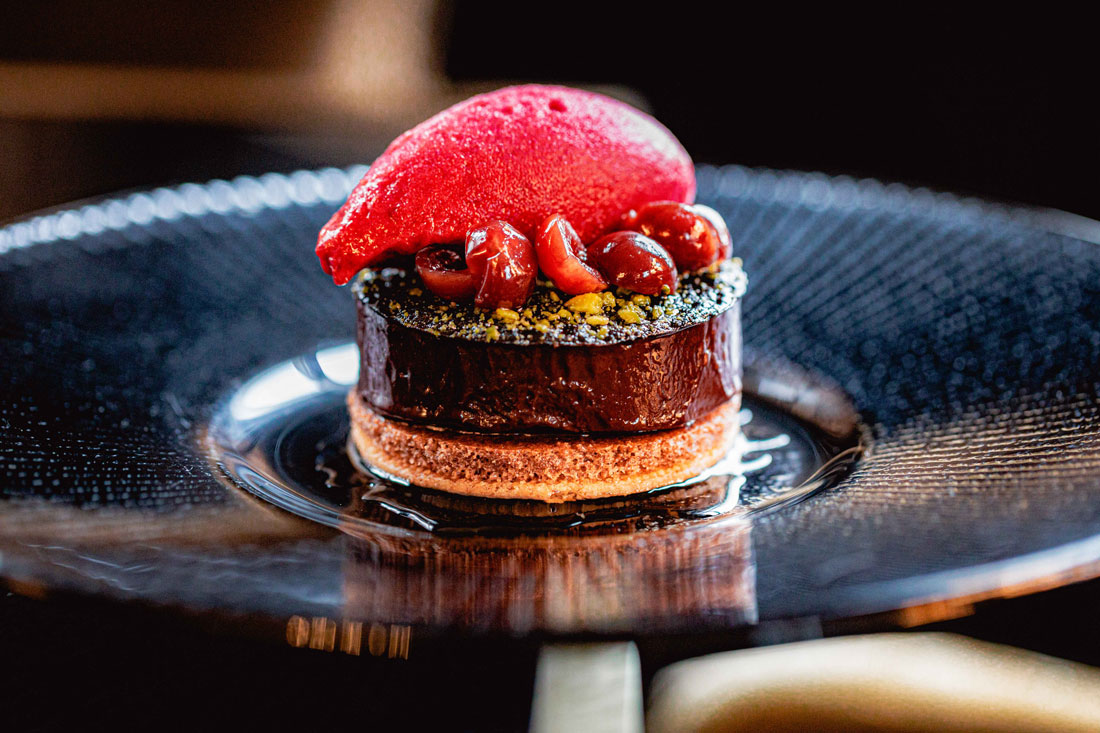 What to order?
Matt's Elegant Dining Menu (a four-course affair with appetisers and petits fours) makes for a satisfying feast.
On our visit, the platter of plump mini loaves (including sourdough, buttermilk, and cheese rye) was in danger of stealing our appetites before we even started, and was particularly moreish when paired with appetisers such as katsu curry chicken wing and crispy cod cheek.
A mushroom and truffle arancini (crisp coated balls of creamy risotto) starter was followed by tender duck breast teasingly offset with the sweet-sharp flavours of rhubarb, ginger, Devon honey and lavender.
Puddings, such as creamy white chocolate delice, felt like a comfort blanket of the edible kind and were a gratifying way to round off a beautifully executed belt-busting supper.
Food's tip
For the complete Winslade experience, arrive early to enjoy an End of the M4 cocktail (vodka, Cointreau, Campari) in Winlsade's liveliest lounge where a gleaming brass-and-glass bar and pumping playlist shout 'good times'. In warmer months, sink an aperitif on the sunny terrace.
Wind-down coffees and petits fours are best consumed amid the rich peacock blues and greens of the glamorous main lounge.
As Burrington Estates fulfils its five-year vision for the site, your drive through Winslade Park is likely to offer a different landscape each time you visit. Offices, homes, lifestyle facilities, event spaces and more – all built in the spirit of communal wellbeing – are mushrooming all around the grand house.
Don't limit your visit to evening: The Sunday Lunch and Lounges & Lawn menus make it as desirable a destination for schmoozing business clients with steak as it is for treating your tribe to a slap up roast.