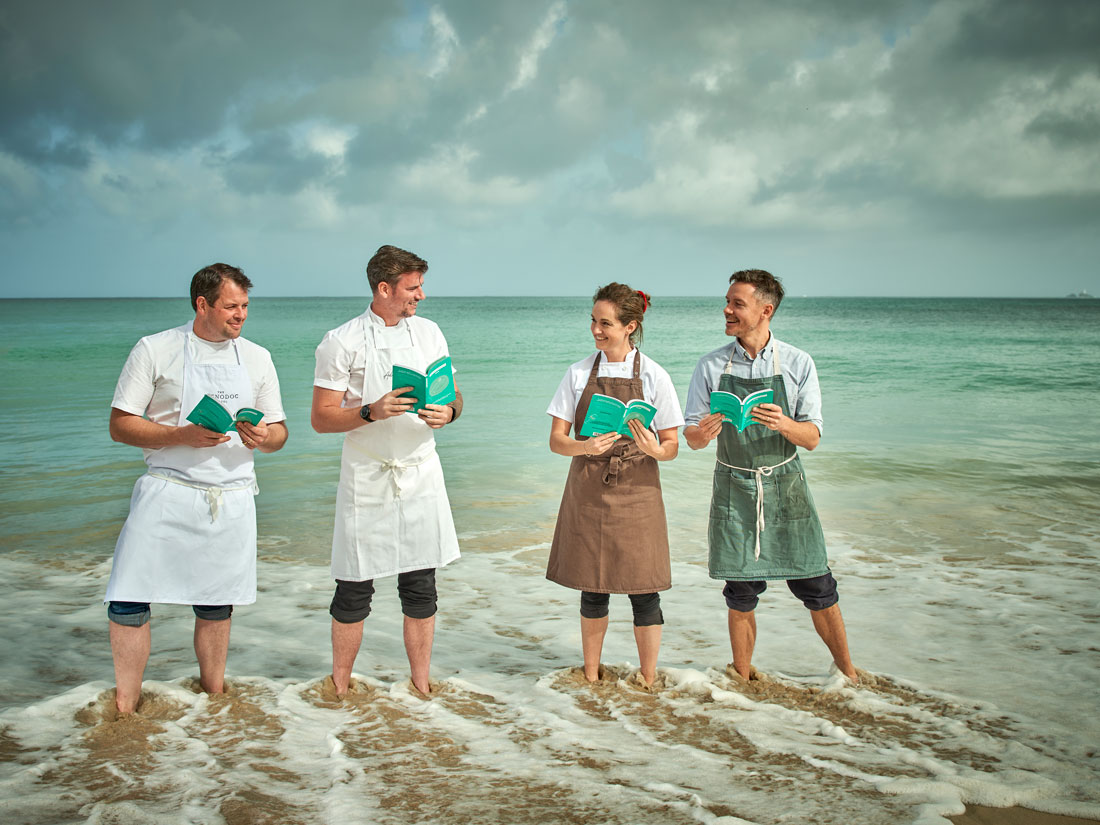 The latest installment of the epicurean bible for the South West heralds a new era for hospitality
For 31 years, the Trencherman's Guide has been the foodie's handbook to discovering the very best dining experiences in the South West of England – from Land's End to Dorset and the Cotswolds. The latest edition features 106 restaurants, including 25 new additions, which all surpass the strict Trencherman's entry criteria. This year's members represent the diverse range of superb dining options available in the area, from formal restaurants to dining pubs, bistros and bottle shops.
At the recent launch on September 25 at Ugly Butterfly by Adam Handling in Cornwall, Michael Caines MBE, chair of the Trencherman's committee, said: 'Many have declared a new dawn for fine dining in this post-Covid world – and this 31st edition of the Trencherman's Guide proves it.
'In the South West and across the rest of the UK, the dining scene is evolving,' says Michael, who owns Michelin-starred Lympstone Manor in Devon, The Cove at Maenporth in Cornwall, and Mickeys Beach in Exmouth. 'From wood-fired pizzas served on hotel terraces to family-friendly beach bars and fish shacks in pub gardens, authentic South West dining experiences are reaching an even greater audience, which is fantastic for everyone – including the region's food and drink producers.'
At the helm of the guide is new editor Abi Manning, who describes it as 'a true celebration of the best places to eat in the South West – in their many guises.'
Abi points to the 25 new additions to the guide: 'It's evidence of the talent that continues to flourish in this food-rich corner of the UK,' she says. 'The guide – and the independent dining scene – is moving into a new era. We're incredibly lucky that we have such an abundance of incredible chefs paving the way and, along with their teams, are finding innovative methods to use the rich produce of our land and sea to create memorable dining experiences.'
Those chefs include Ugly Butterfly chef-patron Adam Handling, Guy Owen of The St Enodoc Hotel in Cornwall, Harriet Mansell of Robin Wylde in Dorset and Nicholas Balfe of HOLM in Somerset, all of whom brought their talent to the launch event to create a sumptuous four-course banquet. Each chef sought to highlight the bountiful produce of the South West, with ingredients including Somerset hogget, Cornish duck, Dorset dandelion root and Cornish seaberry.
Order your copy of the Trencherman's Guide at trenchermans-guide.com
The Trencherman's Guide 31 is supported by Dole, Hallgarten & Novum Wines, Navas Drinks, PKF Francis Clark, The Eco Laundry, Trevethan Cornish Craft Distillery and Yallah Coffee Roasters.