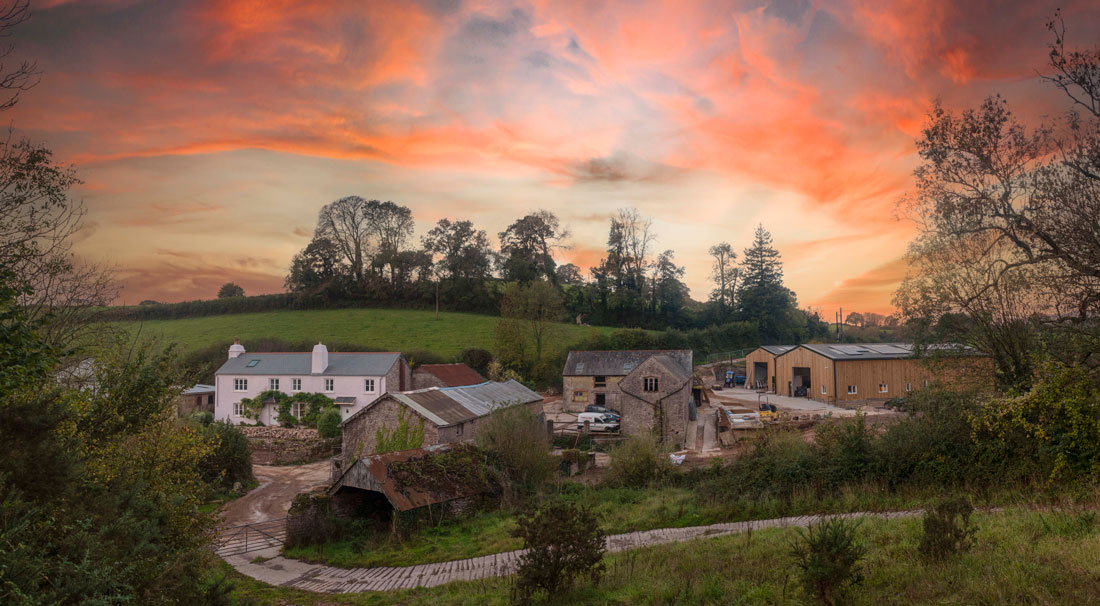 The team at Sharpham Wine reveal their plans for the new HQ at Sandridge Barton opening this summer
For those in the know, no staycation to south Devon is complete without a quick stop-off at Sharpham Wine for a product sampling session by the banks of the River Dart. And, from this summer, visitors will be able to enjoy the experience in an altogether more salubrious setting.
This June, the winery and restaurant will move downriver to a new home at Sandridge Barton, just south of the village of Stoke Gabriel. The vineyard has grown grapes (Pinot Noir, Bacchus, Chardonnay, Madeleine Angevine and Pinot Gris) for Sharpham since 2008 but will now house the whole enterprise, including a slick new visitor centre and state-of-the-art winery.
The visitor centre is based in the traditional buildings of the historic Lower Well Farm, with the central courtyard providing an exceptional seating area overlooking the surrounding countryside.
Delicious food will be provided by Exeter-based restaurant Circa, which will bring its always-on-point farm-to-table cuisine to the Sandbridge Barton restaurant for lunch service. Diners will be able to enjoy the finest local produce with a glass or two of Sharpham Wine while sunning themselves on the south-facing terrace.
Sharpham's new location offers the perfect opportunity to ramp up the visitor experience with more opportunities for guided and self-guided tastings, as well as walking trails and a new shop crammed with Sharpham Dairy cheeses and other local produce.
The opening will tie in with English Wine Week (June 18-26) and will coincide with the timely launch of Sharpham's Summer Sparkling, a fun, fresh pink sparkling wine.
Duncan Schwab, CEO and head winemaker of Sandridge Barton, said: 'We are excited to welcome visitors to our new home. In the past, when we were positioned on the Sharpham Estate, we had around 20,000 people a year visit and we expect a similar number of visitors at Sandridge Barton.
'With the investment in the new tanks, barrels and other vital pieces of winemaking equipment we are anticipating an excellent showcase of wines this year, amongst the very best produced here in England.'
For those who want to enjoy the full wine experience without the drive home, the Sandridge Barton estate offers a range of self-catering accommodation options too, including the six-bedroom Main House complete with indoor swimming pool.