Looking to give your liver a rest? We sipped and slurped some of the best no-alcohol spirits which'll have you raising your glass again before you can say 'ice and a slice'
Sprigster
This non-alcoholic shrub-infused drink offers a bittersweet taste of Sprigster's Wiltshire garden. A mash made from hops (for dryness), rhubarb (tang), ginger (heat) and fennel seeds (anise) is left to infuse for three weeks before being blended with an English Discovery apple reduction and spring water.
The result is a wild and natural sip (called a liquor by its makers) that sings of herbaceous tannins and has a touch of honeyed sweetness.
Recommended serve: Mix with tonic water (or soda for a dryer drink) and garnish with seasonal fruit and a sprig from the garden. Alternatively, rustle up a Sprigster cocktail (pictured top) – find recipe inspiration on the Sprigster website.
£26, 70cl. Buy it here.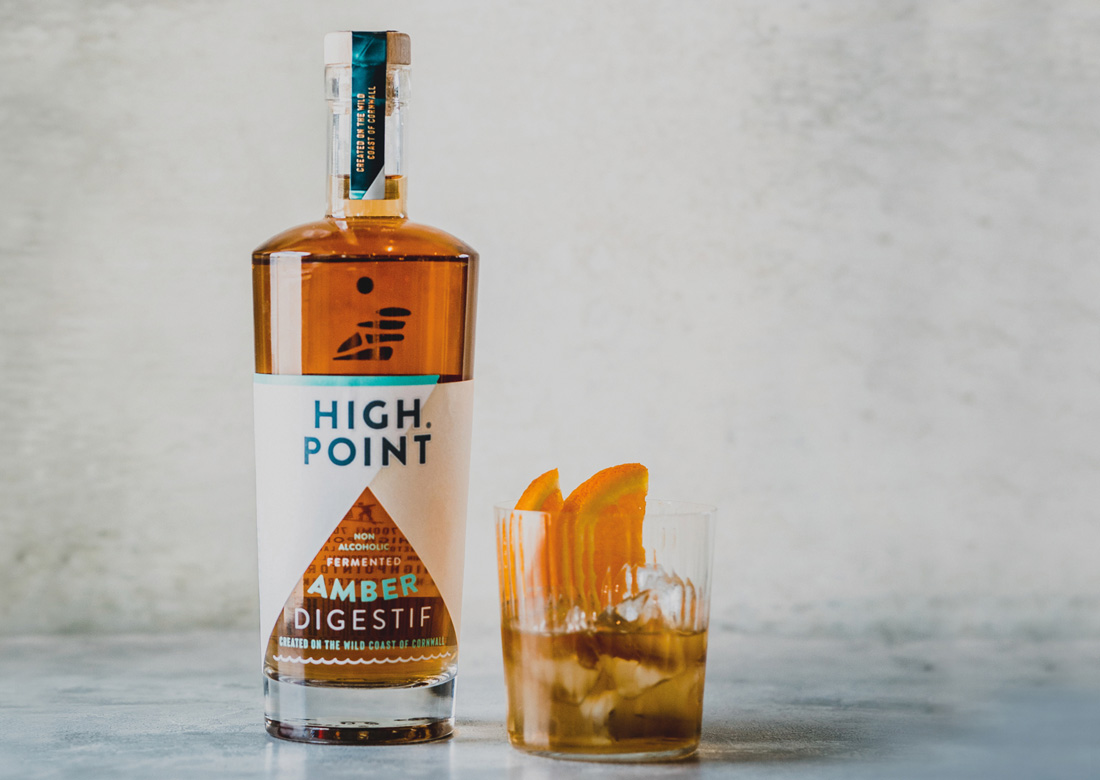 High Point Ruby and Amber
The pros at Cornish High Point Drinks have got the entire night sorted. They've used fermentation to create two drinks: aperitif Ruby and digestif Amber.
Ruby is the bright and zesty sister, concocted from hibiscus, lavender, wormwood, pink peppercorns and the zest of orange and pink grapefruit. In total contrast, sultry sibling Amber comes out late at night to glow with smoky notes of lapsang tea, ginger, clove, vanilla, cacao, gentian root and oak.
Recommended serve: craft a High Point Ruby Spritz with tonic, ice and a slice of pink grapefruit. Serve Amber as a High Point Amber Lowball with ginger ale, ice and a slice of orange.
£19.99, 70cl. Buy it here.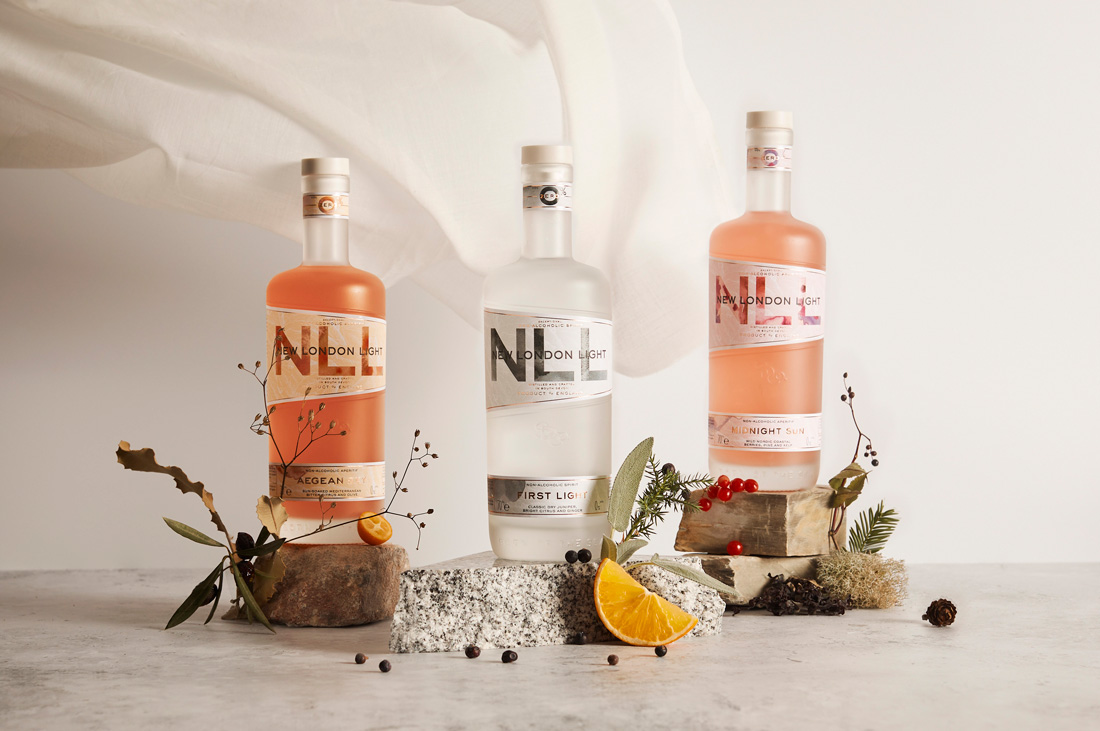 New London Light
Devon's Salcombe Distillery has crafted an entire range of contemporary non-alcoholic spirits and aperitifs in its New London Light collection.
First Light was the award-winning original and builds on the team's expertise in creating exceptional London Dry gins. Macedonian juniper berries, ginger and warm habanero capsicum are distilled to create a full-bodied base spirit which is blended with botanical distillates and extracts from 15 botanicals including orange, sage, cardamom, cascarilla bark and lemongrass. First Light is joined by sibling sips Aegean Sky and Midnight Sun.
Recommended serve: pair First Light with tonic to create a classic no-alc G&T, or try it out in a Shore Elevation cocktail.
£27.50, 70cl. Buy it here.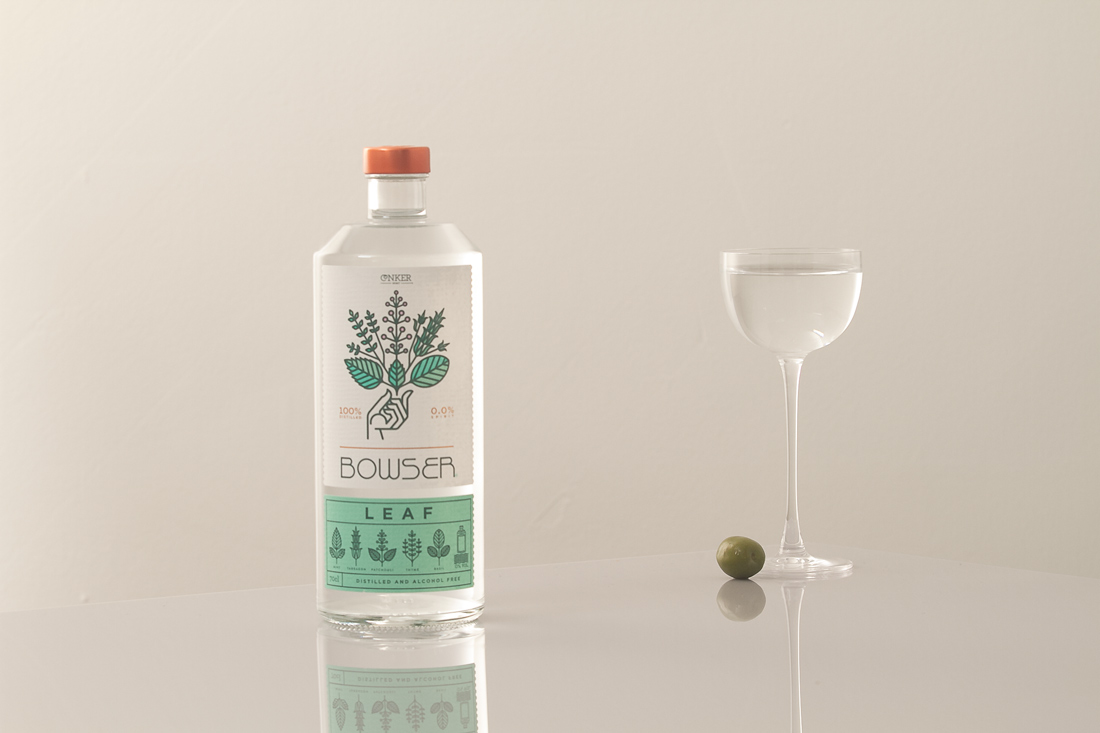 Bowser Leaf
The spiritsmiths at Conker in Dorset have expanded their gin and cold-brew coffee liqueur portfolio to include a gin alternative with oodles of flavour but zero alcohol. Bowser Leaf is made from five herbaceous botanicals: mint, tarragon, patchouli, thyme and basil, which are distilled into an elegant elixir containing no calories, sugar, gluten or artificial flavours.
Recommended serve: the dry and herby sip is best served G&T-style over ice. Use a classic tonic to let the botanicals shine through, and garnish with a slice of lemon.
£20, 70cl. Buy it here.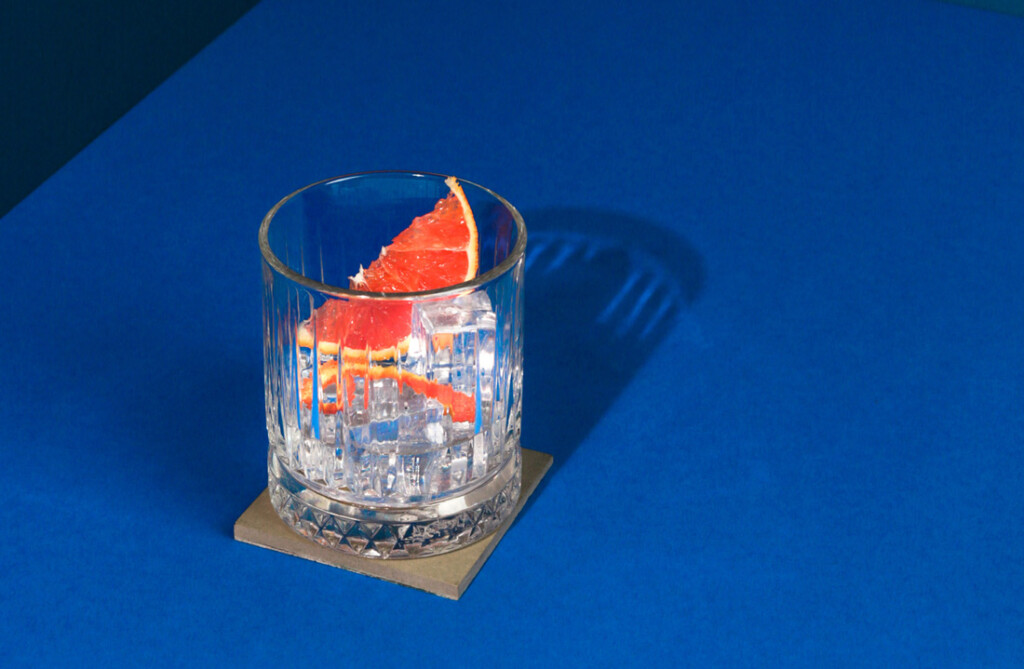 Cotswold Green No 1
This Tewkesbury-made zero-proof aperitif uses the traditional distillation process to create a smooth and clean drink that captures the spirit of the verdant Cotswold countryside.
Spring water is mixed with natural oils from botanicals that include citrus and juniper, and the result is a subtly cloudy appearance. On the nose it's light and fresh with notes of juniper and spice, while citrus and sweet notes charm the palate and deliver a long juniper and lemon finish.
Recommended serve: pair with a quality tonic, ice and a slice of pink grapefruit.
£25, 70cl. Buy it here.
Like 5 of the best no alcohol spirits? Check out our other 5 of the best collections.
---
We choose the companies included in our 5 of the best features based on editorial integrity. Occasionally, some inclusions will be from clients with whom we have a commercial relationship.