The popularity of authentic farm‑to‑table dining continues to gather momentum, yet one of its South West pioneers, Nancarrow Farm, has flown somewhat under the radar for almost a decade. Kathryn Lewis unearths the story of Nancarrow Farm, one of the region's best‑kept insider secrets
Coombeshead Farm near Launceston, The Collective at Woolsery, Crocadon near St Mellion; many of the most exciting restaurant openings of the past few years have been self‑sufficient concepts, where dining rooms are established on or near a farm that supplies the kitchen with just‑picked fruit and veg and own‑reared meat. They're passion projects of chefs who put provenance above everything and who want to step outside the restaurant status quo.
Many of these restaurants have garnered extensive media attention, yet Nancarrow Farm in Cornwall has mostly avoided the spotlight, instead quietly acquiring a following of discerning local diners such as leading chefs Paul Ainsworth and Simon Stallard.
According to Nancarrow's head chef Jack Bristow, its organic growth (literally and metaphorically – the 100‑acre farm is certified as organic) is testament to the team's objective to stick to their roots and think long term: 'We want to ensure we remain true to our principles, and hope people will find that out for themselves'.
Located in a beautiful valley near Truro, the farm dates back to 1782 and is where nine generations of the same family have reared cattle and sheep. In 2011, current owners Stephen and Lucy Chamberlain embarked on a project to ensure the future of the farm and in 2014 flung open the barn doors to host food experiences. Nine years on it's evolved into a one-of-a-kind events space and farm‑to‑table restaurant.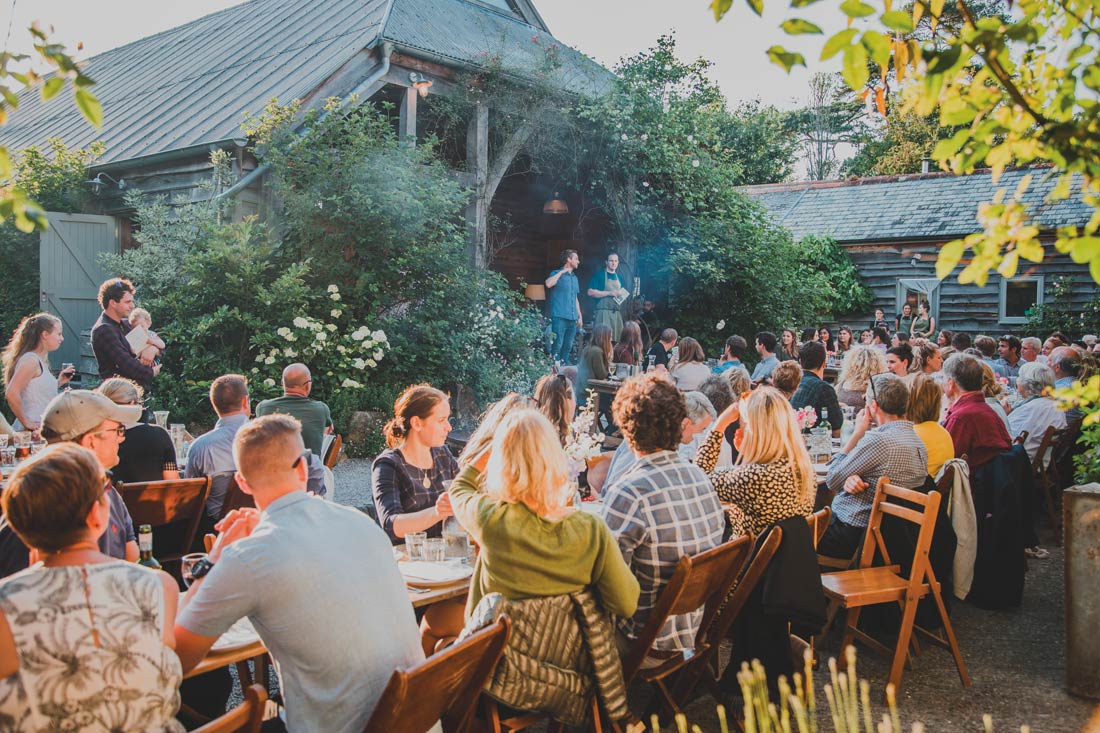 When chef Jack joined the team in 2015, he was influential in introducing feast nights and suppers at Nancarrow alongside its events schedule. A Fifteen Cornwall alumnus, Jack worked at Paul Ainsworth at No 6 and was on the Michelin career trajectory before making this unconventional career move. However, it was a natural step for the chef, who says: 'I grew up in a farming family, so the idea of joining the dots from field to plate really excited me.
'In addition to working at Fifteen, I gained experience as a butcher at Philip Warren in Launceston, so taking the position at Nancarrow enabled me to draw on my passions.'
Back in 2014, Nancarrow was an events space on a farm. In the years that have passed, the team have built an on-site butchery and larder, a micro-bakery, a productive no-dig kitchen garden and luxury accommodation that allows guests to immerse themselves in farm life. And, when lockdown struck, they took the opportunity to build an open-plan kitchen.
'Every year we build on what we've already created,' Jack says. 'Last year we planted 400 fruit trees in the orchard; we can't wait to see them come to fruition.'
Cooking over fire is one of the latest culinary trends, but for Jack it's been his preferred style since his days at Fifteen. 'The draw is that there are so many levels of heat. It starts off very hot and intense, then slowly cools to create different sweet spots for different ingredients.'
Those ingredients are almost exclusively sourced from the fields that surround his kitchen. When Jack and team sit down to devise a menu, they first look to the farm to see what's going to be ripe and ready to eat soon, filling any gaps with produce from local producers who abide by a similar ethos. Even the charcoal they use in the wood-fired kitchen is produced on-site. In 2020, they installed an Exeter Retort kiln which turns wood from the farm into what Jack says is 'the best and most ethical charcoal you could imagine'.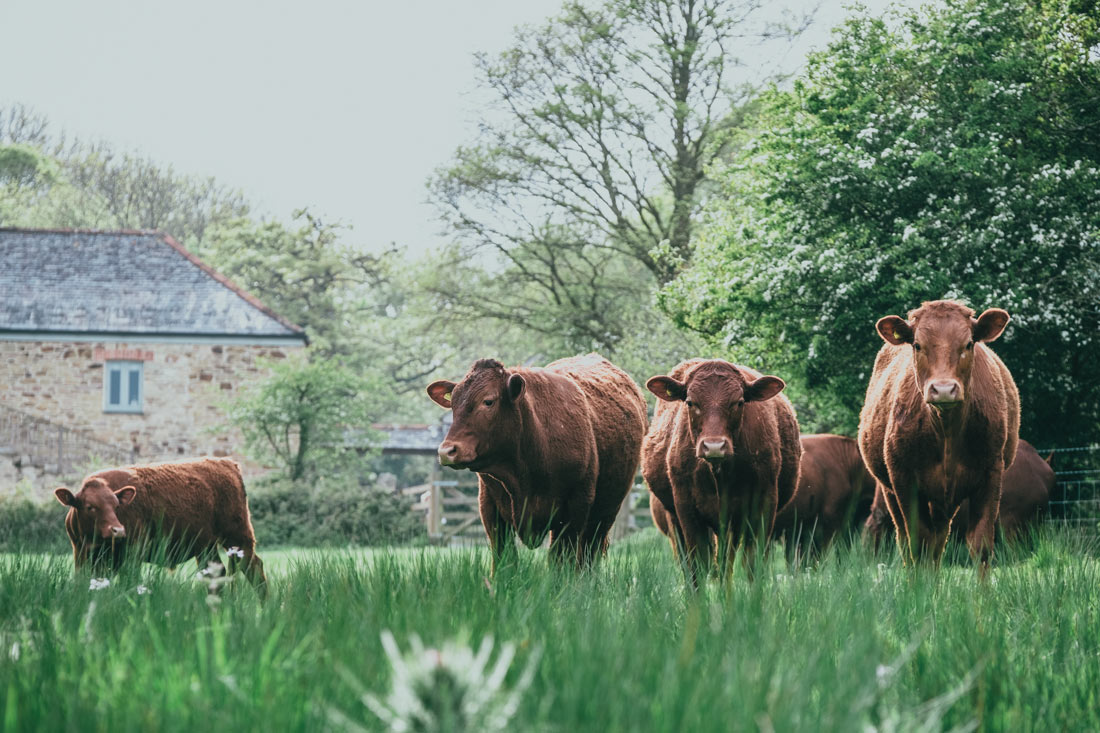 The creative chef describes the cooking at Nancarrow Farm as 'simple', choosing not to over‑embellish and letting natural flavours take the lead. 'A lot of the hard graft is done behind the scenes. For example, a carrot might be prepared simply but the hard work was done in the years before when we were nurturing the soil or making compost – food waste is even recycled on-site using specialist hot composters,' he says.
While each team member has an official role, everyone chips in and gets involved in all manner of tasks on the farm. The diverse nature of the job gives Jack a unique perspective as a chef. The kitchen brigade are only in service two or three nights a week (rather than five or six, as in conventional restaurants) which means they get stuck into farm life and have been called on for all kinds of jobs, including helping deliver calves.
'You see the whole journey through. It's the long and hard way round but it's the most rewarding,' he adds.
It's a tough time for the hospitality industry, yet Nancarrow Farm's dynamic nature allows the venue to pivot and respond to customer demand. In summer it's all about weddings, alfresco feast nights in the courtyard and farm suppers, while the winter diary is filled with Sunday lunches, intimate celebrations and guest chef nights.
Despite a growing number of restaurants following the farm‑to‑table ethos, Jack sees them as allies rather than competition.
'A decade ago, the industry was quite secretive – chefs would hide recipes and keep things to themselves – but the nature of running a farm and kitchen means we're sharing knowledge and helping each other all the time. Just the other day I was messaging Dan [Cox, of Crocadon] about a caterpillar problem – his advice was to swipe them with a badminton racket!'
Nancarrow is all about letting nature take the lead, so the team don't have grand plans about what's next for the venue. 'The dream is to remain present,' says Jack. 'We have young children, so we'd like to think that in 20 to 30 years we'll still be evolving and sharing this special place with them.'
Try Jack's beetroot with ricotta recipe here.