Kathryn Lewis gets into the Christmas Spirit by sampling Black Cow's limited-edition festive release
What is it?
Black Cow's uniquely creamy Pure Milk Vodka laced with the classic flavours of Christmas.
Why?
We're a nation mad for Christmas specials. From popcorn to pretzels, sandwiches to sausage rolls, almost every food and drink item gets a festive "glow-up" for the holiday season. While the yearly releases range from the gourmet to the gimmicky to the downright disgusting (looking at you, chocolate-orange wensleydale), this limited-edition vodka from Black Cow is one of the few that got it right.
The team at the Dorset distillery have taken their multi-award-winning Pure Milk Vodka and infused it with the best bits of a Christmas pudding: brown sugar, cloves, currants, figs, raisins, orange and lemon zest, vanilla and cinnamon. Making its debut in 2020, Christmas Spirit sold out in 48 hours and picked up a gold gong for Black Cow at the International Wine and Spirits Competition.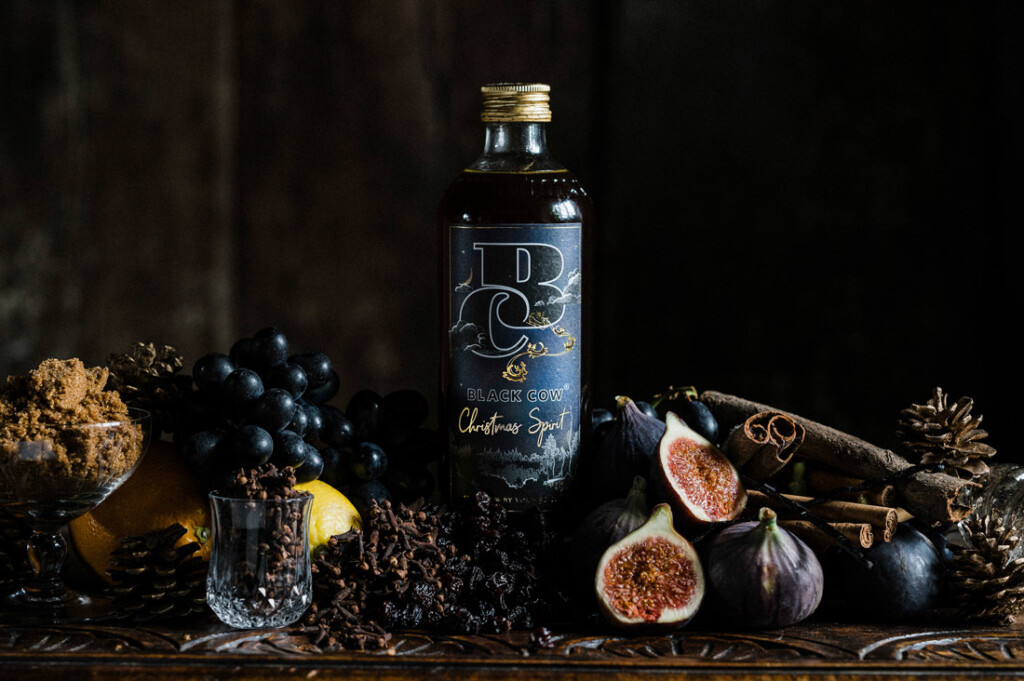 The low-down
The Black Cow team suggest three different serves for Christmas Spirit. We tried them all and the results ranged from udderly delicious to not-quite-sold.
Our winning serve was the simplest: straight up over a couple of ice cubes. Not overly sweet yet crammed with the flavours of cinnamon, spice and citrus, it's like drinking a chilled liquid mince pie – the natural creaminess of the milk vodka even mimicked buttery pastry. If your favourite way to round off a meal is via the rich raisin notes of a quality Pedro Ximenez, you'll love this.
A close runner up was a glug of Christmas Spirit in warm cloudy apple juice. Mulled cider for the more discerning palate, this is a great way to tone down the booze (straight up it's 37.5 per cent) and revel in festive flavours. The citrus notes of the vodka really shone here, with the subtle spice of cinnamon and cloves a seasonal suitor to cloudy apple.
The final recommended serve is with Champagne and a twist of orange. Good Champagne isn't something that should be messed with and we felt the bold flavours of Christmas Spirit overpowered the delicate notes of the wine. Prosecco could be a better match as its sweetness would complement the spirit's dried-fruit flavours.
Next we're going to try Christmas Spirit in a spiced-up Espresso Martini – could be a new Christmas classic in the making.
Cost
£25 for a 50cl bottle.
Packaging
Black Cow Christmas Spirit is packaged in a fully recyclable cardboard box.
Ordering deets
You can order direct from the Black Cow website but you'd better get a wiggle on because, if last year is anything to go by, it won't be around for long.
Recommend to a friend?
Friends and family who go in for a second helping of Christmas pud and buy mince pies until the shops run dry in January will go mad for this festive elixir. Those who plump for the chocolate log and say good riddance to the rich flavours of mincemeat by Boxing Day might prefer a bottle of the Dorset distillery's original Pure Milk Vodka.
Read our Tried & Tested review of Black Cow's Vodka Negroni here.
---
Food Magazine received payment for undertaking this review. However, the content was written with editorial independence.