Selena Young samples the Dorset distillery's twist on the classic Italian cocktail
What is it?
A premixed vodka Negroni crafted by the innovative bunch at Black Cow in west Dorset. The Italian aperitif classically consists of gin, Campari and vermouth, yet the Dorset distillers have defied convention by replacing gin with their exceptionally smooth Pure Milk Vodka. The finishing touch is BC's secret blend of natural bitters.
Why?
As a result of us all staying at home for the past year, ready-to-drink cocktails have (finally) had their moment in the sun.
Preprepared mixes have been sniffed at by the cocktail cognoscenti for years, thanks to sugar-pumped supermarket canned versions (we're looking at you, Pina Colada), but happily there's a new league of quick sips changing the game. These are premium concoctions blended by connoisseurs who understand how to create depth and balance in a drink – and who only use ingredients of merit.
With a long summer of alfresco dinners, garden parties and outdoor pursuits ahead, ready-to-sip cocktails look likely to continue to enjoy the spotlight. There's also the added bonus of not having to spend a small fortune on individual spirits which end up in the sad collection of obscure bottles gathering dust at the back of the drinks cabinet.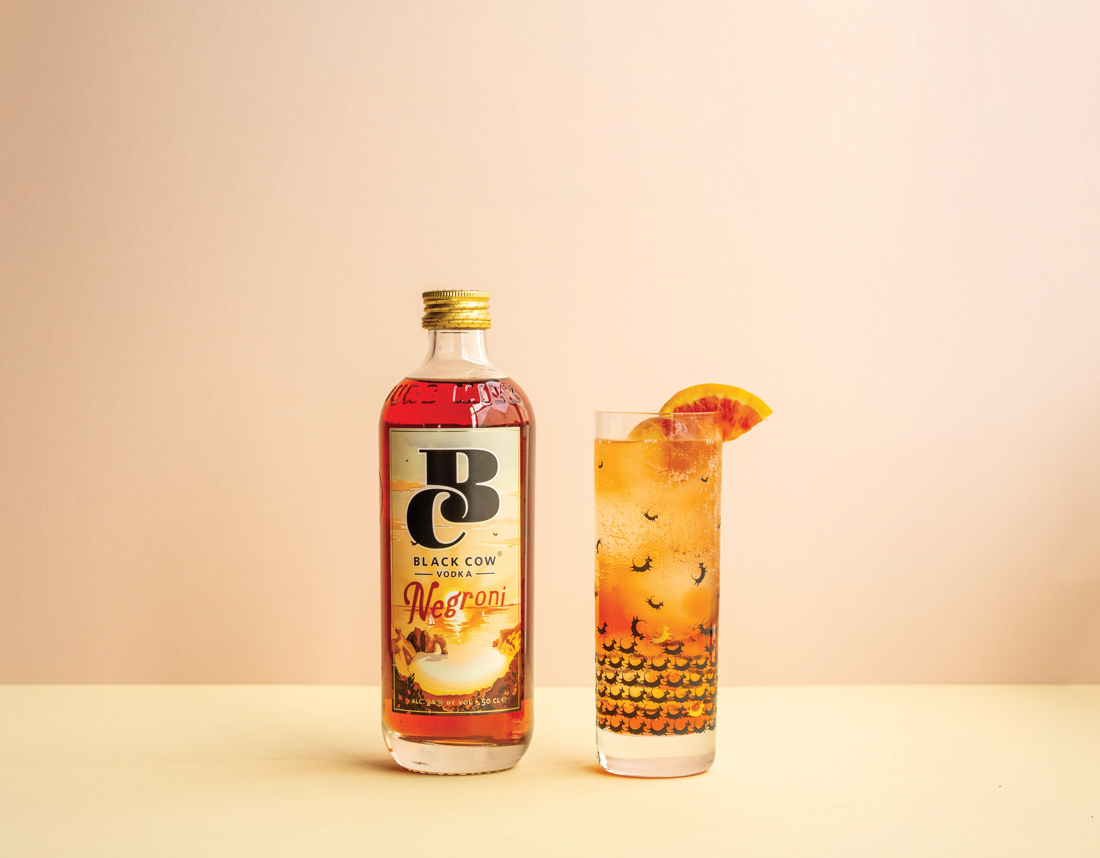 The low-down
For die-hard Negroni fans the idea of losing its aromatic juniper flavours may be heretical, but Black Cow's uber creamy vodka (made using grass-grazed-cow's milk) perfectly balances the bitterness of the Campari and punchiness of the vermouth. It packs the bittersweet notes you'd expect from a quality Negroni, while also delivering a unique silky mouthfeel.
For the perfect serve, the team recommend pouring the ruby-coloured cocktail over cubed ice and garnishing with a slice of orange. For a long drink, top with chilled soda water.
Cost
£25 for a 50cl bottle.
Packaging
The Negroni comes in Black Cow's signature milk-bottle-style vessel and arrives in cardboard packaging, both of which can be recycled. The artwork on the bottle depicts a beautiful Durdle Door sunset, making it an intriguing addition to the drinks trolley.
Recommend to a friend?
We're already looking forward to Negroni o'clock.
---
Food Magazine received payment for undertaking this review. However, the content was written with editorial independence.