Jo Rees roadtests the saintly pleasures of receiving a crate of exceptional Lucky Saint no-alc lager by post
What is it?
A subscription service offering the best no-alc lager we've tried yet. Lucky Saint is still a bit of an insiders' secret and less well known than the big brewery brands' no- and low-alc alternatives. That's bound to change soon as this crisp lager achieves the unusual for no-alc beers: it doesn't taste like it's missing something.
Why try it?
While some are hailing Lockdown Three as a legitimate reason to ditch Dry January, others are determined not to imbibe as much as they did in Lockdown One and are on the hunt for good sofa-sipping alternatives.
Then there is the lack of calories compared to regular lagers – always a bonus post-Christmas. This particular no-alc lager (it's actually 0.5% ABV which is apparently low enough to not raise blood alcohol levels) comes in at just 53 calories per bottle – about a third of the load of a regular lager.
The low-down
Lucky Saint won Best Non-Alcoholic Lager at the 2020 Imbibe UK Taste Awards, so it comes with pedigree.
It's a Bavarian-brewed Pilsner-style lager which is made with Bavarian spring water (important because such a high proportion of the end result is water) and Hallertau hops. Brewed in the same way as a full-strength beer, it's fermented and conditioned for six weeks before a vacuum distillation process is applied to remove the alcohol.
It's not filtered (commonly used in brewing to remove tiny sediment particles in the beer, but which can also mean loss of flavour) because its long maturation process allows the sediment to drop out of the beer naturally, so no flavour is lost.
It tastes crisp, fresh, has a good flavour and enough bite to make it a very nice sip. And because it's fairly light it pairs with practically anything food-wise. It's also vegan friendly.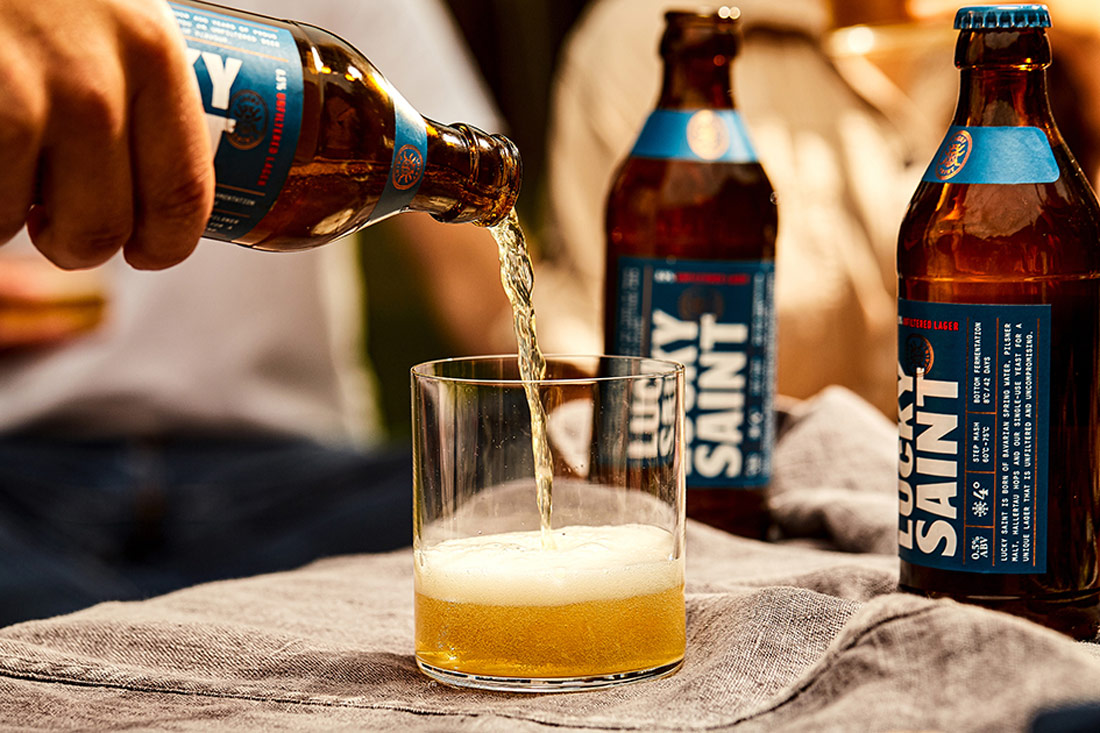 Cost
You can buy a starter box of four bottles for a tenner and boxes of 12, 18, 24 and 48, which reduces the price per bottle from £2.50 to £1.88 for the latter. You can also get three-, six- and 12-month subscriptions which offer similar savings. There's no additional P&P on 12, 18 and 24 bottle packs, or on subscriptions.
Value for money
£1.88 per bottle feels like pretty good value when you take into account the fact that this is an indie brewery and they've had to box it up and post it. And we'd always rather support the little guys doing interesting things than just buy our beer from the supermarket. Plus, if you're working from home, it's a pretty healthy way of marking the end of the day and getting your low-alc kicks.
Packaging
Beautifully designed packaging makes receiving the box a joy, while fully recyclable carboard boxes, glass bottles and metal caps leave a sweet taste re sustainability.
Recommend to a friend?
Most certainly. Or even send them a box, the lucky devil.