Abi Manning roadtests Menu by Lou – a four course meal kit which brings the restaurant experience into your home
What is it?
Designed to bring the restaurant to you, Menu by Lou meal kits consist of four pre-prepared courses. They simply need the final touches adding at home – in under 20 minutes, according to the prep notes.
Why?
Because this delightful kit has an edge on other meal delivery boxes: it's a whole experience rather than just a fancy weekend dinner. It made for a Friday night that felt unique from the last 48 spent at home since late March 2020.
The 'ding' of my inbox the day before its arrival was the first dose of excitement: Your trip to Mexico awaits … The gift of a Margarita recipe and Spotify playlist proved sufficient bait to build anticipation levels in advance. It meant by the time Friday evening came around we were ready to enter into the spirit of the experience wholeheartedly. And it delivered in abundance.
Trad Mexican tunes on and gladrags donned, that Friday feeling hit and we were transported to a cantina. A prep card walked us through super-simple steps, and I took on chief reheating duties while my date cracked on with cocktails. With lime wedges flying, microwave beeping and steam rising from the pan of achiote pork, the prep proved just as fun as the eating. Table setting suggestions (candles, funky side plates, coloured placemats, plants and fairy lights) were followed to the letter – so much so that we could barely squeeze the many (many) plates between the aloe vera and copious tealights.
The food was fab, and there were far too many dishes to make it doable ourselves which added to the treat-yourself feeling. There was a balanced mix of crunchiness (delicious totopos), creaminess (spicy creamed corn with burnt spring onion crema) and meatiness (the aforementioned juicy pork in corn tacos topped with charred pineapple and pink pickled onions).
The final touch was a brownie – baked just right – served with immensely moreish cardamom cream. Then it was time for a lie down.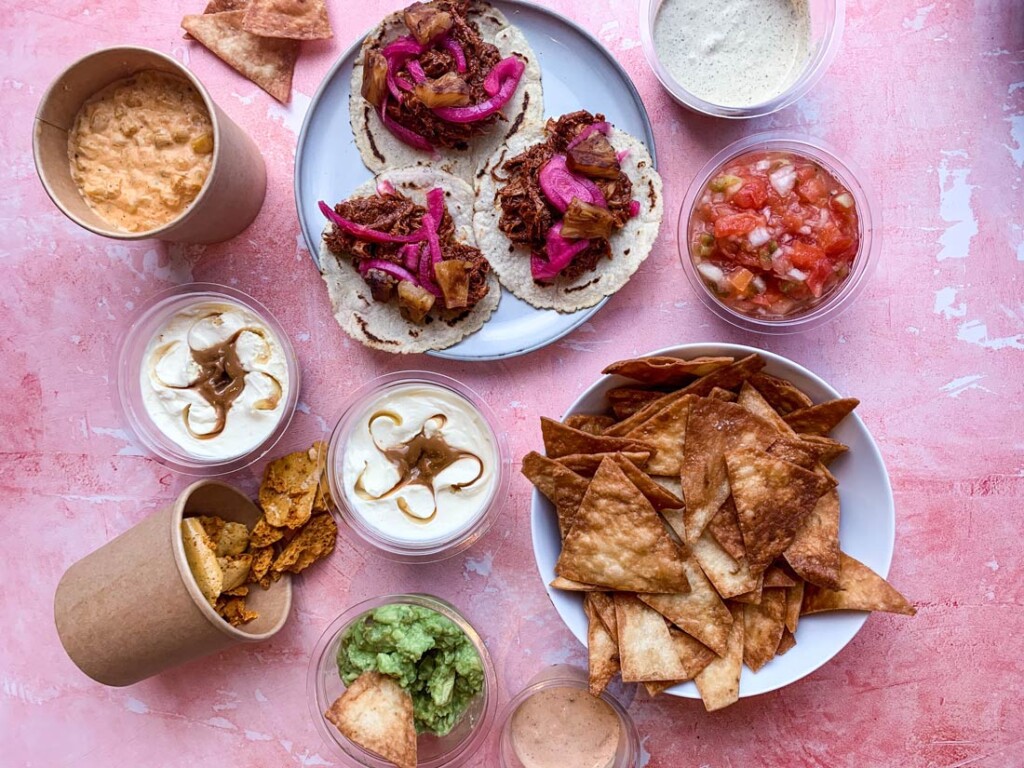 The lowdown
It isn't just about the food. Menu by Lou was born out of founder Lou Fremantle's desire to create memorable moments, which happen to centre around delicious food. It's why she puts so much into curating the whole evening. Indeed, the little touches that created the unique ambience and transported you somewhere other than home was what made it so fun.
We sampled the first meal kit: Mexico. But the menu will travel across the globe in the months to come so look out for a new cuisine on the horizon.
Cost
A meal kit for two (meat, veggie or vegan) is £50, and can be delivered to any mainland UK address.
Packaging
There was an abundance of plastic pots and packaging, but it's all carefully selected to be fully recyclable – right down to the sheep's wool insulation keeping the feast cool while it's with the courier.
Recommend to a friend?
We already have. Links were WhatsApped to pals while still smugly rubbing our full bellies.
Like Tried & Tested: Menu by Lou? Read 5 of the best restaurant meal kits here.
---
Food Magazine received payment for undertaking this review. However, the content was written with editorial independence.