Selena Young dives into a cheeseboard chocka with epic edibles from South West producers, care of Quicke's Festive Feasting Box
What is it?
Quicke's new yuletide release is a bursting-at-the- seams selection box of delectable goodies from some of the South West's hero producers.
The Devon cheese company has picked three of its most popular cheeses to feature alongside a moreish mix of charcuterie, crackers, chutney, olives, nuts and fruitcake from like-minded artisan producers.
Why?
If you're yet to get that festive feeling, tearing into this consignment of seasonal delights will do the trick.
Excitedly delving into the huge cardboard box is reminiscent of plunging into your stocking as a child. However, instead of imagining all the adventures you'll have with your new toys, you'll be daydreaming about the festive table settings and counting down the minutes until your friends and family arrive.
The time-saving benefits of ordering a Festive Feasting Box are also a win worth factoring in. Quicke's has done the hard work of picking products that perfectly complement each other, so you don't have the hassle of queueing at your local cheese shop, hurriedly picking what's left in stock and then working out what works well together.
The only extras you might want to consider for your seasonal smorgasbord are fresh fruits and suitable drinks pairings, although the team at Quicke's recommend a bottle of Lyme Bay Winery's Elderberry & Port Liqueur (get more local Christmas spirits inspiration here).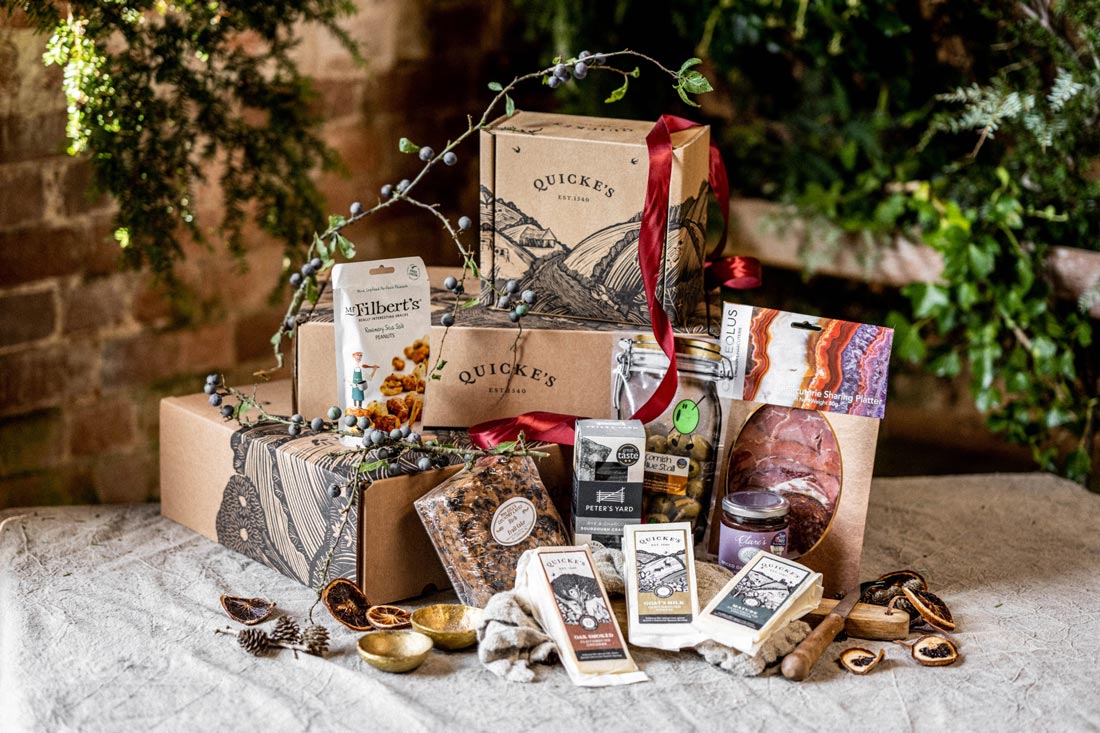 The low-down
If you're the kind of grazer who dives straight in at the cheese end, you won't be disappointed.
Quicke's buttery and slightly earthy Mature Clothbound Cheddar, complex Oak Smoked Clothbound Cheddar and creamy Goat's Milk Clothbound Cheese all feature. We suggest starting with the goat's cheese and piling it onto speckled Rye & Charcoal Crackers from Peter's Yard with a generous slather of Spiced Damson Chutney from Clare's Preserves (both are included).
Don't fill up on the fromage, however, as there's much more to explore. From Cornish Olive Stall's mix of juicy, salty orbs and Mr Filbert's aromatic Rosemary Sea Salt Peanuts through to the varied selection of award-winning charcuterie from Capreolus Fine Foods (which, FYI, match fabulously with Quicke's cheddar), every product earns its place in the collection.
Shout out to the heavenly fruitcake from Mrs Gill's which provides a deliciously rich and sweet finale to the feasting.
Cost
£60 for a generously sized box of deliciousness, with free P&P.
Packaging
The Quicke's Festive Feasting Box is festooned with illustrations, making it a fabulous gift to send direct to friends or family.
Ordering deets
Head to the Quicke's website, order a box and select the date you'd like it delivered. If you're local, there's also the option to click and collect.
Recommend to a friend?
Definitely.