Jo Rees roadtests the earthy spiced flavours of North Africa via Top Meadow Farm's merguez sausages by post
What is it?
Top quality merguez sausages made by Top Meadow Farm in north Devon. The artisan butchers use a combination of local organic grass-fed lamb and grass-fed Devon Red Ruby beef which is given an exotic charge of chilli, paprika and cinnamon (among other herbs and spices – the full recipe is secret). They're prepared as slim chipolata-style sausages because such full-on flavour would be too heady in a big banger.
Why try them?
Escapism and novelty. If you're bored of cranking out the same old dishes then a new ingredient can be just the thing to drag you out of the dinner doldrums. The heat and fragrant cinnamon notes of merguez sausages transport you to shimmering deserts, bustling souks and lush Moroccan riads – exactly what locked-down lunchers need during winter.
Merguez sausages originally come from Maghreb cuisine, and they're popular in France as a result of the historical links with North Africa and the large community of French citizens of Algerian, Moroccan and Tunisian heritage.
The low-down
Add these chilli-infused chipolatas to stews or tagines, hold a winter barbie and give them an extra lick of smoke before stuffing them into flatbreads with salad and slaw, or use them to shake up a shakshuka.
We made a stew with chicken, merguez sausages, red peppers, tomatoes, onions, preserved lemons and chickpeas – the sausages provided a rich and meaty oomph to the regular weeknight supper.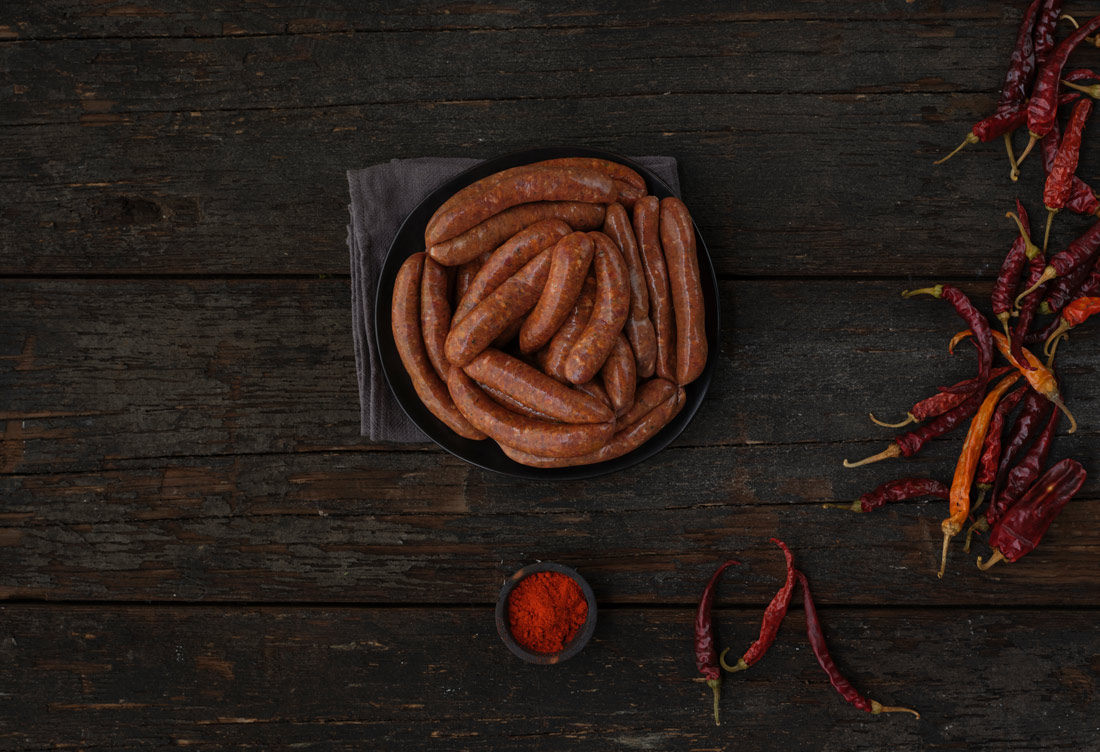 Cost
Top Meadow Farm sells its merguez chipolatas in packs of 12 for £4.50.
Value for money
Excellent: they go a long way. Six sausages added to chickpeas, veggies and a couple of chicken breasts was plenty for four people in the stew we made, so you'd get two meals for four from a dozen chipolatas. Think of them as flavour as well as protein.
Ordering deets
Find the sausages at the Butcher's Row store in Barnstaple or order from the website. The butchers offer free delivery in north Devon for orders over £20 (see details here). For mail order outside of north Devon there's a minimum order of £20 and a delivery fee of £9.95 to any UK mainland address. Orders over £100 get free delivery – and there are so many excellent meats on the website it would be very easy to top up the freezer and hit that total.
Packaging
The team are hot on finding the most environmentally friendly packaging solutions and the sausages come in a sealed brown kraft paper bag which is grease and moisture resistant, freezable and leak-proof. They're recyclable, but the team recommends checking with your local authority to ensure they offer the correct recycling facilities.
Recommend to a friend?
Absolutely – everyone needs tip-offs on ways to find mealtime novelty right now.