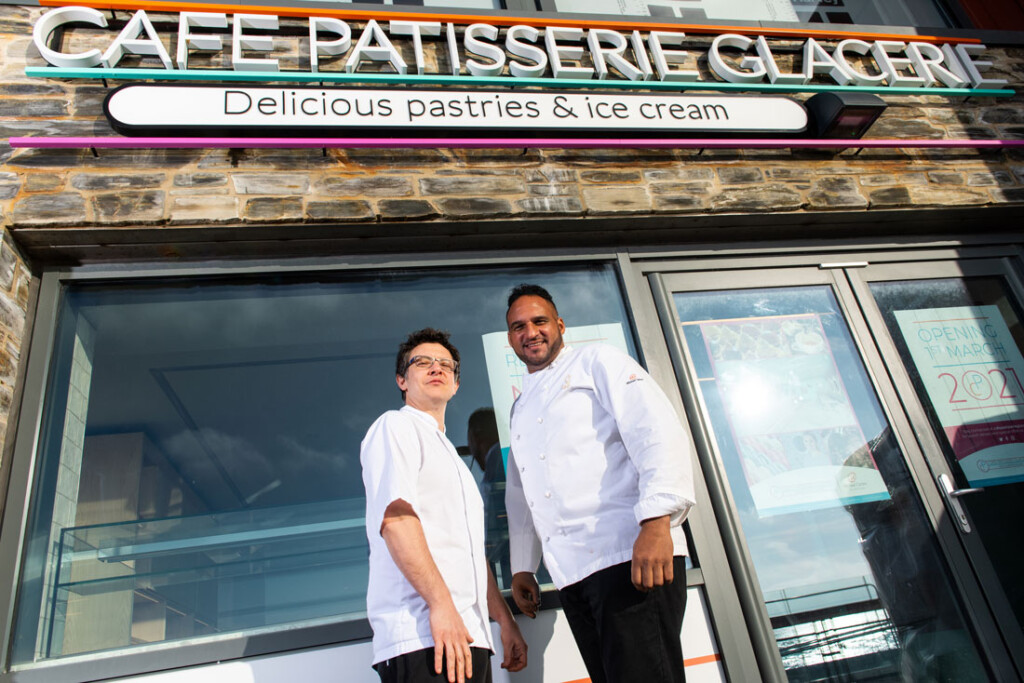 An exciting new collaboration from top South West chefs Michael Caines and Sylvain Peltier opens on Exmouth seafront this week
Café Patisserie Glacerie combines a trinity of artisan pleasures beneath a single roof: the art of coffee, patisserie and gelato.
The striking pastel-hued cafe is located in Exmouth's new Sideshore development next to Mickeys Beach Bar and Restaurant (Michael's seaside eatery which is due to open in May). Local delicacies, produced with a green ethos, can be relished as a takeaway on the beach, seated indoors (when restrictions allow) or out on the terrace overlooking Exmouth seafront and Lyme Bay.
The patisserie's prime lures will be beautiful bakes by Sylvain, including croissants, pain au raisin and cakes, plus 16 colourful flavours of handmade Italian-style gelato churned on the premises from Devon milk and cream. Savoury offerings, crafted by local producers, include traditional Cornish pasties by Barnecutts Bakery, Tom's Devon pies and handmade sandwiches.
Café Patisserie Glacerie is a partnership between Michelin-starred chef Michael and head pastry chef Sylvain, who have worked closely for more than two decades in Caines' restaurants and cafe bars.
'It's a celebration of Sylvain's artisan skill, creativity and originality,' said Michael. 'His modern French pastries are totally unique: you simply won't be able to find or taste them anywhere else. We will be bringing something very special to Exmouth seafront and we can't wait to share Sylvain's creations with the world.'
Café Patisserie Glacerie is owned by Sylvain and Michael's joint business venture French Pastries Ltd and the pair have other sites planned for collaborations in the future.
'I am thrilled to be working with Michael as a partner in our new joint business venture, Café Patisserie Glacerie,' added Sylvain. 'Sideshore is such an exciting venue, and I am delighted to be able to share my pastries and gelato with Exmouth locals and visitors alike.'
Café Patisserie Glacerie opens on Tuesday, April 13.
---
The pandemic has significantly affected advertising revenue in the publishing industry. If you would like to support Food Magazine, why not take out a subscription to our beautiful print edition which we'll deliver to your door? Subscribe here for just £25 per year.