On the hunt for the perfect pressie for that picky friend? Any discerning foodie would be delighted to find one of these gifts for under £50 beneath the tree
Black Forest Brownie, Exploding Bakery
Exploding Bakery has been churning out banging bakes since 2011 – originally from its city coffee shop in Exeter before growing into a full-blown online cake gift shop. This year its Christmas creation is a Black Forest Brownie: a delightful combination of juicy cherries, Somerset cider brandy and nutty almond brownie, all topped off with ethically sourced white chocolate. The festive bake even has the seal of approval from Fortnum and Mason, which is stocking it in its London shops.
The brownie is ethically packaged in a plastic-free, letterbox-friendly box, making it an easy-peasy gift choice for that cake-loving chum.
£14.95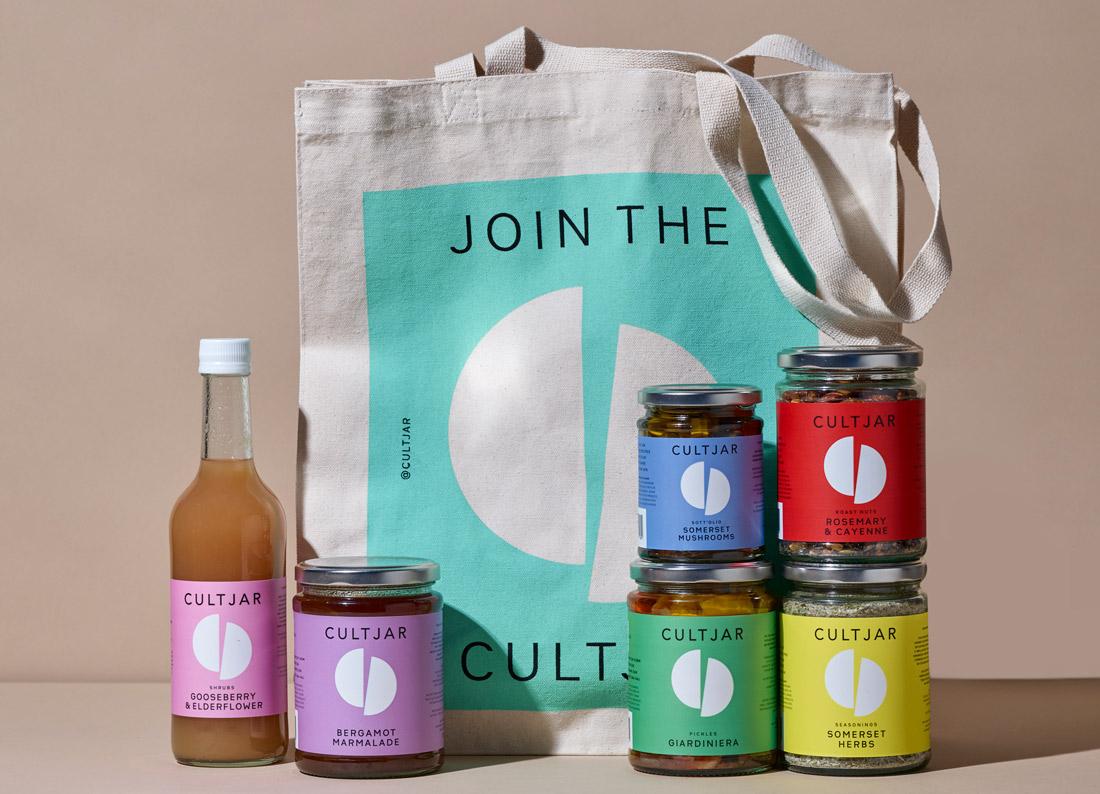 Cupboard Essentials, Cultjar
From its home at Worminster Farm in Somerset, Cultjar produces handmade ferments, pickles, shrubs, seasonings, nuts and more using nutrient-rich, quality (and mostly local) ingredients. Mixing tried-and-tested traditional methods with some more contemporary preservation techniques, the team's aim is always to ensure their jars are packed with depth of flavour and long-lasting deliciousness.
This cupboard essentials range is a perfect introduction for that friend who hasn't fully entered the fandom of ferments (yet). It features Cultjar's other bestselling products – none of which require chilling, so your friend won't have to slot these in the fridge alongside the Christmas spread.
£49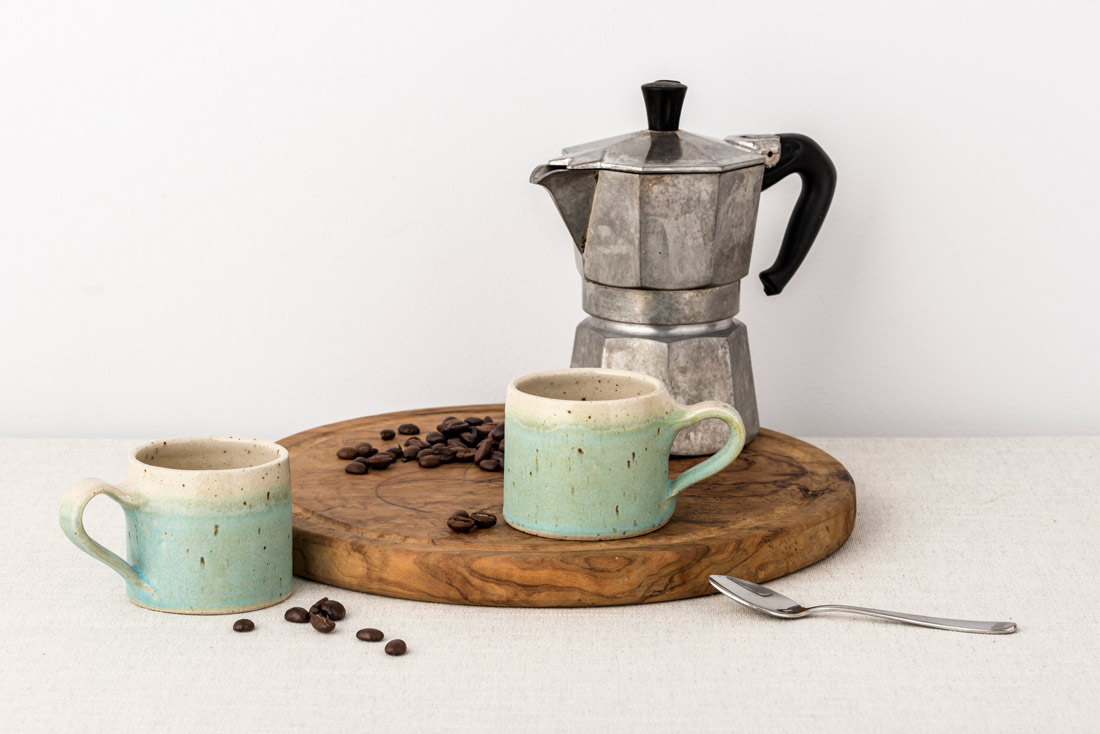 Set of two espresso cups, The Village Pottery
There's such joy to be had in sipping from authentically crafted, handmade ceramics, especially when they're as beautifully made as these espresso cups from The Village Pottery.
From a studio on a farm ten minutes outside Bristol, Jen and her team of potters have been creating bespoke pieces for over 17 years for restaurants and individuals. The gorgeous colours (these espresso cups come in 'eucalyptus', 'snowdrop white', 'satin grey', 'raspberry rust' and 'charcoal') are a result of the homemade glazes using raw ingredients – so you're guaranteed an entirely unique piece each time. Grab a pair for your coffee-loving pal and you might bag yourself an invite to brunch in the new year.
£36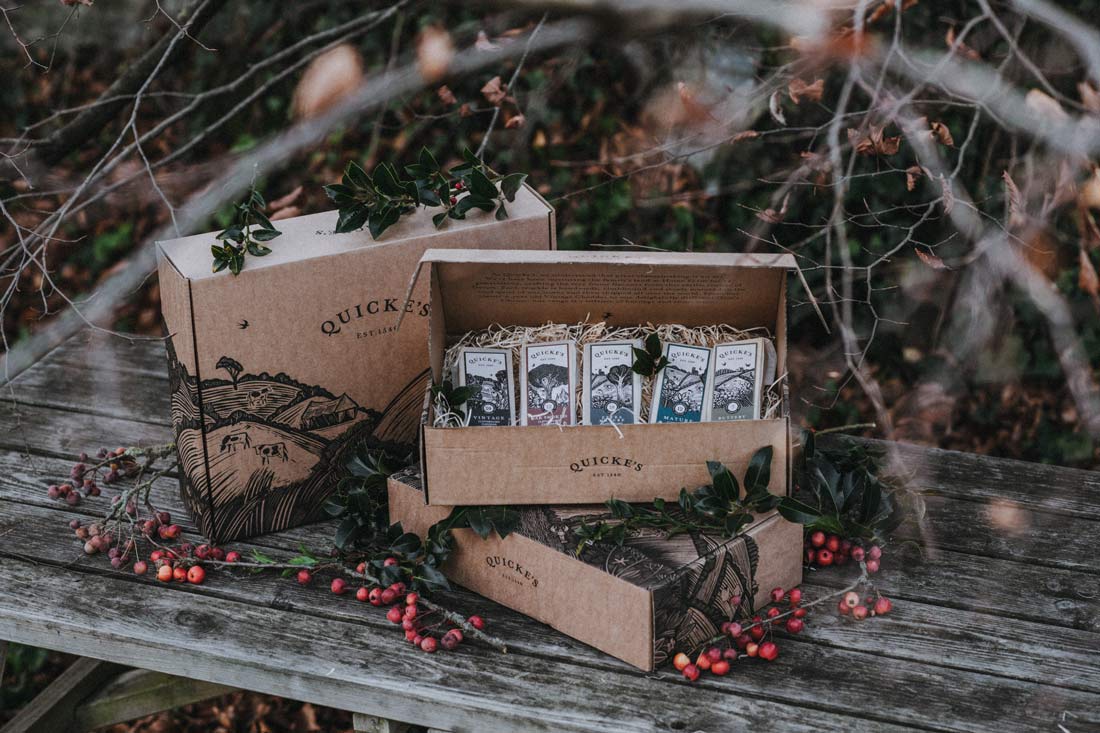 Cheddar tasting box, Quicke's
Any fromage fiend would be chuffed to get their chops round this award-winning selection of cheddars from Devon's Quicke's.
From the dairy's youngest three-month-old Buttery Clothbound Cheddar to its two-year-old Vintage, the entire selection is made using milk from the Quicke's family's own grass-fed cows, before being bound in cloth and left to mature. The webshop also has various crackers, chutneys and drinks if you fancy pairing the cheese with other artisan goodies.
£35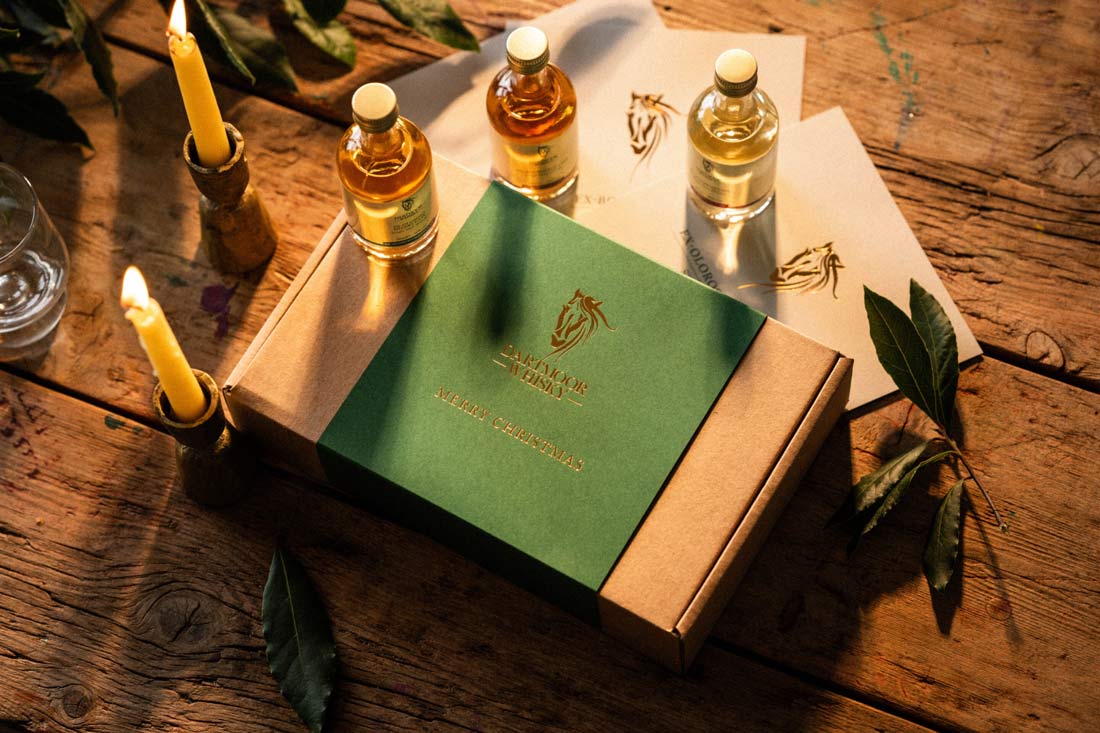 Christmas Discovery Set, Dartmoor Whisky
Got a family member who fancies themself a whisky connoisseur? This limited edition Christmas Discovery Set from Dartmoor Whisky – Devon's only whisky distillery – is a luxurious gift for keen sippers of the spirit or the simply curious.
Presented in a Christmas gift box with 'Merry Christmas' in copper foiling on the front, the set features three miniatures of the distillery's current expressions (Ex-Bourbon Cask, Ex-Bordeaux Cask and Ex-Sherry Cask) plus accompanying printed tasting notes.
£29.50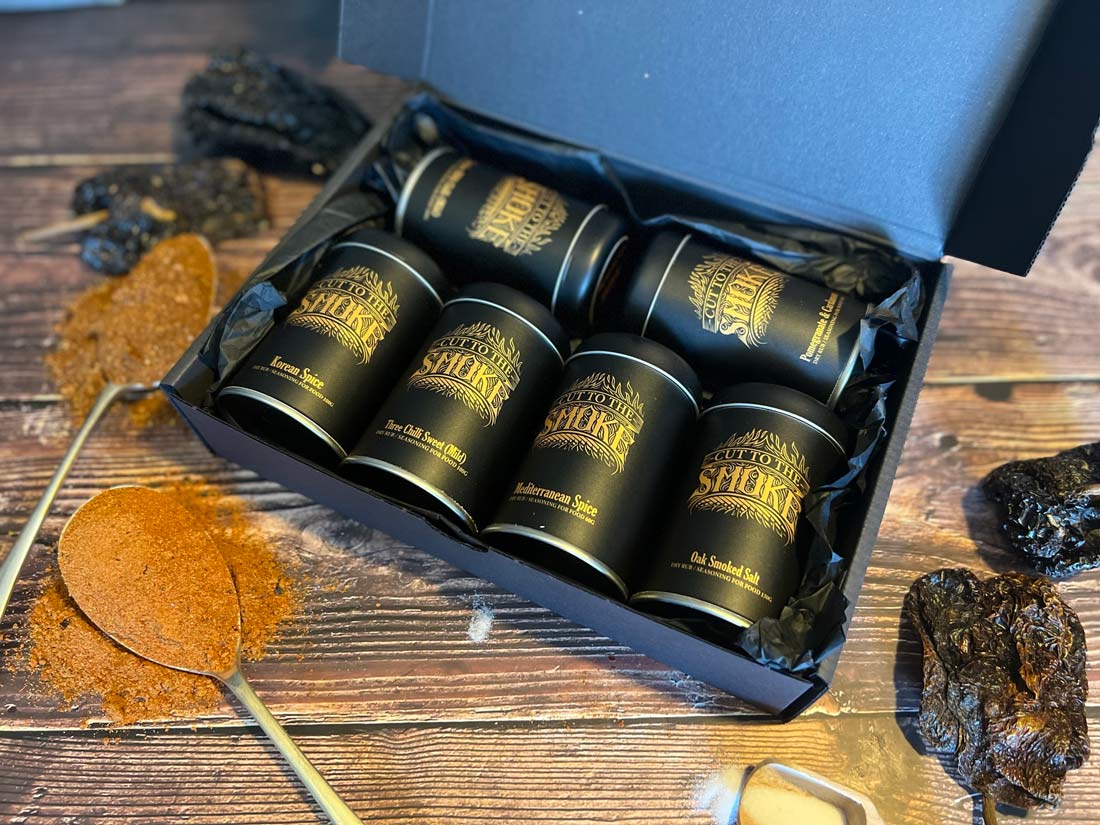 Premium BBQ rub shaker gift set, Cut to the Smoke
We've been flying the flag for year-round outdoor cooking for yonks, and if you've got a barbecue-fanatic friend who's also on the bandwagon, this set from Cut to the Smoke is a red-hot find.
The premium collection features six smokin' spice blends which come in food-grade metal shakers designed to be refilled. Flavours include the Great Taste Award-winning Three Chilli Sweet and Pomegranate & Cardamom, as well as the likes of Espresso & Ancho Chilli and Mediterranean Spice.
£40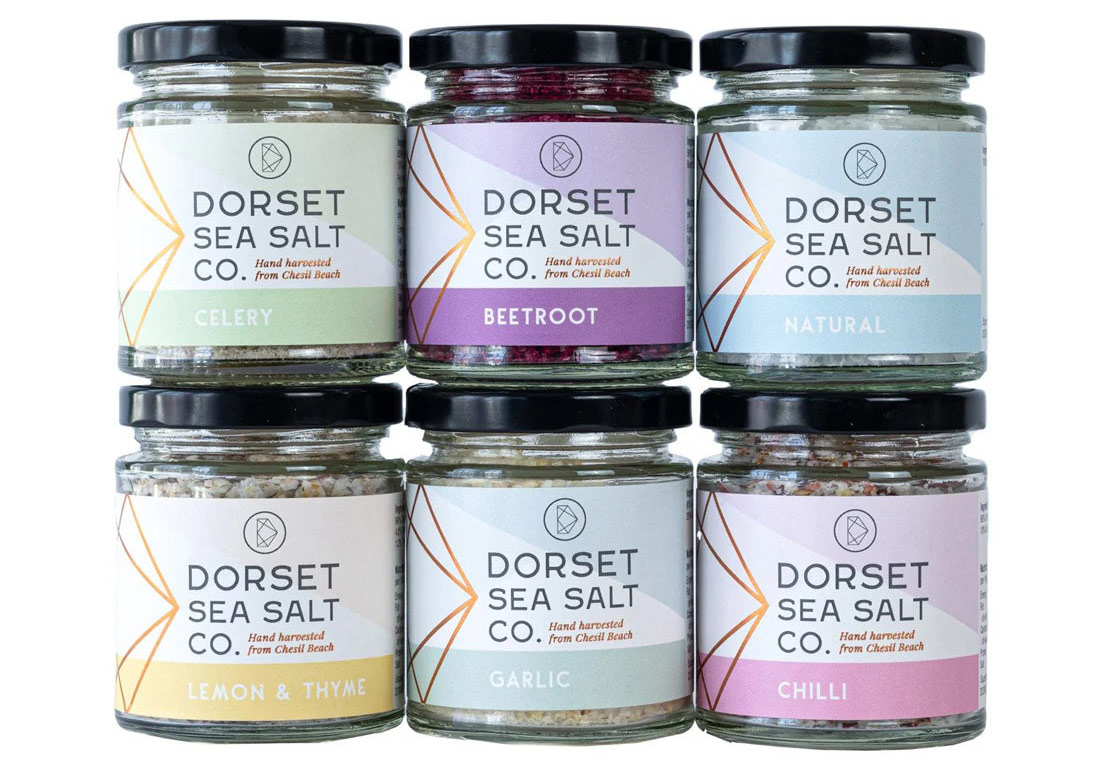 Dorset Sea Salt Best Seller Bundle, Dorset Sea Salt Co.
Those who love nothing more than whipping up flavourful creations in the kitchen will adore this salty selection from Dorset Sea Salt Co.
To the salt specialists, who hand-harvest the crystals from Chesil Beach for their range, salt is not just a seasoning but a key ingredient. This bestselling bundle of six variations will give budding chefs the chance to add an edge to their culinary inventions, whether that's beetroot salt in homemade brownies, smoked salt with espresso or chilli salt at cocktail night.
£35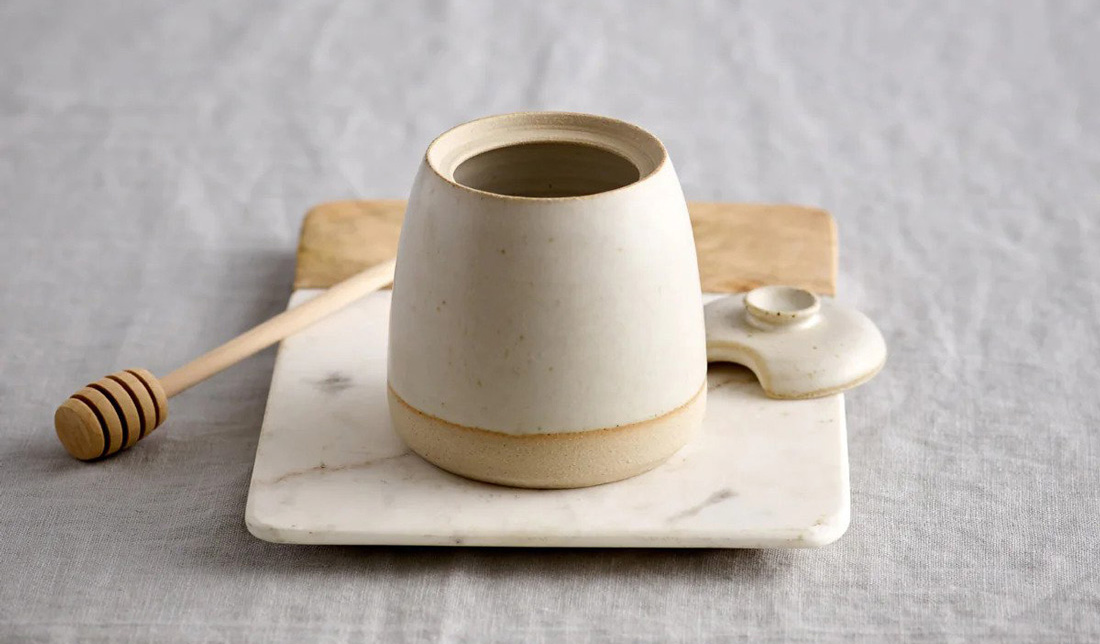 Liz Vidal x BBH Honey Pot, Black Bee Honey
Artisanal foods deserve to be stored in something that matches their crafted quality, and this honey pot – a collaboration between Bristol potter Liz Vidal and Black Bee Honey – is the bee's knees.
Each handmade thrown pot is unique, and features a soft white glaze and dipper hole in the lid. The size is designed to hold over 400g of any variety of Black Bee Honey (browse the BBH site for the kaleidoscope of single-source flavours). There's only an extremely limited run available so order soon before they all buzz off.
£35.95 (with honey dipper)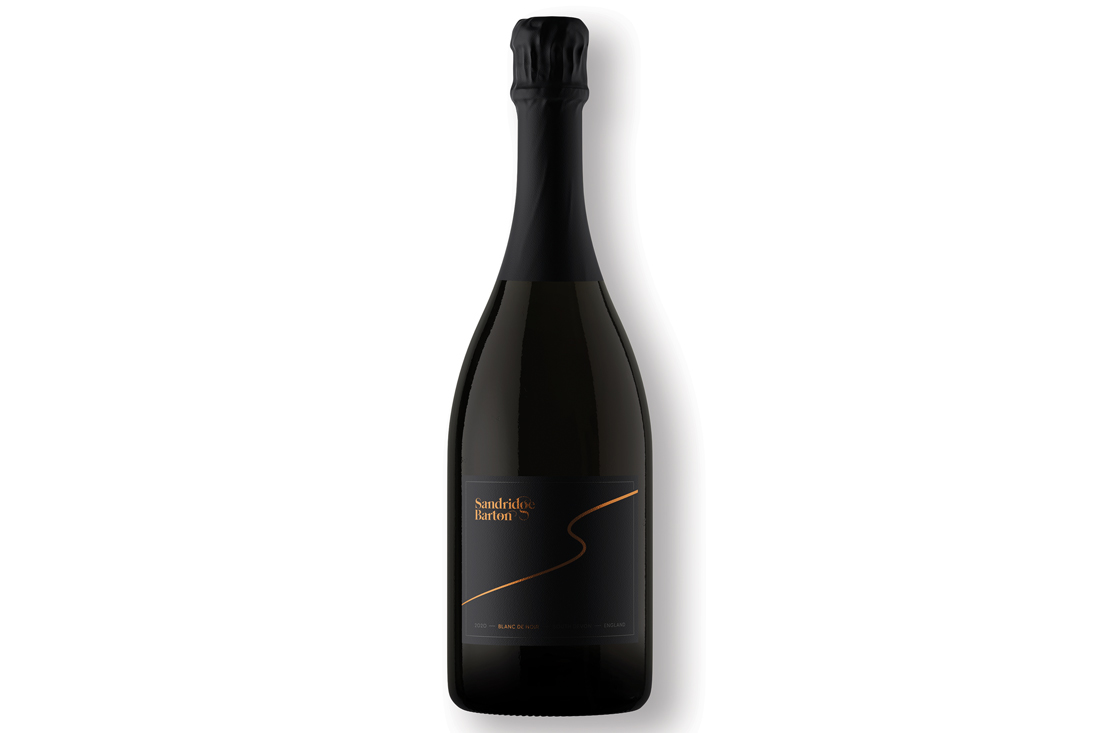 Blanc de Noirs 2020, Sandridge Barton
Add some sparkle to someone's Christmas with this sublime bottle from Sandridge Barton (the new home of Sharpham Wines).
For fizz fanatics, this is a very special find. It's the first sparkling release in the winery's range, and won a Master medal at the Global Sparkling Wine Awards 2023 – only seven wines achieved this top award out of 230 entries. It's crafted from 100 per cent Pinot Noir and long-aged in the bottle, producing a fresh raspberry aroma mixed with citrusy, toasty richness, ending dry and balanced.
£44
Gigantic Button Festive Collection, Josh's Chocolate
Introduce your chocoholic chum to a new fave this year with this seasonal collection of grown-up chocolate buttons from Cornwall's Josh's Chocolate.
Featuring the award-winning Orange Milk and Almond, two festive flavours Espresso Martini and Dark Clementine and more, the plus-size buttons are packaged in elegantly illustrated packaging (created by St Ives illustrator Joanne Barry) making them a gorgeous gift.
£32
Like 5 of the best foodie gifts under £50? Check out our round-up of sloe gins.
We choose the companies included in our 5 of the best features based on editorial integrity. Occasionally, some inclusions will be handpicked from clients with whom we have a commercial relationship.